Angels weigh Colon, Cahill, Feldman and others, but obstacles exist
Los Angeles suffered an unfortunate double setback with the loss of two fine young pitchers, and so they are looking at starting options, many of them outside the organization.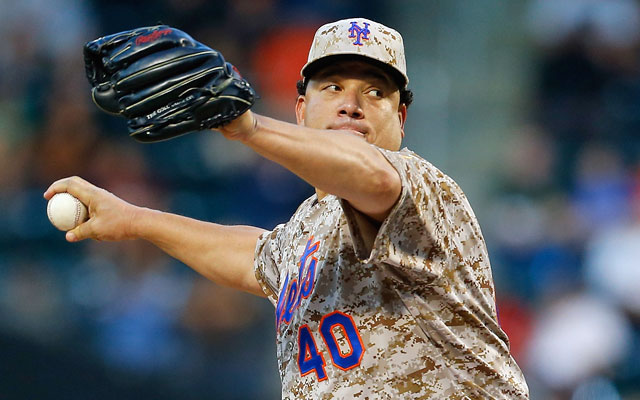 The Angels are sifting through all sorts of pitching possibilities to replace injured ace Garrett Richards, both from inside the organization and outside it, with the outsiders including veterans Bartolo Colon, Trevor Cahill, Scott Feldman and to a lesser degree A.J. Burnett.
Any of the pitchers from that quartet of vets could become a viable option and probably tops the in-house possibilities if some hurdles can be overcome. One of those options is said to include "piecing it together," which is always the last resort. Veteran left-hander Randy Wolf plus minor leaguers Chris Volstad and Michael Roth are pitchers currently under the Angels' employ who are in the mix, as is the possible usage of a multitude of relievers for that fifth rotation spot, which provides an indication how dire the situation is.
The loss of the ace Richards is so unfortunate and ill-timed that even executives from some other teams expressed sympathy for the Angels, who looked like a possible World Series favorite until Richards suffered the freak knee injury while covering first base that's caused LA to scavenge for starters. But Angels GM Jerry Dipoto has a different take on the loss of Richards, who looks like he'll be a star for years to come.
"I feel terrible for him," Dipoto said, stressing that Richards is the one who suffered the biggest disappointment. "Somehow we'll weather the storm."
It won't be easy.
Colon, who's had a nice year in Flushing (he's 12-10 with a 3.82 ERA), would seem to be one main viable option, though Mets people don't view him as a giveaway. Colon has cleared waivers, meaning no team was willing to take him -- and his contract -- as-is. Cahill, who has also cleared waivers, has pitched better lately for the Diamondbacks after an awful start to his season, and some Angels people seem to like him a bit, so he's a possibility as well.
The Astros' Feldman is a solid guy who's been midseason trade bait before. Burnett of the Phillies, maybe the most talented of the bunch, is thought by some not to want to go to the West Coast.
Dipoto said he feels comfortable with Jered Weaver, C.J. Wilson and emerging Matt Shoemaker as a playoff rotation, with Hector Santiago likely swinging back to the bullpen in October. But they need to get there first, and of course they'd like to do it in style by beating the rivals A's to win the tough AL West.
Optimally, the Angels would add a starter who could at least work for the regular season to a rotation that lost not only its star Richards but also the promising Tyler Skaggs to Tommy John surgery. But there are no guarantees this late in the waiver period. Wade LeBlanc was DFA'ed after losing to the Marlins on Monday, proving he won't be an option and triggering the search.
"I'm not particularly hopeful," Dipoto said. "It's possible the best we can do is piece it together."
Some GMs seem to believe the Mets would be happy to deal Colon in light of his $11-million salary for next year. Plus, he's had the most solid season of the immediately available quartet and he once won a Cy Young award winner for the Angels. However, there could be competition for Colon, possibly from the crosstown Dodgers and others, and like the rest of the available starters, he comes with issues.
In Colon's case, while he's pitching up to his $9-million salary this year, there seems to be considerable question as to whether he can carry that into next year, when he turns 42.
There are "obstacles" for any of the available trades, as Dipoto put it. Without mentioning the outside possibilities, Dipoto surely means the salary remaining on the available pitchers and also the lack of prospects to use as trade chips after the Angels traded six prospects to rebuild their bullpen earlier, including four to land proven closer Huston Street.
"Teams that are willing to pay down a contract usually want some kind of talent in return, and that's where we may have a problem," Dipoto said. "We'll see what's possible as the week goes along."
The Angels are already heavily invested in this year at about $160 million, and while they're still comfortably below the luxury-tax threshold, they seem reluctant to commit big dollars to 2015 and beyond. Colon has an $11-million salary for next year and Cahill $12 million, while Feldman has $18 million to go over 2015 and '16 and Burnett could be owed $12-million-plus if he hits his incentives and decides to pick up a player option for '16.
The other issue is a paucity of coveted prospects in the Angels system after four good ones were used to acquire Street, the centerpiece of a successfully remade bullpen. The Angels have valuable young major leaguers but it is believed most of them have been blocked on waivers already (their highest priced veterans sailed through, but they aren't going anywhere, of course).
The mostly barren system would preclude the possibility of trying for someone even better, like an Ian Kennedy or Jorge De La Rosa, should they somehow beat the odds and get through waivers. That's why the overpriced guys seem more realistic, if a deal can be arranged.
Among others who have cleared or can clear, there likely isn't as much interest in John Danks or Kyle Kendrick, who aren't having great years. In the end, Colon, Cahill or Feldman might be the best bet, if the Angels can clear the hurdles and somehow make it work.
CBS Sports HQ Daily Newsletter
Get the best highlights and stories - yeah, just the good stuff handpicked by our team to start your day.
Please check the opt-in box to acknowledge that you would like to subscribe.
Thanks for signing up!
Keep an eye on your inbox for the latest sports news.
Sorry!
There was an error processing your subscription.
SportsLine's Mike McClure, a DFS pro with nearly $2M in winnings, gives optimal lineup adv...

Stephen Oh has a three-way parlay that could pay off huge on Sunday

Keep up with all the latest trade rumors around Major League Baseball
Plus a crazy Giancarlo Stanton statistic and everything you need to know about Saturday's MLB...

Follow along with every move made before the 2018 MLB trade deadline

The A's are also taking on Familia's full salary in the deal