Angels will try to keep Greinke -- and there's reason to think they can re-sign trade prize
Now that the Angels have traded for Zack Greinke, you can expect them to try to keep him. Greinke can become a free agent at the end of the season and will likely command a contract similar to the one the Phillies just gave Cole Hamels. But the Angels might be able to get it done.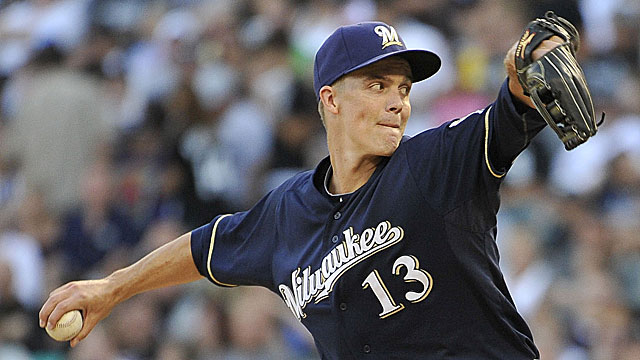 Greinke brings a 9-3 record with a 3.44 ERA to the American League. (Getty Images
The Angels' hope, as they entered the July market looking for a high-end starting pitcher, was that they would find one they could control beyond this year.

They might just have done that.

Yes, Zack Greinke can become a free agent at the end of the season. Yes, Greinke already turned down more than $100 million from the Brewers.

And yes, the Angels already have two very high-priced starting pitchers and (as you may have heard) one very, very high-priced first baseman.

So what?
The Angels do intend to make an effort at keeping Greinke, sources say. And there are reasons to believe they can get it done.
The Angels, as we should all know by now, have tons of money. They also have two starting pitchers who have contract options for 2013: Ervin Santana, whose $13 million option they are almost certain to decline, and Dan Haren, whose $15.75 option presents them with more of a decision.
Also, by doing the Greinke deal without surrendering Garrett Richards, the Angels preserved a low-cost back-of-the-rotation option, to offset the high salaries that go to Jered Weaver, C.J. Wilson and (possibly) Greinke at the top of the rotation.
It's not a certainty that the Angels will be able to re-sign Greinke. While they were one of his preferred teams to be traded to (along with the Braves and the Cardinals), what will be more significant is how he likes it once he's there.
One Angels person joked Friday that perhaps Greinke would be so happy in Anaheim that he'd sign a Weaver-type deal ($85 million for five years) to stay there. Don't count on that.
More likely, Greinke will command at least Cole Hamels money ($144 million for six years). An official of one team interested in Greinke said even before Hamels signed that his team estimated that it would take at least $23 million a year (over six years, that's $138 million) to sign him.
For now, the Angels have a dream front four for their rotation, with Weaver, Greinke, Wilson and Haren. While the Phillies could tell you that four aces don't guarantee a championship, it's not a bad place to start.
And even if the price of signing Greinke would force the Angels to allow Haren to leave, a rotation topped by Weaver, Greinke and Wilson over the next 4-5 years would set the Angels up very nicely.



Gallardo spent the first eight years of his career in Milwaukee

MLB revenues are at a record high right now, but teams aren't spending it on players

Chicago added Tyler Chatwood earlier this offseason but might not be done adding to the ro...
The Dodgers and Braves pulled off a whopper on Saturday

Sabathia will reportedly spend a 10th season in the Bronx

Fowler suffered a knee injury at Chicago's Guaranteed Rate Field