Another season, another playoff berth for gritty Cardinals
The Cardinals have clinched the NL Central ... so what else is new? Through injuries and free agency, St. Louis always lands in October.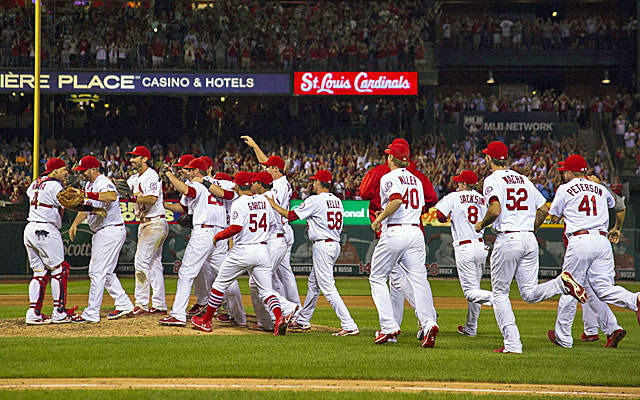 At this point, the Cardinals should ditch their road grays for road champagnes.
If the Padres could wear road uniforms the color of "sand" for a few seasons, surely, St. Louis can color its road unis champagne. At least, come October, the Cardinals wouldn't have to worry about dry cleaning away any stains.
Stop me if you've heard this one before but ... all hail the NL Central champions.
The Cardinals clinched Friday night, once again allowing us to skip what very well may be an imponderable question: What if they threw an October and St. Louis wasn't on the itinerary?
OK, so despite what it appears, the Cardinals don't win the division every single year. Only seven times in the 14 seasons starting with 2000.
But this is the 10th time in those 14 seasons that this model organization has clinched a playoff spot, the Cardinals have won two World Series titles in the past seven seasons and, since the departure of Albert Pujols, they're a perfect 2 for 2 in earning a playoff berth (while, it must be noted, Pujols' Angels are 0 for 2).
The cast of characters changes -- Mark McGwire, Jim Edmonds, Pat Hentgen, Matt Morris, Scott Rolen, David Eckstein, Jason Marquis, Tony La Russa, Pujols -- but the results do not. Now, the names include Yadier Molina, Adam Wainwright, Matt Carpenter, Carlos Beltran, Matt Holliday, Shelby Miller, Jon Jay, Matt Adams and, of course, Mike Matheny. No matter. The steamroller plows forward.
One season after Molina finished second in the NL MVP voting, Carpenter very well may zoom past him on MVP ballots this year. He deserves to, and that is a total compliment to Carpenter, because Molina is off the charts, as well. The kid has had an unbelievable season, starting when the Cards lost shortstop Rafael Furcal this spring.
With Furcal down, leading into this season the Cards had no set leadoff man and no set second baseman. Previously, Carpenter had spent most of his life as a third baseman.
Now? Oh yeah, second baseman full throttle. He's had the best season by a second baseman in St. Louis since Hall of Famer Rogers Hornsby, leading the NL in runs scored, doubles, hits and ranking second in total bases. Hornsby's isn't the only name from the past that Carpenter is bringing back: His 68 RBI from the leadoff spot are the most by a Cardinals' No. 1 hitter since Lou Brock's 76 in 1967, and his 63 extra-base hits are the most by a Cards' leadoff man since Brock's 66 in 1968.
With perennial MVP candidate Molina behind the plate and the ultra-dependable Jay in center field, the Cardinals are strong up the middle, something vital to every serious World Series contender.
In Wainwright, they've got a legit ace. In Beltran and Holliday, they've got power at the corners. In the unexpected delight that is Matt Adams, they have got pop at first base -- which will be even more important going forward than previously thought because Allen Craig's foot is temperamental enough that general manager John Mozeliak warned Friday that the Cardinals may not have him until at least the NL Championship Seires, if they get that far, or even the World Series.
In other words, no guarantees from an organization that comes as close to being an October guarantee as anybody this side of the Yankees.
But isn't that always the case with these Cardinals? They lost ace Chris Carpenter for the season on the eve of spring training. They lost Jaime Garcia for the season in May. They cut Kyle Lohse loose as a free agent last winter despite the fact that he won 16 games for them last summer. As you may have noticed, the Cards earned their way into the playoffs and Lohse's Brewers did not.
They've done it with outstanding defense: At 75 errors into the weekend, they were two below the franchise record 77 in 2003. They also are close to a franchise record in fielding percentage at .988, threatening the '03 mark of .987.
This nifty glovework not only has benefited every pitcher on the roster but, especially, the kids who were just learning to walk. Matheny's Cardinals have squeezed 36 combined wins from rookie pitchers this season, the most for the Cardinals since 34 in 1952. They've also employed 20 rookie pitchers this season, their most since 21 in 1970.
"There's a calmness this team has," Holliday told me in May. "Something happens, an injury or whatever, you feel there is enough talent in the minor leagues. Guys can fill roles."
One after another, guys continue to do that for the Cardinals. Pujols leaves? Furcal is injured? Chris Carpenter blows out? Where other franchises would fall off the cliff, these Cardinals simply shrug and continue climbing the mountain.
And here they go again.
Gonzalez was reportedly killed in a car crash in Cuba

Our Black Friday FA shopping guide includes a starting pitcher, slugger, super sub, and re...

Get 15 percent off any order of more than $75 at CBS Sports Shop
Need a gift for someone who loves baseball? We're here to help as the holidays approach

Several prominent Japanese-born Mariners and ex-Mariners have said they will help as well

Get your sports fans something that they'll wear all year