Another weird one, as Red Sox even World Series vs. Cardinals: Grades
The ending of Game 4 was almost as bizarre as the ending of Game 3. So now let's pass judgment.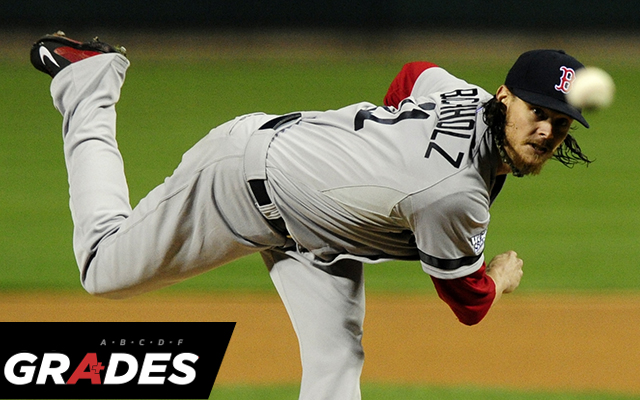 MORE: GIF: Wong gets picked off | Game 4 quick hits
Game 4 of the World Series between the Red Sox and Cardinals -- a 4-2 win for Boston -- featured a "walk-off pick-off," which occurred roughly 24 hours after the "walk-off obstruction call" of Game 3. So as the weirdness continues to unfurl, let's pass out some report cards for Sunday night's action ... 
| Team | Grade | Analysis |
| --- | --- | --- |
| | A | The Red Sox's pitching, to be precise. Facing a Cardinals offense that's quite adept at roughing up right-handers and leaning on a plainly diminished Clay Buchholz to make the start, the Boston pitching staff, in context, fared very well in Game 4. Buchholz turned in four innings that can be characterized as "gutty," and Felix Doubront recorded eight outs in relief. Breslow continued to have a rough series, but overall Boston hurlers in Game 4 combined to induce 13 ground-outs while allowing just two runs in nine innings. Even John Lackey kept runs off the board in a relief appearance.  |
| | A | David Ortiz. Big Papi continues to cut a swath through Cardinal pitching. Platoon advantage? Lefty on the mound? It matters not of late. In Game 4, Ortiz went 3-for-3 with a double, a walk, an infield single (!) and two runs scored before being lifted for a pinch-runner. That's a "steady presence" kind of night, and that's exactly what Ortiz has been in the World Series thus far. |
| | D | Matt Holliday. He won't be dinged for failing to throw out Ortiz at the plate because Holliday made a decent heave. However, his work at the plate was lacking. On the night, the Cards' no. 3 hitter went 0-for-4 with a strikeout and three runners left on base. He also had perhaps the most crucial "take" of the night when, in the bottom of the seventh and with two out and two on, he let a waist-high Junichi Tazawa four-seamer zip past him for a called strike. It was a "wheelhouse" kind of pitch, and on the next offering Holliday grounded out to end the threat.  |
| | F | Kolten Wong. It's most unfortunate that a 22-year-old who didn't even exhaust his rookie status during the regular season committed such a gaffe in such a glare, but there's no getting around the reality of the mistake. Down two runs with two outs in the ninth and with Carlos Beltran at the plate, you -- the pinch-runner -- simply cannot get picked off at first base. It simply cannot be done. Yet it was.  |
| | F | The Cards' manager finds himself here almost exclusively because of his decisions in the sixth inning. First, he didn't go to the bullpen to start the inning despite Lance Lynn's showing signs of tiring in the fifth and getting set to face the Boston lineup for the third time on the night. Then, after a Dustin Pedroia two-out single that brought David Ortiz to the plate, Matheny chose not to summon the warmed-up Randy Choate from the bullpen. Instead, Lynn issued a barely unintentional walk to Ortiz. Only then did Matheny remove Lynn in favor of Seth Maness. Maness is a pitch-to-contact double play specialist, but the Cardinals needed only one out to escape the frame. Jonny Gomes followed with a game-changing three-run homer. Matheny's woefully slow hook and poor bullpen management cost his team the contest. Overall Matheny's a good manager, but Game 4 wasn't his night. |
Adell shows part of the reason why Los Angeles drafted him 10th overall in 2017

And, well, they're probably right

Supposedly, MLB execs have discussed letting teams hit any three hitters they want in the...
Keep tabs on the top 50 free agents on the market right here

After the departures of Steven Souza and Corey Dickerson, the Rays add a right-handed bat

Rasmus essentially walked away from baseball during last season