Appel, Bryant, Gray lead draft class that isn't as bad as they say
This year's MLB Draft, which will begin Thursday, has been maligned. But Jon Heyman says viable players can be found.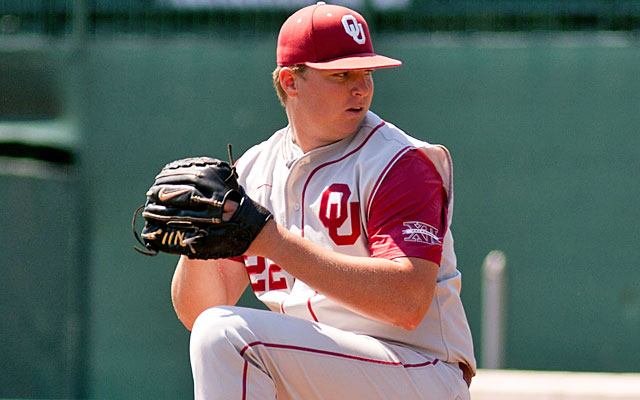 This MLB Draft class is about the most maligned in years. But the truth is, there are still plenty of decent players who will go in the first-year (amateur) draft that begins Thursday -- if you pick wisely.
"It's not as bad as most folks are saying," one American League scouting director maintained.
Sure, it's weak in spots. But it's strong for college hitters at the top, with Kris Bryant, Colin Moran and D.J. Peterson. It's very strong for third basemen with Bryant, Moran, Peterson and Eric Jagielo. And it's especially strong and deep for high school catchers, which has some scouting directors drooling.
The better arms are quite good, too. Mark Appel and Jonathan Gray lead the class of college pitchers while Kohl Stewart and Trey Ball are a pretty fair duo of prep pitchers.
Here's our top 30, with input from experts ...
1. Mark Appel, Stanford, RHP: He turned down a chance at $3.8 million from the Pirates as the No. 8 selection last year but seems to be drawing interest from the Astros, who passed on the Houston native last time. He could double what he turned down if Houston takes him No. 1 but shouldn't fall past the Cubs at No. 2.
2. Kris Bryant, University of San Diego 3B-OF: College baseball took the power out of the game with the new bats. But nobody told this guy. He has 31 dingers, more than most NCAA teams. A very good athlete but only solid at third and could move to the outfield. Most see the Rockies taking him at No. 3 if he's there.
3. Jonathan Gray, Oklahoma, RHP: He's really going to hit the bonanza after turning down about $500,000 from the Yankees three years ago. He frequently hits 100 mph and often carries it into the late innings.
4. Kohl Stewart, St. Pius X (Houston) HS, RHP: There's a lot of hype over the possibility that he could go play quarterback for Texas A&M (once Johnny Football leaves). But this guy is too good a pitcher. Folks see him signing.
5. Colin Moran, North Carolina, 3B: The comparisons most often heard are Mark Grace and James Loney. "This guy can hit," said one scouting director. One GM suggested Mark Teixeira could be a comp, but others thought that was a reach. B.J. Surhoff's nephew had a big year, but he might have to move off third base.
6. Clint Frazier, Loganville (Ga.) HS, OF: The redheaded sparkplug is beloved for his gamer quality, but he might not have as high a ceiling as that other great Georgia prep outfielder one spot below.
7. Austin Meadows, Grayson (Ga.) HS, OF: The big lefty is said to have a higher ceiling than Frazier. Very interesting to see which one of the Georgia prep stars goes first.
8. Trey Ball, New Castle (Ind.) HS, LHP: The big lefty might turn out to be the best high school pitcher out of this draft.
9. Sean Manaea, Indiana State, LHP: He was talked about as the potential No. 1 overall pick off his flawless Cape Cod campaign, but injuries and inconsistency have him in more of a wild-card position. He had ankle and hip problems this year, and teams are poring over medicals.
10. D.J. Peterson. New Mexico, 3B: "This guy can really hit," one scouting director said. Some liken him to Kevin Youkilis as a collegian. Youk didn't turn himself into a good defender at third until the pros.
11. Braden Shipley, Nevada, RHP: The converted position player totes a very good changeup.
12. Hunter Renfroe, Mississippi State, OF: A Tim Salmon clone has used a big year to catapult in the draft.
13. Ryne Stanek, Arkansas, RHP: An inconsistent season has caused him to fall a bit.
14. Phil Bickford, Oaks Christian (Calif.) HS, RHP: A bit like Jered Weaver, which isn't a bad thing.
15. Jon Denney, Yukon (Okla.) HS, C: An offensive catcher, which also isn't a bad thing.
16. Aaron Judge, Fresno State, OF: "Humongous power," said one scout. Hits lots of homers, but so far a lot of them are in batting practice.
17. Tim Anderson, East Central (Miss.) CC, SS: Took off this spring.
18. Reese McGuire, Kentwood (Wash.) HS, C: Very sound defensive catcher.
19. Ian Clarkin, Madison (Calif.) High, LHP: Four-pitch hurler with a very good feel for pitching.
20. Dominic Smith, Serra (Calif.) HS, 1B: Big-time power. Not fast, which probably precludes the outfield as a pro.
21. Austin Wilson, Stanford, OF: Another power bat. Untapped potential.
22. Eric Jagielo, Notre Dame, 3B: The lefty swinger has power, too. Stock rising.
23. Alex Balog, San Francisco, RHP: Tall. He looks like a major-league pitcher. Doesn't hurt that he has three solid pitches, either.
24. Hunter Green, Warren East (Ky.) HS, LHP: Projectable lefty, which means folks think he should make it.
25. Nick Ciuffo, Lexington (S.C.) HS, C: Lefty-hitting catchers are hot commodities, and Ciuffo also knows what he's doing behind the dish.
26. Kyle Serrano, Farragut (Tenn.) HS, RHP: Can play for dad, Dave Serrano, at the University of Tennessee if the draft doesn't work out to his liking.
27. Phil Ervin, Samford, OF: The Cape Cod standout has great plate discipline.
28. Alex Gonzalez, Oral Roberts, RHP: The advanced college pitcher is ready for Triple-A. The question is the ceiling.
29. Rob Kaminsky, St. Joseph (N.J.) HS, LHP: Curveballs, and more curveballs. Hot item in New York metro area. A Yankee pick?
30. Michael Lorenzen, Cal State Fullerton, OF-RHP: Many see him as an outfielder, but he has a 99-mph fastball to fall back on.
The lefty starter is coming off a terrible season

After acquiring Ian Kinsler and Zack Cozart in recent days, the Angels are trending upward

Cozart's coming off a big season as the Reds' shortstop
The veteran slugger spent the last eight seasons with Cleveland

The Padres may be poised for an active winter

Yes, Bryce Harper is going to make a lot of money next winter