April 24 Prospect Watch: Jonathan Singleton on the cusp of a call-up
Another top Astros prospect is close to a callup while the best pitching prospect in the minors struggles. Here is this week's prospect update.
More MLB: Power Rankings | Expert Picks | Latest news & notes | Fantasy news
The minor-league season is three weeks old and the 2014 draft is less than seven weeks away, so, with that in mind, here is our weekly look at prospects in the minors and the amateur ranks leading up to the draft.
Three up
LHP Marco Gonzales, Cardinals: As if the Cardinals need another stud pitching prospect, right? Gonzales, 22, was the 19th overall pick in last summer's draft. His spring training was hampered by a forearm problem. He joined the club's High Class-A rotation two weeks ago and has allowed four runs with a 19/4 K/BB in 17 2/3 innings. Last time out he whiffed seven with one walk in seven innings. Gonzales is a super-polished command lefty -- not necessarily a big stuff guy -- and he could shoot up the minor-league ladder this summer. I don't think he'll do what Michael Wacha did last year -- from college to MLB in 12 months -- but I would not be surprised if he gets to the show in August or September.
RHP Ben Lively, Reds: The 22-year-old Lively was Cincinnati's fourth rounder in last summer's draft, and since turning pro he has 89 strikeouts and only 14 walks in 64 innings. His numbers this season are right out of a video game: 23 IP, 8 H, 1 R, 1 ER, 1 BB, 33 K. He has struck out 10 in six shutout innings in each of his past two starts. Lively records all those strikeouts thanks to a deceptive delivery, a lightning quick arm, and a low-90s fastball/slider/changeup mix. It's unclear if he is a starter or reliever long-term, but there is no doubt about his ability to miss bats. Lively is more likely to make his debut in 2015 than 2014.
1B Jonathan Singleton, Astros: The Astros called up George Springer last week and Singleton figures to be next in line for a promotion. The 22-year-old was part of the Hunter Pence trade with the Phillies, and he went into Wednesday's game hitting .325/.418/.740 with six doubles and eight home runs in 19 Triple-A games. Four of those homers have come in the past week. Singleton will strike out a bunch and he was suspended 50 games last year for marijuana use, but there's no question he is the team's first baseman of the future. Unlike Springer, he might have to wait until after the Super Two cutoff date (usually late June/early July) to get called up.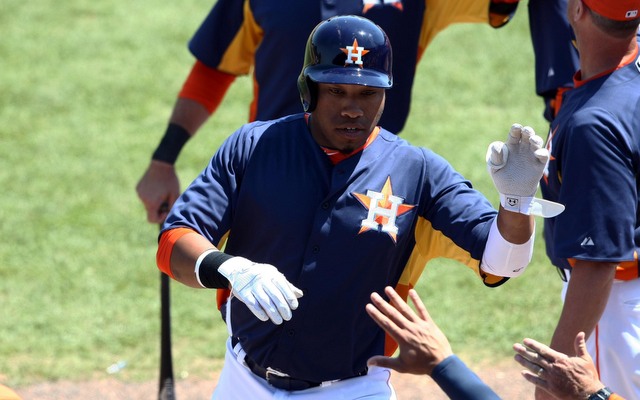 Three down
RHP Archie Bradley, Diamondbacks: Bradley, 21, is the best pitching prospect in the minors right now, but his past two Triple-A starts have been rough. He surrendered seven total runs on 12 hits and four walks in 8 1/3 innings in those two games, striking out 12. Bradley also hit three batters. Command has never been his strong suit and that remains true this season. The stuff is still electric and you won't find anyone who thinks he has something less than ace potential, so these two starts are nothing more than a bump in the road until further notice. Given Arizona's rotation situation, Bradley could see the big leagues later this year. Expecting him to be a savior for MLB's worst rotation is not realistic at all, however.
SS Alen Hanson, Pirates: The Pirates have arguably the best farm system in the game, and the 21-year-old Hanson is their top shortstop prospect. His late-season cameo at Double-A didn't go so well last year (.255/.299/.380 in 35 games) and his return to the level has been something less than great so far: .250/.294/.359 in 15 games before Wednesday. Hanson's strikeout rate is not out of control (22 percent of plate appearances) but he needs to cut down on that to reach his ceiling as a speedy leadoff hitter with sneaky power. That has been true his entire career.
OF Michael Taylor, Nationals: Not to be confused with Athletics farmhand Michael Taylor, this Michael Taylor was Washington's sixth-round pick in the 2009 draft. The 23-year-old is a tool shed, but he struggles against non-fastballs and his swing is complicated. The result: 394 strikeouts in 409 minor-league games coming into 2014. Taylor went into Wednesday's action hitting .226/.300/.355 with 28 strikeouts in 16 Double-A Games. He has gone 1 for 17 with 10 strikeouts in his past four games, but the one was a three-run homer. Taylor is a classic high-risk, high-reward prospect.
2014 draft stock up
RHP Jeff Hoffman, East Carolina: This has been an uneven spring for the 21-year-old Hoffman, mostly because he was merely excellent and not as overwhelmingly dominant as his stuff suggests he should be. He comes into this weekend with a 2.94 ERA and a 72/20 K/BB in 67 1/3 innings, and it appears he is coming on at just the right time. Hoffman struck out 16 in eight scoreless innings against Middle Tennessee State last Thursday, allowing just three hits and one walk. With a big mid-90s fastball, a knockout breaking ball and a promising changeup (not to mention a 6-foot-4, 195-pound frame), Hoffman is a lock for the top 10 and a candidate to go first overall to the Astros if he continues to dominate between now and the draft.
2014 draft stock down
RHP Tyler Beede, Vanderbilt: Beede, 20, was as good as any college pitcher early this spring. The last few weeks have been a grind, and on Friday he allowed six runs on 10 hits and one walk in seven innings against Texas A&M. Here is his line over the past three starts: 20 IP, 24 H, 17 R, 14 ER, 7 BB, 16 K. That is not what you expect to see from a guy who was considered one of the two of three best college pitchers in the draft class less than a month ago. Beede turned down the Blue Jays as the 21st overall pick in the 2011 draft, and while he should go higher this year, he is no longer a lock to go in the top five picks. There is a non-zero chance he slides out of the top 10 entirely.
The 2014 amateur draft will be held from June 5-7. The full draft order can be found at River Ave. Blues and is still subject to change pending the free agencies of Stephen Drew and Kendrys Morales.
No, you're not imagining things. This MLB offseason has been very slow compared to the last...

Francesa will retire from radio next month, so he'll have plenty of free time next summer

Get your sports fans something that they'll wear all year
Get 15 percent off any order of more than $75 at CBS Sports Shop

The Twins need help in the rotation, and they may look to the trade market to find arms

Here are the bullet-points of what went down Tuesday regarding MLB and the Braves' punishm...