April 3 Prospect Watch: Farm teams to watch; Rodon's stock falling
In our inaugural prospect watch, we highlight some minor league teams to watch in 2014. We also examine the falling stock of draft prospect Carlos Rodon.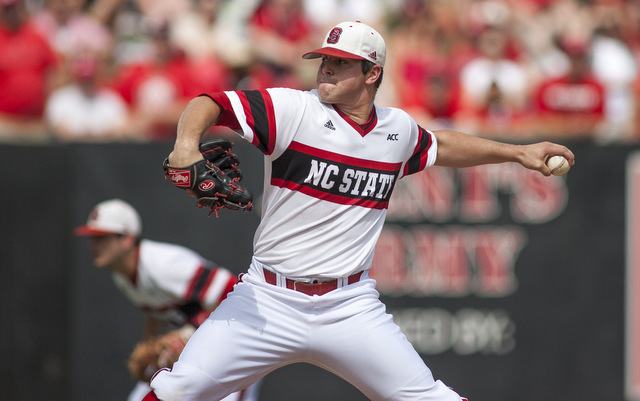 More MLB: Scoreboard | Standings | Probable Pitchers | Sortable Stats | Odds
As part of our 2014 season coverage, we're going to dip our toe into the minor league pool and highlight various prospects on a weekly basis. Since the minor league season begins today and there are no performances to look it, we'll instead break down some surprise Opening Day roster additions, exciting minor league teams, and then check in on some notable prospects for the June amateur draft.
Three Surprise Prospects On Opening Day Rosters
OF Tyler Collins, Tigers: Collins, 23, swatted three home runs and slugged .574 in spring training, landing him a job with the big league team as Andy Dirks' injury replacement. Detroit selected him in the sixth round of the 2011 draft and while his overall .272/.350/.449 batting line in 298 minor league games is solid, he did only hit .240/.323/.438 at Double-A last season. The Tigers are hoping his career .266/.343/.429 line against right-handers makes him a functional platoon partner for Rajai Davis. Dirks will be out for several weeks, so Collins will get an extended look and a chance to carve out a niche as a platoon outfielder. He has gone 0-for-4 with a strikeout in the team's first two games.
LHP Roenis Elias, Mariners: Thanks to Hisashi Iwakuma and Taijuan Walker injuries, a rotation spot opened up for Elias, a 25-year-old southpaw who defected from Cuba way back in 2010. He has a 3.61 ERA with 8.0 K/9 and 3.0 BB/9 over three minor league seasons, including a 3.18 ERA with 8.4 K/9 and 3.5 BB/9 in 22 starts and 130 innings at Double-A in 2013. Elias is not a huge stuff guy, instead sitting in the low-90s with his fastball and backing it up with your garden variety curveball, slider, changeup mix. He won a rotation spot in camp and he will have an opportunity to stick around long-term even after Iwakuma and Walker return. Assuming he pitches well, of course. Elias will make his first start Thursday night.
OF Ryan Kalish, Cubs: Kalish's name might ring a bell. The 26-year-old was a big time prospect with the Red Sox a few years ago, but a series of neck and shoulder injuries almost pushed him out of baseball. Kalish played only 93 games from 2011-13, including zero last season. Boston non-tendered him over the winter and he latched on with the Cubs, who are run by Theo Epstein and Jed Hoyer, the guys who originally drafted him. Kalish won a bench spot with a strong spring and is now an extra outfielder/lefty bat off the bench. It's a remarkable comeback story for a player who never got much of a chance to establish himself as a big leaguer earlier in the career. Kalish has gone hitless in three at-bats in Chicago's first two games of 2014.
Three Minor League Affiliates To Watch
High-A Lancaster JetHawks (full roster): When you have the No. 1 overall pick in the last two drafts on your roster, you are guaranteed to be a team to watch. The Astros assigned both shortstop Carlos Correa (2012) and right-hander Mark Appel (2013) to Lancaster, where they will join other notables like righty Lance McCullers Jr., lefty Josh Hader, righty Vincent Velasquez and third baseman Rio Ruiz. It was surprising Houston opted to send Appel, a polished pitcher who spent four years at a major program in Stanford, to High Class-A, but apparently they are bringing him along slowly following a January appendectomy. I would expect him to jump to Double-A very soon.
Triple-A Memphis Redbirds (full roster): The Cardinals have one of the best farm systems in the game, and it stands out even more because many of their best prospects are near MLB ready. The Memphis club boasts the best outfield in the minors, with top prospect Oscar Taveras flanked by Stephen Piscotty and Randal Grichuk. Grichuk, a brute masher with 40 homers and a .481 slugging percentage from 2012-13,  was acquired from the Angels in the David Freese-Peter Bourjos trade. Piscotty is a pure hitter who managed a .295/.355/.464 batting line between Single-A and Double-A a year ago, and Taveras is simply one of the three or four best prospects in the world. This trio makes the entire club worth watching.
High-A Rancho Cucamonga Quakes (full roster): There are two very good and one excellent reason to catch the Dodgers' High Class-A affiliate the summer. The two very good reasons are third baseman Corey Seager (Kyle's brother) and lefty Tom Windle. They are the club's first and second round pick in the 2012 and 2013 drafts, respectively. The excellent reason is southpaw Julio Urias, a 17-year-old (!) who manhandled Low-A a year ago (2.48 ERA, 11.1 K/9, 2.7 BB/9 in 54 1/3 innings). He's not quite a left-handed Felix Hernandez, but he's not far off either. Urias has a legitimate chance to pitch in the big leagues as a teenager.
Oh, and by the way, Lancaster and Rancho Cucamonga play a three-game weekend series from April 25-27. If you're in Southern California and can get to LoanMart Field in Rancho Cucamonga for a game, this is definitely the series to hit. Might be the best series of the minor league season.
2014 Draft Stock Up
LHP Brady Aiken, Cathedral Catholic HS (San Diego): If the draft were held today, Aiken would likely be the first high school southpaw to go first overall since the Yankees took Brien Taylor in 1991. He's big and physical at 6-foot-4 and 200 lbs., already touching the mid-90s with his fastball and sporting a hammer curveball as well. He also throws a promising changeup, unlike many dominant prep arms who simply never need one before turning pro. Aiken also stands out because he's younger than typical high school prospects and will graduate at 17. He doesn't turn 18 until August. If you're a fan of dreaming big and setting unrealistic expectations, there's Clayton Kershaw potential here. Aiken threw a no-hitter Wednesday night, striking out 10.
OF Bradley Zimmer, San Francisco: Zimmer's brother Kyle was the fifth overall pick in the 2012 draft, but Bradley is a hitter, not a pitcher like his brother. The 21-year-old finished play last weekend with a .430/.492/.701 batting line, six home runs and 11 stolen bases in 26 games. Zimmer might be the best all-around college player in the draft, with speed and hitting ability and strong center field defense. He came into the spring as a candidate to go in the back half of the first round, but now he's looking like a top 10 pick. Zimmer will be a popular target among teams looking for a safe, quick moving hitter.
2014 Draft Stock Down
SS Jacob Gatewood, Clovis HS (California): Gatewood, 18, created a name for himself (among the media, anyway) with a monster showing during the MLB Home Run Derby last summer, when he launched several balls into the Citi Field upper deck during a four-minute commercial break. Big-leaguers took notice as well. Unfortunately his spring has not gone well, as questions about his ability to make consistent contact and remain on the infield persist. Gatewood's raw power is enormous, arguably the best in the draft class, but there are growing concerns about whether he will be able to tap into it at the next level. He's gone from a potential top 10 pick to more of a late first rounder.
LHP Carlos Rodon, NC State: Coming into the spring, Rodon was not just the best prospect in the draft, he was arguably the best draft prospect since Bryce Harper in 2010. The 21-year-old was outstanding during his freshman and sophomore years, going 19-3 with a 2.33 ERA, 11.6 K/9 and 3.3 BB/9, but so far this spring he has looked much more human despite a 2.09 ERA, 10.5 K/9 and 3.4 BB/9. Rodon's fastball has reportedly sat more low-90s than mid-90s and both his changeup and curveball have regressed. His slider is a wipeout pitch and the single best pitch in the class, and one of the few reasons his stock has not fallen further. Rodon still figures to be a top five pick, but it wasn't long ago he was the slam dunk, no doubt about it choice for the Astros and the first overall selection.
The 2014 amateur draft will be held from June 5-7. The full draft order can be found at River Ave. Blues and is still subject to change pending the free agencies of Stephen Drew and Kendrys Morales.
Maxwell had not played the last few games due to concussion symptoms

L.A. manager Dave Roberts indicated that Puig's benching was related to more than one inci...
Manager Torey Lovullo said so on Monday

Let's see how SportsLine forecasts the race for MLB's 10 playoff spots

Monday kicks off the final week of MLB action. Let's take a look at everything that went d...