Are contending Orioles 'tapped out' after landing Feldman?
Baltimore may be limited to using its farm system to supplement its talented roster this summer.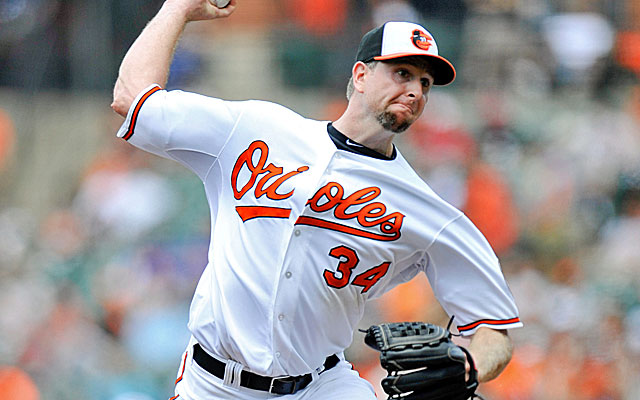 Remember all that early speculation about how the Orioles might pick up Cliff Lee at the trade deadline?
Well, beyond the fact that Lee is all but assured of staying with the Phillies through the deadline, the contending Orioles are apparently not working in that sort of financial arena. The now 54-43 O's added solid starter Scott Feldman in a trade earlier this month, but apparently the team's coffers are just about empty now.
While considering a couple of needs recently, an Orioles-connected person used the phrase "tapped out'' to describe their financial situation.
Suffice it to say, the Orioles will not be acquiring an ace pitcher via trade, and any outfield and DH considerations will have to fit financially into a limited budget. When asked recently about Justin Morneau, who has $6 million to go on his 2013 salary, one Orioles person responded with two telling words: "too expensive.''
So obviously anyone like Lee, who makes $25 million a year through 2015 and has more than $70 million to go on his deal, is out of the question. All is not lost since the Orioles have arrguably the best collection of 20-something position players in baseball, between Manny Machado, Chris Davis, Adam Jones, Nick Markakis and Matt Wieters.
Promising outfield prospect Henry Urrutia, who has a big bat, gets his first career start today while Baltimore's best bets for help will continue to come from within. The 2012 midseason callup of wunderkind Machado provided a major boost last year, and infielder Jonathan Schoop, pitcher Kevin Gausman and others could bring a lift this year.
But as for someone like Lee, well, they spent about $3 million to acquire Feldman, and it appears they are close to their limit. So to estimate, they are approximately $70 million shy for Lee.
Our annual look back at the preseason predictions and rankings shows lots of good and bad

Keep it locked right here for everything you need to know about the world of baseball Tues...

There have been several racially charged incidents at Fenway Park this year
Washington's right fielders have sputtered offensively since Harper went down

The good news? Wichita still has a chance to win the series Tuesday night

The 2017 season is going to shatter the all-time collective home run record