Are the upstart Marlins legitimate contenders?
The Miami Marlins are only 1.5 games out in the NL East after a 5-1 week against two 2013 playoff teams. Are these Marlins for real?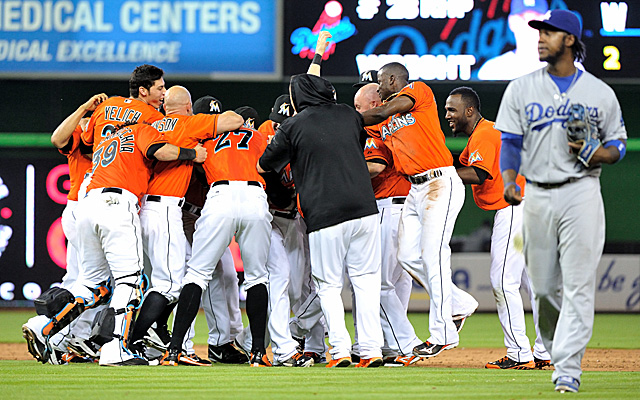 More MLB: Power Rankings | Expert Picks | Latest news & notes | Fantasy news
The Miami Marlins just took five of six games against two 2013 playoff teams in the Braves and Dodgers. In fact, they pretty well embarrassed the Braves, who came into the week a robust 17-7.
These Marlins are now 16-15 and while technically in last place in the crowded NL East, they're only 1½ games out of first place. They have two legitimate stars and several other worthwhile players. They're exciting, too.
Given that it's now May and Marlins have mostly been a good team -- they've been great other than that terrible eight-game losing streak -- it's worth at least asking the question: Can they be contenders this year?
My initial reaction was to say no. Let's dig a bit and see where that takes us, though.
First things first: Giancarlo Stanton can absolutely continue to play like an MVP and Jose Fernandez could absolutely start the All-Star Game and win the NL Cy Young. We'll leave them out without dissection.
The most surprising thing thus far has been the offense as a whole. The Marlins ranked last in pretty much everything in the NL last season (runs, hits, doubles, homers, average, on-base percentage, slugging percentage, etc.), after all. There's no way to sugarcoat things, it was an embarrassing offense.
This time around, though, the Marlins made a few improvements and have seen positive steps forward from some youngsters. The result is that through 31 games, the club ranks second in the NL in runs, average, OBP and slugging. They've already scored at least eight runs in a game seven times. They only did that nine times all of last season.
So the question is, can they keep this up?
The answer is a rather emphatic no.
Not only is it easy to see that players like veterans Garrett Jones and Casey McGehee are playing well above their ceilings at this point in their career, but the club as a whole has benefited rather nicely from luck on balls in play. The Marlins lead the majors with a .334 mark on balls in play. For those unfamiliar with batting average on balls in play, it can be a handy tool to help see who is over- or underperforming in small samples.
Here's a small part of the Fangraphs.com explanation (click through for all it):
The average BABIP for hitters is around .290 to .310.  If you see any player that deviates from this average to an extreme, they're likely due for regression.

However, hitters can influence their BABIPs to some extent. For example, speedy hitters typically have high career BABIP rates (like Ichiro and his .357 career BABIP), so don't expect all players to regress to league average -- instead, look at a player's career BABIP rate.
Here are a few Marlins with BABIPs over their career marks (2014 BABIP, career BABIP):
Jarrod Saltalamacchia (.382, .325)
Casey McGehee (.379, .289)
Garrett Jones (.342, .287)
Adeiny Hechavarria (.354, .290)
And, again, the team as a whole is pretty blatantly well out in front of the league average and these things tend to even out over the course of 162 games. The offense is due a downturn, probably a significant one and a lot of it will start coming on batted balls that just stop falling in for hits. There's also the aforementioned obvious overperformance by veterans and also the possibility that unestablished -- albeit talented -- youngsters like Christian Yelich and Marcell Ozuna have trouble keeping up the pace in their first full season.
As far as the rotation, I like it but don't love it. Fernandez is elite. Nate Eovaldi and Henderson Alvarez are good. The five spot is very suspect, though, and Tom Koehler is pretty sizeably overperforming his peripherals thanks mostly to a ridiculously low BABIP (.215) and a high left-on-base percentage (85.8). He's due a regression here in the coming weeks, much like we've seen with guys on other teams like Aaron Harang and Kyle Gibson. It happens.
The bullpen has a great -- and underrated -- anchor in closer Steve Cishek. The bridge to him, though, is mediocre.
As far as the home/road splits, the Marlins have been pretty drastic so far. They're 14-5 at home with a plus-50 (!) run differential. They've been world beaters at home. Given that many of their players are younger, it makes sense that they'd feel much more comfortable at home, too. On the road, though, they are 2-10 with a minus-26 differential. Small sample caveats apply, of course, but it's drastic enough to be noteworthy.
After three home games with the Mets this week, the Marlins embark on a grueling West Coast road trip, in which they play the Padres four times, Dodgers three times and Giants four. Those are three pitchers' parks, on the road, likely against good pitching for the most part. This is the task for a mostly young offense that is due a regression anyway. That's a bad formula.
Unfortunately for the Marlins, the smart money is on the upcoming road trip being a rough one. And though they're much improved from last season's 100-loss club, they aren't likely to contend -- not yet, at least.
J.D. Martinez is reportedly headed to Boston on a free-agent contract

Keep tabs on the top 50 free agents on the market right here

Arizona didn't waste much time turning to its fallback option following Martinez's deal with...
The former AL MVP has been one of baseball's best players in recent years

The free-agent slugger will join the Red Sox after all

Harper would prefer if reporters respect his wishes