Are Tigers done making big moves? Possibly, but don't count on it
The Tigers did not trade Doug Fister in order to get enough money to sign Joe Nathan. They are going all in for 2014. Bet the bank on it.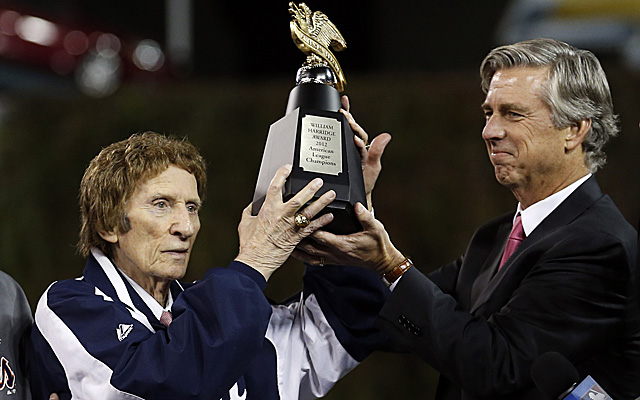 Detroit offseason: Trade Fielder for Kinsler | Trade Fister for three players | Sign Nathan
Thus far this offseason, the Detroit Tigers have made two pretty sizeable trades and one big signing. On one hand, they shed lots of future salary in dealing All-Star first baseman Prince Fielder while getting All-Star second baseman Ian Kinsler. Then, Monday night, the Tigers traded starting pitcher Doug Fister to the Nationals for what could end up being essentially spare parts. Tuesday morning, they signed All-Star closer Joe Nathan.
After the Fister trade, Tigers general manager Dave Dombrowski insisted the club wasn't slashing payroll.
"We have the most generous owner in Major League Baseball, and perhaps in sports," Dombrowski said (detroitnews.com). "You still have to work a combination of payroll and putting your club together. And you do those within reason. We're not cutting payroll whatsoever."
After having a payroll of around $150 million last season, the Tigers entered Tuesday with $102.7 million committed to next season (Cot's Contracts), though that doesn't yet include arbitration-eligible salaries for the likes of Max Scherzer, Rick Porcello, Alex Avila and Austin Jackson. Baseball-reference.com estimates those and other additions will bring the Tigers to $142.3 million. This was before the Nathan signing, which we'll have to assume pushes the Tigers up into the same ballpark for now -- and probably a bit higher.
So after signing a closer, will the Tigers be done? It's hard to tell, but my bet is they are not.
Dombrowski's words could be interpreted as the Tigers basically getting right back to the same level as last season's payroll after they sign a closer. After that, he may be preaching more fiscal responsibility in terms of doing things "within reason." That would mean that only minor moves will highlight the rest of the offseason in terms of additions to the big-league club.
As for future spending, though, shedding the Fielder deal gave the Tigers some flexibility. They may use some of that to extend Max Scherzer's contract -- he's a free agent after next season -- though Dombrowski said that situation hasn't changed. There's also Miguel Cabrera's free agency after the 2015 season to deal with.
So, yes, it's possible the Tigers are done with big splashes this offseason.
It's also possible they aren't, and, again, this is where my bet would lie.
Remember, deals can be backloaded, even heavily. Before the Nathan signing, the Tigers only had $82.8 million committed to 2015 and $64.8 million committed to 2016. Even with huge-money deals to Scherzer and Cabrera, it might be possible to fit someone like Shin-Soo Choo in there. It also wouldn't be too surprising to see the payroll rise in the next several years.
Let us keep in mind, Tigers owner Mike Ilitch remains in "all in" mode. Dombrowski went out of his way to make the point that Ilitch is the most generous owner in baseball. The Fister move wasn't directly made to pave the way for the Nathan signing due to the Tigers having budget constraints. The two moves were unrelated and the Tigers were going to sign a closer all along.
Thinking outside the box a bit, the Tigers need another reliever for the seventh/eighth inning range, which could probably be landed by dealing Rick Porcello. Might they do that and then go all-in for Japanese phenom Masahiro Tanaka? Stranger things have happened in Detroit, like signing Fielder.
Even if they don't do something like grabbing Choo or shocking with Tanaka, let us never count out the Tigers from making a big splash in the offseason. No team in the majors more desperately wants to win a World Series as soon as possible.
L.A. manager Dave Roberts indicated that Puig's benching was related to more than one inci...

Manager Torey Lovullo said so on Monday

Let's see how SportsLine forecasts the race for MLB's 10 playoff spots
Monday kicks off the final week of MLB action. Let's take a look at everything that went d...

No other rookie in baseball history has hit more home runs than Judge has this year

Jays have said goodbye to Encarnacion and will to Bautista. Should they move on from Donaldson,...