Are we in a '100-win team' drought?
MLB is on pace to have no 100-win teams for the third straight season. How does that compare to previous eras?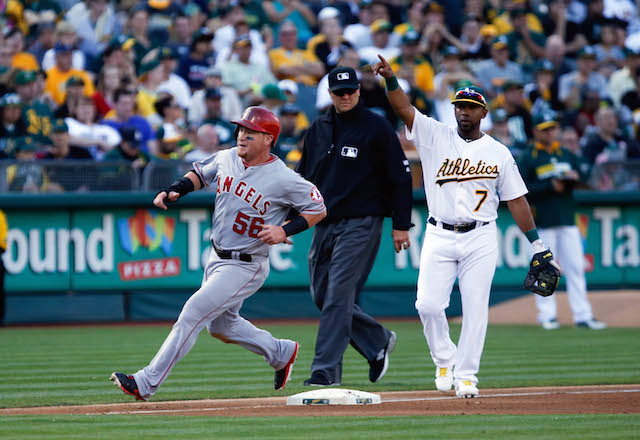 If current paces hold, then the Athletics and Angels will pace all of MLB this season with 95 wins apiece, the lowest leading full-season total since 1982. This is notable in that it would be the third straight year in which we've had no 100-win teams (the 102-win 2011 Phillies were the last).
To find another three-year stretch in which we didn't have a 100-win colossus in baseball, you must go back to the 1981-83 period. Of course, the '81 campaign, thanks to a labor stoppage, was limited to an average of 107.2 games per team. On the other hand, the league leader in wins, the Reds, were playing .611 ball, which translates to a 99-win pace. On the freakish and prehensile third hand, first- and second-half winners made the postseason in 1981, so a number of quality teams didn't have incentive to play their best baseball in the latter portion of the season. You can make your own decision, but the unique and never-to-be-repeated nature of the '81 season persuades me to exclude it from the data. 
If we limit ourselves to full seasons, we must go back to 1955-60 period, when we had six straight seasons without a 100-win club. However, bear in mind that prior to 1961 MLB generally played 154-game seasons. If we shift to a percentage basis -- i.e., seasons in which at least one team played at a .617 clip or better (the minimum 100-win pace on a 162-game scale) -- then the 1955-60 stretch is reduced to just two seasons of no teams playing at least .617 ball. Thus, the current "record" is still intact. 
Staying on a percentage basis, we make it all the way through the modern era -- back to 1901 -- without encountering a three-season stretch in which not a single team notched 100 wins in a year or played at a .617 pace. In that sense, the 2012-14 period, provided no teams surges and gets to triple-digit wins, stands alone in baseball history. 
In part, all of this is by design. Increasing local television revenues have helped small-market teams swell their coffers, increased national TV contracts and the growing footprint of MLB Advanced Media -- equally shared revenues, in both cases -- have worked to the same end. As well, teams these days are moving early to lock up pre-arbitration talent and buy out early free agent years. As such, it's harder for teams to build via free agency. Then there are the effects of the luxury tax on payrolls, which functions as a "soft" cap of sorts. It all adds up to increased parity, but a consequence of increased parity can be the absence of true greatness.
It's too much to say that baseball is awash in mediocrity right now, but the performance margins at the team level seem to be squeezing together. We have "goodness" in the standings --  the A's, Angels, Nationals, Orioles, Dodgers, Brewers and Royals are all on pace to win 90 or more games this season -- but we don't have greatness. On the other side, we're not on target to have a 100-loss team, either (although the Rangers are perilously close to such a pace). There's compression in the standings. 
This isn't to say whether this is a good thing or a bad thing (I'd argue it's more good than bad, but there's something to be said for having a dominant villain in the league). It is, however, unprecedented. Given the structural wrinkles noted above, maybe this is the new order of things for a while. 
It would be premature to bid adieu to the 100-win team, but perhaps we should prepare ourselves to be visited much less often by what was no so long ago a familiar kind of excellence. 
The Astros are still in control of the series, but have been unable to solve Yankees pitch...

The Astros and Yankees will play Game 4 in the Bronx early Tuesday evening

Yankee Stadium helped, but there's more to it than that
Aaron Judge and CC Sabathia had big games

Judge had an impact on both sides of the ball in Game 3

Ausmus most recently managed the Tigers, but won't be headed to Queens