Aroldis Chapman and the best problem in baseball
The Reds still appear to be undecided about whether Aroldis Chapman will start or close in 2013, but what's the right move?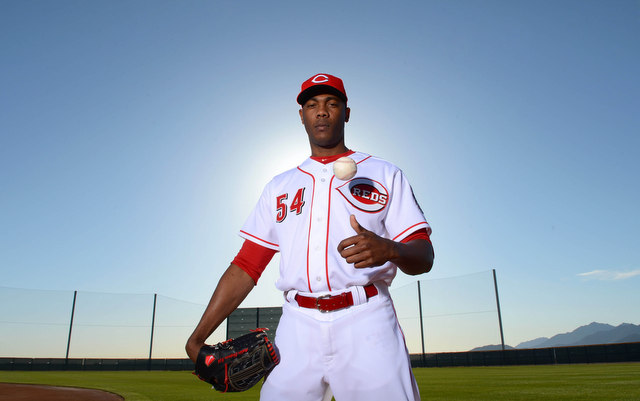 In January 2010, the Cincinnati Reds dropped more than $30 million on Cuban left-hander Aroldis Chapman . They envisioned the then-21-year-old assuming a spot near the front of their rotation for years to come, but to date he has started zero big-league games and only 16 minor-league games. Chapman has become a shutdown closer, not a front-line starter.
That will change this season, at least in theory. The now-25-year-old southpaw is working as a starter in spring training in anticipation of joining a rotation that received 161 starts from its top five pitchers a year ago. The problem? Last week Chapman told CBSSports.com's Danny Knobler that he wants to close. Manager Dusty Baker echoed that sentiment and wants the lefty in the bullpen.
In a vacuum, starting pitchers are more valuable than relievers. Your garden variety mid-rotation workhorse is more valuable than even the most dominant closer simply because of the volume of innings. Seventy innings will never be more valuable than 180+ innings, doesn't matter what the score is or anything like that. Starters bad enough to be less valuable than a reliever usually don't remain in a rotation very long.
Of course, nothing happens in a vacuum. Context changes everything. The Reds aren't just legitimate World Series contenders, they're legitimate World Series contenders with five starters other than Chapman. He would be bumping someone (presumably Mike Leake ) from the starting staff should he make the rotation. Cincinnati could be fixing a rotation that isn't broken, so to speak.
2013 ZiPS Projections for Reds starters (via FanGraphs)
Pitcher
IP
ERA
WAR

Johnny Cueto

192 2/3
3.32
4.8

Mat Latos

197 1/3
3.47
4.5

Bronson Arroyo

164 2/3
4.59
1.5

Homer Bailey

173 1/3
4.00
2.8
Mike Leake
166 2/3
4.59
1.5
Aroldis Chapman
143 2/3
3.63
3.0
ZiPS expects Chapman to be the Reds' third-best starter this season, which quite frankly would be a huge success. If he becomes a true ace-caliber pitcher, it will likely take him two or three years to actually get there. A three-and-a-half ERA in 140 or so innings would be pretty darn good for a guy who has never started an MLB game before.
As a closer last year, Chapman managed an insane 3.3 WAR according to FanGraphs, which was the 11th-best relief season of the last 20 years. It's the type of performance that usually doesn't get repeated -- Eric Gagne is the only pitcher with two of the 10 best relief seasons during the last two decades -- but that doesn't mean Chapman will turn into a league average pitcher all of sudden. The safe bet would be him being an awesome closer in 2013, just not as awesome as he was in 2012.
Because the Reds are very clearly built to win now, there's a strong case to be made that keeping Chapman in the bullpen would give them the best chance to win a World Championship. They did spend $21 million on Jonathan Broxton to take over as closer this offseason, but he could easily become an expensive but highly effective right-handed setup complement to left-hander Sean Marshall . There's no such thing as too many good relievers.
At the same time, the Reds are built to win both now and for the next several years. Joey Votto , Jay Bruce , Brandon Phillips , Todd Frazier , Billy Hamilton, Cueto, Latos, Bailey, Leake ... all of those guys are under contract for another few years and only Phillips is over 30. Their core is in place and moving Chapman to the rotation now may decrease their chances of winning the World Series in 2013 while improving their chances at multiple titles down the line. It's a very difficult balancing act.
There are legitimate concerns about Chapman's ability to hold up as a starter, mostly because humans really aren't designed to throw a baseball 100 miles an hour a bunch of times every five days. Red Sox right-hander Daniel Bard fell apart when he tried to transition from reliever to starter last summer and is still trying to recover. Joba Chamberlain was unable to make the transition as well, but guys like C.J. Wilson , Brandon Morrow and Chris Sale make the switch without a problem. It's a risky move that comes with an awful lot of potential reward.
Personally, I think the Reds should give Chapman every chance to succeed as a starter. They would be doing themselves a disservice if they didn't. He's a special pitcher either way, but they owe it to themselves to see if he's the next Randy Johnson rather than "just" the next Billy Wagner. I certainly understand the argument for not messing with success and leaving him in the bullpen, but adding a potential dominator to that rotation could be what puts Cincinnati over the top.
For more baseball news, rumors and analysis, follow @EyeOnBaseball on Twitter, subscribe to the RSS feed and "like" us on Facebook. Also, individually interact with us on Twitter: @MattSnyder27, @daynperry and @mikeaxisa.