Aroldis Chapman may be the best pitcher in baseball . . . and he's pitching the eighth
The Reds say Aroldis Chapman will be a starting pitcher, and from all evidence this year (19 1/3 innings, no runs, 34 strikeouts), he could be a great one. But right now, he's pitching the eighth inning. Does that make any sense? The Reds make the case that it does.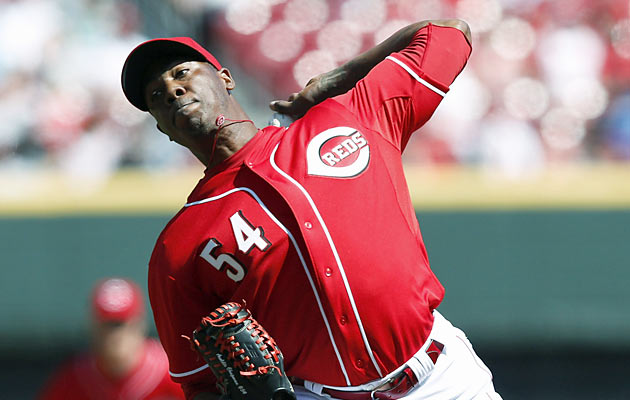 The Reds do plan on making Chapman a starter but it might not be soon. (Getty)
NEW YORK -- The Reds paid $225 million to keep Joey Votto, and $72.5 million to keep Brandon Phillips.
They're willing to spend money. Even so . . .
What exactly is this team doing with a $30 million setup man?
It's not that Aroldis Chapman isn't worth the money. By this year's evidence -- no runs allowed in 19 1/3 innings, with 34 strikeouts and a .296 opponents OPS -- he may worth every penny.
He may well be the best pitcher the Reds have.
Or the best pitcher anyone has.
So . . . what's he doing pitching the eighth inning?
The Reds, from general manager Walt Jocketty on down, believe that the 24-year-old Chapman's future is as a starter -- a dominant starter. They all say that he will be a starter, and everyone around the Reds says that Chapman wants to be a starter.
And still he's pitching the eighth inning, as he did once again Wednesday night, in the Reds' 6-3 win over the Mets.
It was a treat to watch. Nine pitches, three outs, on two strikeouts and a routine ground ball.
Nine pitches that helped the Reds seal another win, their 19th of the season, and the 13th that Chapman has contributed.
Nine pitches that had you thinking that if Chapman were starting, you'd look forward to his starts the way you look forward to seeing Justin Verlander or Stephen Strasburg.
And the Reds have him pitching the eighth inning.
I came to Citi Field Wednesday prepared to write that they were wrong, but a whole bunch of Reds people -- from Jocketty to manager Dusty Baker to even Reds players -- made a strong case that they're not.
"On our team right now, he should stay in the bullpen," second baseman Brandon Phillips said. "We need someone in the bullpen like him."
The Reds' plan this year was for Chapman to start. He went to spring training as a starter, and he was the Reds' most impressive starter in Arizona. He was probably going to make the opening day rotation, except that Ryan Madson got hurt, and Bill Bray got hurt, and Nick Masset got hurt, and Baker started asking (begging?) to have Chapman moved to the bullpen.
There's no doubt that Baker is still the strongest advocate of keeping Chapman there. Some Reds people note that the manager is on a one-year contract, and say they understand it.
But it's not only Baker.
Jocketty doesn't rule out Chapman in the rotation at some point this year, but he also said, "We may become resigned to the fact that he may spend this year in the bullpen."
The Reds will remind you that Chapman is still just 24 years old, and also that the $30 million contract they gave him after he defected from Cuba ties him to the team for three more seasons after this one.
They also know that while Chapman was stretched out as a starter in spring training, he hasn't thrown more than 35 pitches in a game since then. To make him a starter now, they'd either need to give him several extended appearances out of the bullpen or send him to the minor leagues for a couple of starts.
It may be that he either stays where he is, or that he switches spots with Sean Marshall and becomes the closer.
It may be that he becomes the Reds' version of Neftali Feliz, a bullpen force this year and a potentially dominating starter in the future.
Eventually he's going to start, and I can't wait.
But I guess the Reds can.
Washington's right fielders have sputtered offensively since Harper went down

The good news? Wichita still has a chance to win the series Tuesday night

Soon more home runs will have been hit in 2017 than in any other season in MLB history
Ferrell somehow avoided going to the ground

Plus, we saw a possible AL Wild Card Game preview in the Bronx and lots more from around M...

The Pirates disappointed in 2017. Will 2018 be any different?