Aroldis Chapman reaction: Batting around ways to protect the pitcher
Nationals players throw out a couple novel ideas in the wake of the horrific accident involving Reds star Aroldis Chapman.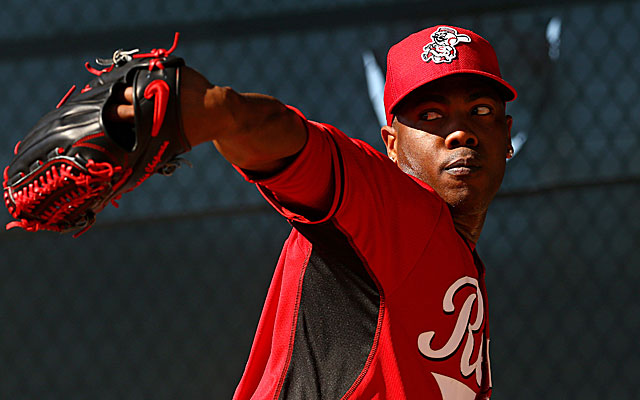 MORE: Spring Training | Scoreboard | Team previews
VIERA, Fla. -- Talk in the clubhouse here at Nationals camp -- and presumably all around baseball -- has turned to the dangers of pitching following the terrible accident involving Reds star closer Aroldis Chapman, who suffered broken facial bones and had to be hospitalized overnight after being hit by a line drive.
Nationals players batted around a couple novel ideas in the wake of the scary incident involving one of their baseball brethren.
Nationals pitcher Gio Gonzalez wondered if pitchers need to wear the "LeBron mask" protecting the entire face, before deciding it probably would be too cumbersome. And shortstop Ian Desmond wondered aloud whether the pitchers' mound needs to be moved back. He understood that isn't something likely to happen, but the sentiment is understandable after seeing a defenseless pitcher struck in the head by what amounted to a missile.
"The athlete is better now," Desmond said. "It can get to the point where little putting high school kids on a Little League field. How are you going to do it? You can't slow a person down."
Any idea is worth discussion following Chapman's unfortunate accident, whereby he was hit by a scorching liner off the Royals' Salvador Perez's bat said to be moving at about 110 mph, even faster than a Chapman pitch (he's been clocked at up to 105). Chapman had to be carried off the field.
"Every pitch you're hoping it doesn't come up the middle," Gonzalez said. "It's getting scarier and scarier every day. Pitching is a very dangerous thing right now."
That's a given, but solving the issue is another thing entirely.
MLB has considered putting protection in pitchers' caps, and that may come to fruition, though there's some resistance. Gonzalez, who recalls being nailed hard in the shin by a liner back in the minors years ago, mentioned the "LeBron mask," but he wasn't advocating for anything that might throw off a pitcher's weight and potentially his mechanics. That could possibly affect a pitcher's arm.
Nationals reliever Drew Storen says he doesn't ever think about the possibility of a line drive back at him during games, but at times like this, it's hard not to wonder about when he's not pitching, anyway. "It's such untapped territory," he said. "Things are happening more and more. Balls come back pretty quick."
Storen said it'd "be weird" having on a hard cap for protection, or certainly the LeBron-type mask.
There is no easy answer.
"We'll have to find a way to prevent line drives," Gonzalez decided.
"There's not a whole lot you can do," Storen said. "There's no right answer. It's uncharted territory."
Wright was arrested at his home Friday

The former Tigers teammates were voted into Cooperstown by the 16-person Modern Era Commit...

The Yankees still have room for a good-sized signing even after Saturday's trade with Miam...
St. Louis gets some much needed help for their bullpen

Keep tabs on the top 50 free agents right here

Morrow thrived with the Dodgers last season