Aroldis Chapman won't face charges over October domestic incident
Back in October, there was an accusation against All-Star closer Aroldis Chapman stemming from an alleged domestic violence incident. Charges won't be filed, per his lawyer.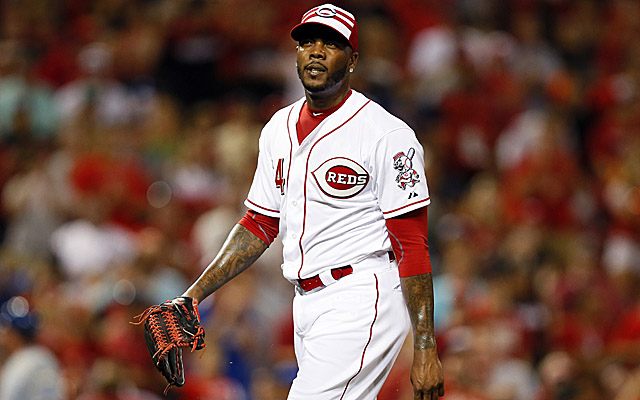 Yankees closer Aroldis Chapman was accused in late October of assaulting his girlfriend and then firing a gun multiple times in his garage as part of the alleged domestic dispute. Per a Sun Sentinel report on Thursday, Chapman won't face charges.
"We are all pleased that the Davie Police Department and the Office of the State Attorney took the time to fully investigate the matter and have concluded that charges were not warranted," said Chapman's lawyer, Paul Molle (via sun-sentinel.com).
According to the police report, Chapman's fiancee, Cristina Barnea, accused him of pushing her and choking her. Then, when she called the police, she said she heard shots fired in the garage (no one else was said to be in the garage with Chapman).
Via the Sun Sentinel, here's some of why no charges were filed:
Police did not make any arrests at the time because of inconsistencies in what they were told about what happened. Police did not notice any marks around Barnea's neck, and she later told them she heard one shot, didn't know who fired it, and didn't want to prosecute. Last week she told prosecutors she did not remember saying he had hit her. She also said he pushed her because she got too close while yelling at him.

Other witnesses said they saw no physical altercation between Chapman and Barnea.
The news of the police report (which can be viewed here) broke during MLB's Winter Meetings after the Dodgers and Reds were reported to be close to a trade that would send Chapman to LA. Instead, that trade fell apart and a few weeks later the Reds actually dealt Chapman to the Yankees.
As far as Chapman's standing with the Yankees, principal owner Hal Steinbrenner said to reporters Wednesday that, via usatoday.com, "In this country where allegations are brought against a person, that person is completely innocent until proven otherwise. Not the other way around. I think we should keep that in mind right now.''
This does not, however, mean Major League Baseball will take the same stance. Under the new domestic violence policy, commissioner Rob Manfred can discipline players whether or not they are charged with a crime. Here's the pertinent section of MLB's rule:
The Commissioner shall have authority to discipline a player who commits an act of domestic violence, sexual assault or child abuse for just cause. There is no minimum or maximum penalty prescribed under the policy, but rather the Commissioner can issue the discipline he believes is appropriate in light of the severity of the conduct. The Commissioner's authority to discipline is not dependent on whether the player is convicted or pleads guilty to a crime.
So for the time being, it appears Chapman is legally off the hook but not necessarily professionally.
The Cardinals have long coveted the Miami outfielder

The superstar slugger is eligible for free agency after next season

The veteran second baseman remains a useful regular
The Indians may be seeking a left-handed hitter in return

NBC Sports California has cut ties with the former A's slugger after a string of inappropriate...

Pineda figures to miss most of the 2018 season after undergoing Tommy John surgery