Art Howe will join celebration of 'Moneyball' A's team
Despite being portrayed as a villain in the movie 'Moneyball,' former A's manager Art Howe will participate in the reunion of the 2002 Oakland team that won 20 straight games.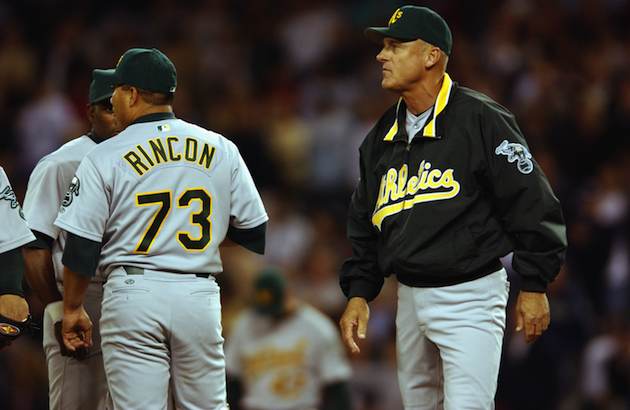 Manager Art Howe wasn't pleased with how he was portrayed in the movie Moneyball. (Getty Images)
Former A's manager Art Howe understandably wasn't too happy about the way he was portrayed in the movie Moneyball, but said he put aside those feelings to attend the reunion of the 2002 team that was the subject of the book and movie.

To celebrate the 10th anniversary of the A's 20-game winning streak that provided the emotional payoff in the film (since, spoiler alert!, they didn't win the World Series), the team is hosting a weekend-long celebration of the team. Howe will take part in an autograph signing with the proceeds going to the Cory Lidle Foundation, which is dedicated to the memory of the former A's pitcher who died in a plane crash in 2006.

"The Cory Lidle thing, realizing we're going to raise funds for his foundation, is what made me decide to do it," Howe told Monte Poole of the San Jose Mercury News. "And I was a big part of that team, so I want to enjoy it with them."

The movie made Howe, played by Philip Seymour Hoffman, look like a bumbling villain that the team was able to overcome to succeed. Howe said he has no relationship with A's general manager Billy Beane, the hero of the film and the book. He also said he tries not to think about the way he was portrayed in the blockbuster film -- as were many who know Howe.

He also noted some of the things that critics of the film have pointed out -- "We had quite a group of guys: a Cy Young (award winner in Barry Zito), an MVP (Miguel Tejada), a Fireman of the Year (Billy Koch) and one of the best starting rotations in all of baseball," Howe told Poole.

In addition to the autograph session, on Saturday the A's will give away a Scott Hatteberg bobblehead featuring the former A's first baseman celebrating his home run that gave Oakland its 20th straight win. On Sunday, the team will give away a T-shirt celebrating the streak.

For more baseball news, rumors and analysis, follow @EyeOnBaseball on Twitter, subscribe to the RSS feed and "like" us on Facebook.
Gallardo spent the first eight years of his career in Milwaukee

MLB revenues are at a record high right now, but teams aren't spending it on players

Chicago added Tyler Chatwood earlier this offseason but might not be done adding to the ro...
The Dodgers and Braves pulled off a whopper on Saturday

Sabathia will reportedly spend a 10th season in the Bronx

Fowler suffered a knee injury at Chicago's Guaranteed Rate Field