As a 20-year-old rookie, Mike Trout may be the best player in baseball
Angels phenom has a "swagger'' and "a little soul'' says teammate Torii Hunter, who marvels at his outfield mate.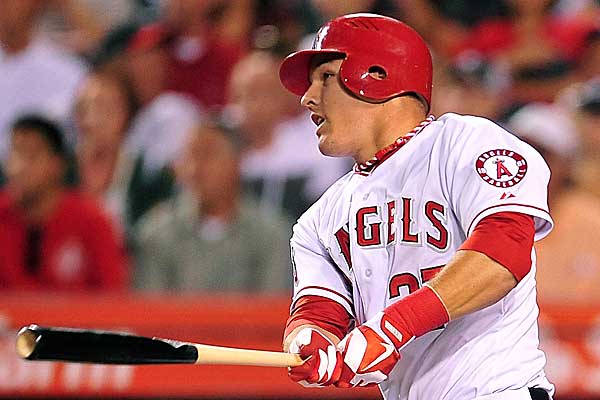 Trout, who wasn't called up until April 28, leads the AL with a .349 batting average and 26 SBs.
(AP)
NEW YORK -- Right now, today, Angels 20-year-old rookie Mike Trout is the best player in baseball. Maybe he won't be for the year, and maybe he won't be next year.
But the way he is playing today, the only one who even compares is the Pirates outfielder Andrew McCutchen, who has five years on Trout.
"You know that saying, "Be like Mike?'' Angels teammate Torii Hunter said. "Now, it means, "Be like Mike Trout.''
Hunter recalls having five tools coming up but not the baseball smarts of Trout. Put it all together and you have a once-in-a-generation player. Hunter speculates that it could be that Trout's father Jeff was a professional player, someone who played and won a batting title in the minors (Charlie Manuel was his manager) after being a fifth-round pick.
Whatever it is, no one is playing the game now like Trout. He came into Yankee Stadium, his first appearance here since a high school All-Star Game where many scouts whiffed (he wasn't picked until the Angels then scouting director Eddie Bane picked him 25th), and he went 7 for 14 with four extra-base hits and four stolen bases against the Yankees. It would have been five extra-base hits if not for Curtis Granderson's spectacular catch while crashing into the wall.
Trout didn't come up to the Angels until April 28 but leads the American League with a .349 batting average and 30 stolen bases. He has a .977 OPS, which isn't normal for a leadoff hitter. He made the catch of the year, leaping well over the center-field wall to rob J.J. Hardy of Baltimore (on that one, Hunter joked that Trout was being like him).
One American League GM asserted that Trout was the best player on the Angels six weeks and many, many hits ago. If he's better than Albert Pujols, it isn't hard to make the leap that he may be the best in the game.
Trout has a "swagger to him'' Hunter said, but not so much of a swagger that he'd get into any conversation like that. Hunter also asserts Trout has "a little soul in him'' meaning he loves the way he moves.
He's a good kid, too, says Hunter and everyone else around the team. He's simultaneously wide-eyed and aware.
"He's like the kid in the back of the car saying, "Are we there yet?'' Hunter said.
Oh, he is there, way ahead of the ETA.
With his 12 home runs, 41 RBI and 60 runs, he and Josh Hamilton are the two obvious leaders for the MVP race. If Trout wins it, he'll be the youngest ever to do so (he turns 21 Aug. 7).
Vida Blue is the youngest, winning the MVP in a season in which he turned 22. Johnny Bench and Stan Musial were 22-year-old MVPs. Cal Ripken, Willie Mays and Hank Aaron were 23-year-old MVPs.
No one in the game wants to say Trout's the best player in the game yet but give it time. Angels' Mike Scioscia was asked if he could really be as good as he's shown so far, and Scioscia said, "He has the potential to be this good. The remarkable thing is, you just don't see a kid 20 years old playing like this. He has the makeup to keep it going.''
Trout's a nice kid all right, but he has a bit of a chip on his shoulder. He acted as excited as could be to be drafted 25th (the Yankees were ready to pounce at No. 30 for the kid from not-too-far Millville, N.J.; Yankees scouting director Damon Oppenheimer said, "He did everything well. Speed and power were really huge'') and was jumping all over the MLB Network studios upon hearing his name called, no matter that it was 23 or 24 spots after it should have been called.
Trout acted thrilled to be selected by the Angels, who actually had him second on their board, behind only phenom Stephen Strasburg in a stacked draft. And he signed quickly for just over $1 million, maybe the biggest draft bargain ever along with 62nd-rounder Mike Piazza. But deep down, he knew he was better than that.
"When I got drafted 25th, I guess there were 24 other guys better than me,'' Trout told CBSSports.com. "I just wanted to prove them wrong.''
As Scioscia mentioned, scouting high school baseball is something of a "crap shoot,'' and 22 other teams crapped out (we will give the Nationals a pass for taking Strasburg, and we won't count pick No. 24, which was an Angels pick).
Trout may be the fastest player in the game, though teammate Peter Bourjos could give him a run for his money in a  60-yard dash, Hunter said. In a 40, no one touches Trout, who has football speed. "He digs into the Earth,'' Hunter said.
"I try to run as fast as I can, ain't nothing to it,'' Trout said, modestly, while being mocked by locker mates.
The speed doesn't shock anyone. His times to first base ranked close to a young Mickey Mantle from the right side. The power has been a bit of a surprise. Hunter said he sees 30 home runs in Trout's future, which seems doable.
"He's a five-tool guy, and one of the best,'' Hunter said.
Trout's in-game strategy is simple. He said he just "goes out and tries to change the game.''
He meant from game to game, of course. But in another sense, he is changing the game, too.
No one has ever seen a 20-year-old kid play like this.
MLB can unilaterally implement rule changes

If the MLBPA wants to fix MLB's economic system, it should push for more money for young p...

Fans aren't happy Gerrit Cole and Andrew McCutchen have been traded away
Acuna is arguably the best prospect in baseball

Kent had a good career, particularly with the bat

This would undoubtedly be the worst trade in Miami Marlins history