As Bailey no-hits the Pirates, who can be surprised?
The Pirates have had an awful month. The Reds and Homer Bailey have had a great month. Could anyone really be surprised when Bailey threw a no-hitter Friday night in Pittsburgh? It was the first no-hitter against the Pirates since Bob Gibson had one in 1971, but it hardly feels like it's been that long. In fact, it feels like the Pirates have been no-hit every day this month.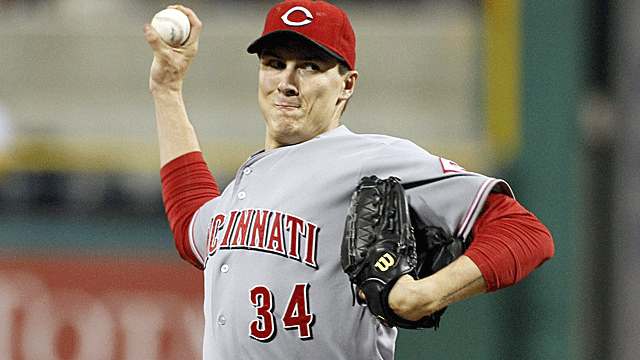 How good are the Reds when their No. 4 starter is throwing a no-hitter?
(Getty Images)
This was coming, wasn't it?

This was coming for the Pirates, who have turned September into a month to forget. Even before Friday night, they'd had seven games this month in which they had five hits or less.

This was coming for the Reds, who have turned this into a season to remember.

It was coming for Homer Bailey, who even before Friday had held opposing hitters to a .181 average this month.
Oh, and this was coming for the draft class of 2004, the class that includes Justin Verlander (two career no-hitters), Philip Humber (perfect game in April) and Jered Weaver (no-hitter in May).

Bailey was the seventh player picked that June, five spots behind Verlander, four spots behind Humber and five spots ahead of Weaver.

In fact, before the Tigers settled on taking Verlander with the second overall pick, there were those in the organization who favored taking Bailey.

Bailey was a high school kid, so he's three years younger than the 29-year-old Verlander. We only think he's older, because he debuted in the big leagues five years ago, at age 21.

He hasn't yet come close to equaling Verlander's Cy Young/MVP numbers. But he's still just 26, and he has 13 wins this year, with an ERA under 4.00 for the first time in his career.

And he was facing the Pirates.
The Pirates hadn't been no-hit since Bob Gibson did it to them in 1971, but somehow it feels like they've been getting no-hit every day this month.
Can you believe this team was 16 games over .500 in early August? Can you believe it was still 10 games over .500 in the final days of August?

Can you believe that with five games still to play, the Pirates have now lost 81 games, assuring yet another season in which they won't win more games than they lose?

Now they've been no-hit. No one can be surprised by that.

Homer Bailey did it. No one should be surprised by that, either.


The Orioles, Blue Jays and Rays have star players they should use toward rebuilding for the...

The Yankees may not be done collecting stars

The team could instead use a closer by committee approach
Both Seung-Hwan Oh and Trevor Rosenthal are free agents

The Yankees may plug their third base hole with a familiar face

Darvish's poor World Series hasn't scared the Dodgers away