A's beat Tigers in walkoff fashion, even series: Quick hits
With a Stephen Vogt single in the bottom of the ninth, the A's won Game 2 1-0 and tied the best-of-five ALDS with the Tigers, 1-1. Let's break it down.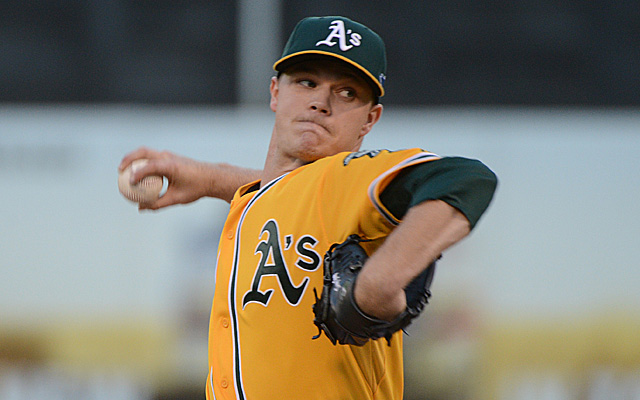 Snyder: Miguel Cabrera's lack of power a real concern for Tigers
Wow. What a game. In an epic pitcher's duel, the Oakland Athletics have taken down the Tigers, 1-0, after a walkoff single by catcher Stephen Vogt. The best-of-five series is now all evened up, one game to one. Let's take a look.
Hero: While Vogt deserves credit -- just as Yoenis Cespedes and Seth Smith do for their singles in the ninth -- this game was all about the pitching. And it could be argued that rookie Sonny Gray -- in his first career postseason start -- outdueled the great Justin Verlander. Verlander worked seven shutout innings, allowing only four hits and a walk while striking out 11. Gray went an inning deeper, though, going eight shutout innings and allowing only four hits and two walks against nine strikeouts. Just two years ago he was the A's first-round pick. He's already paying huge dividends.
Goat: The collective Tigers offense. They have now gone 17 innings without scoring a run. You have to give tons of credit to Gray, obviously, as I just did. Still, the Tigers have too many good hitters to be so futile with the bats for this many innings. Miguel Cabrera's health is a problem and Jhonny Peralta remains on the bench. Something might have to give at some point (more on this subject by clicking here).
Turning point: Smith's single in the ninth to get Cespedes to third base with no outs. There are just so many ways to get the winning run home from third with no outs, and the odds of scoring got even better when the Tigers elected to load the bases with an intentional walk. All of a sudden, it went from anyone's game to drastically favoring the A's. And they got it done.
It was over when: Well, I mean, do I even have to say anything here?
Next: The series shifts to Detroit, with Game 3 coming Monday. Unfortunately for A's fans in the Pacific time zone, it starts at 10:07 a.m. local time. With the Raiders not playing until late Sunday night, it sounds like a good time to be calling in sick Monday, no? Anyway, the game is at 1:07 p.m. ET (Detroit time) with Anibal Sanchez (14-8, 2.57 ERA in regular season) set to take the hill for the Tigers against Jarrod Parker (12-8, 3.97) of the A's. With the winner getting one game away from advancing, this is a pivotal affair.
The coveted right-hander would certainly be a fit in Milwaukee

We rate the best mustaches from random baseball cards because, why not?

Colon wants to break a Dennis Martinez record
The Twins have been rumored to be interested in Darvish all winter

Rolen is one of the best third basemen of all time, but you wouldn't know it based on this...

Neither Josh Donaldson nor Brian Dozier have talked about a new contract extension