A's beat Tigers, take 2-1 lead in best-of-five ALDS: Quick hits
On the strength of three home runs, good pitching and great defense, the A's beat the Tigers, 6-3, and took a 2-1 lead in the best-of-five ALDS.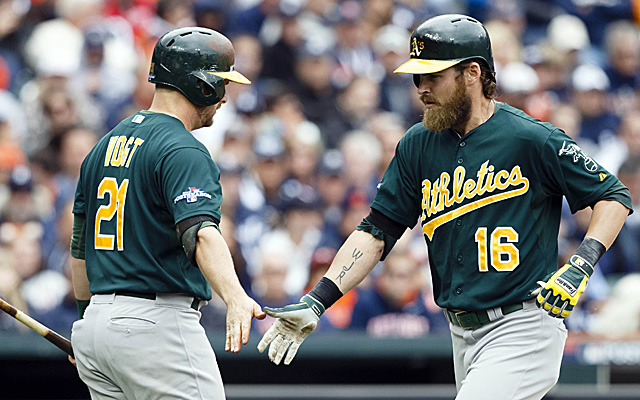 Snyder: Swingin' A's batter normally stingy Anibal Sanchez
The Oakland Athletics went into Detroit and brought their power sticks, winning 6-3 on the strength of three home runs. They now have a 2-1 lead in the best of five ALDS. Let's break it down.
Hero: Divide this up amongst the collective A's offense. Tigers starter Anibal Sanchez led the AL in ERA and home-run rate (0.4 HR/9) this season, but the offense battered him for six runs (five earned) on eight hits -- including a double (Coco Crisp), a triple (Stephen Vogt) and three home runs (Josh Reddick, Brandon Moss and Seth Smith). They squared up pitch after pitch, chasing Sanchez after just 4 1/3 innings. They worked the counts, too, as Sanchez needed 101 pitches to get through those 4 1/3 innings. It was an absolute barrage against the AL ERA champion.
Goat: It's easily Sanchez, though it should be noted the offense was pathetic outside of that three-run rally in the fourth inning.
Turning point: Moss' homer. The Tigers rallied to score three runs in the bottom of the fourth to tie it and Comerica Park was finally awake. Moss quieted things by answering with a solo shot off Sanchez with one out in the fifth, putting the A's on top for good.
It was over when: Can I actually say a three-run lead in the fifth inning ended the game? I'm gonna go nuts and say yes. So it was over when Seth Smith clubbed his two-run homer in the top of the fifth. As anemic as the Tigers' offense has been of late -- combined with how well the A's are pitching and playing defense -- that blow totally took the wind out of the sails in Detroit. It was the dagger. Seriously, watching the rest of the game just felt like a formality.
Also of note, benches cleared in the ninth inning after Grant Balfour and Victor Martinez were caught on camera and audio screaming f-bombs at each other. But, still, I feel like the game was already over.
Next: The Tigers won't have long to lick their wounds. Game 4 is Tuesday at 5:07 p.m. ET/2:07 p.m. Oakland time in Comerica Park. The A's can close Detroit out and head to the ALCS with a victory while the Tigers have their backs against the wall. It'll be A's rookie Dan Straily (10-8, 3.96 ERA in regular season) against Tigers veteran Doug Fister (14-9, 3.67).
The team could instead use a closer by committee approach

Both Seung-Hwan Oh and Trevor Rosenthal are free agents

The Yankees may plug their third base hole with a familiar face
Darvish's poor World Series hasn't scared the Dodgers away

GM Sandy Alderson said he followed his manager's recommendation

A report indicates the Rays are listening to trade offers on Chris Archer and Evan Longori...