As big stretch begins, Yankees see some needed progress with Pettitte
Andy Pettitte threw 20 pitches off a bullpen mound Friday, the first time he's been on the mound since he fractured his left ankle on June 27. The Yankees want to count on Pettitte as their third starter in the playoffs, so they need to see progress. This was progress.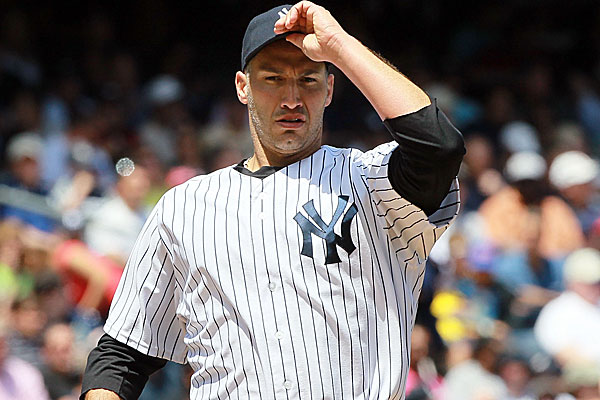 Andy Pettitte has been out of the Yankees' rotation and on the DL since June 27, when he broke his left ankle.
(Getty Images)
NEW YORK -- The Yankees made a minor adjustment with their rotation for this weekend's series with the Orioles, pushing David Phelps and Phil Hughes up a day, and pushing Freddy Garcia back to Tuesday's game at Tampa Bay.

But as they look ahead to the playoffs, the fact is that none of those three are as important to the Yankees as Andy Pettitte is.

So as important as these next 10 days seem to the Yankees, with two series against the second-place Orioles sandwiched around three games with the third-place Rays, what happens with Pettitte over the next 10 days could be even more significant.

Pettitte's mood was positive Friday, because he was able to throw 20 pitches off a bullpen mound, for the first time since he broke his left ankle on June 27. Pettitte said he felt "really good," but he also said that he didn't really push hard on the ankle this time.

It was a big step, but not the big step.

"I'm getting real close to being over the hump," Pettitte said. "It is a relief."

Imagine how the Yankees feel.

They got CC Sabathia back from the disabled list last week, and they rely on him as their ace. They've been thrilled with Hiroki Kuroda, who has 12 win and a 2.98 ERA going into Friday's start against the Orioles.

But Pettitte is supposed to be the third starter in the playoffs. Then the Yankees would just need to find one more starter from among Hughes, Phelps, Garcia and Ivan Nova, who at some point may return from the DL himself.

Pettitte admits that he was getting a little worried as his recovery dragged on. He admits that another setback could make it difficult for him to be ready for the postseason.

He needed to see progress. The Yankees needed to see progress.

Friday was progress.
Jones, who was recently elected to the Baseball Hall of Fame, isn't your typical gun-control...

Martinez had agreed to a deal with Boston last week

Venters threw a scoreless inning for the Rays on Sunday
The contract includes a second year vesting option

Keep tabs on the top 50 free agents on the market right here

New York has been looking for rotation depth all offseason