A's go all in, trade top prospects for Jeff Samardzija, Jason Hammel
The Oakland Athletics just dealt prospects for two major league starting pitchers. That signals that they are "all in" for the 2014 World Series.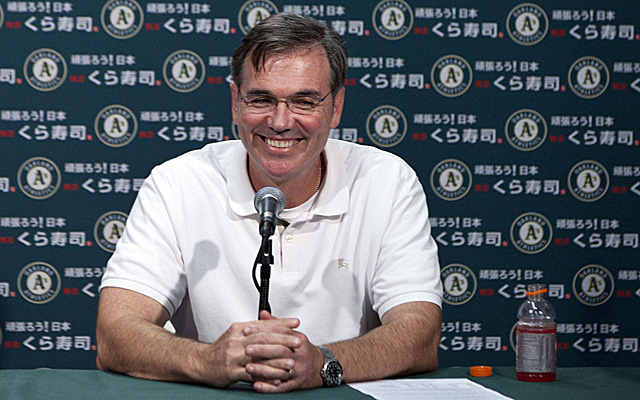 Samardzija, Hammel traded for Russell, Straily, McKinney, PTBNL
All in!
That was the sentiment essentially echoing from the office of Athletics general manager Billy Beane after a blockbuster trade was completed on our nation's birthday in 2014.
The A's, long one of baseball's biggest so-called small-market darlings (only thanks to their dreadful stadium situation, really) -- and generally one to be on the prospect end of a trade involving big names for prospects -- sent their previous two first-round draft picks along with a cost-controlled, high-strikeout starter to the Cubs for two major-league starting pitchers Thursday.
This seems backwards, but it's absolutely the right direction for these A's.
In the Beane era, the A's have been to the playoffs seven times. They have zero World Series championships. They have zero AL pennants. They have one playoff series victory, meaning they are 1-8 in playoff series overall.
As my colleague Mike Axisa wrote a few days ago, the struggles of Tampa Bay this season illustrate how quickly windows can close on contention and the A's needed to go for it all. And with this move, they have.
With a rotation that looked like it would get quite flimsy in the upcoming weeks, Beane wasn't content to sit and wait while negotiating a better deal for his team. He didn't strike for just one starter, either. He grabbed both of the obviously available starters on the market.
In fact, that's the underrated aspect of this deal. Not only does it strengthen the A's, but it takes the two most obvious starting pitchers off the trade market before any of the A's competitors can get a sniff. Sure, maybe David Price is dealt later this month, but it's no certainty. And any other starters available -- absent something unforeseen -- won't even be as good as Hammel, much less Samardzija.
The A's rotation now looks a lot more suitable for the playoffs. Jeff Samardzija, Sonny Gray and Scott Kazmir can pass as frontline starters. They certainly don't have the top-shelf starters of, say, the Tigers or Dodgers, but this is still an upgrade. And having Hammel down in the 4/5 range with Tommy Milone or Jesse Chavez (or Drew Pomeranz, once he's healthy again) means there's plenty of insurance against injury -- and the A's would know plenty about that, after Jarrod Parker and A.J. Griffin both went down.
If the prospects-for-MLB talent trade with the A's gathering the latter seems out of character for Beane, I'd argue it's actually not. It might be a reversal, but everything Beane does is an attempt to win the World Series.
And with this trade, it's clear that the 2014 season carries a "World Series or bust" sign for Beane and the A's. They are, as one might proclaim, all in.