As Jack Morris says, this is when Verlander 'is supposed to dance'
Justin Verlander had a so-so regular season, at least by his lofty standards. But if he continues the postseason dominance he showed against the A's, this could still be his most memorable season.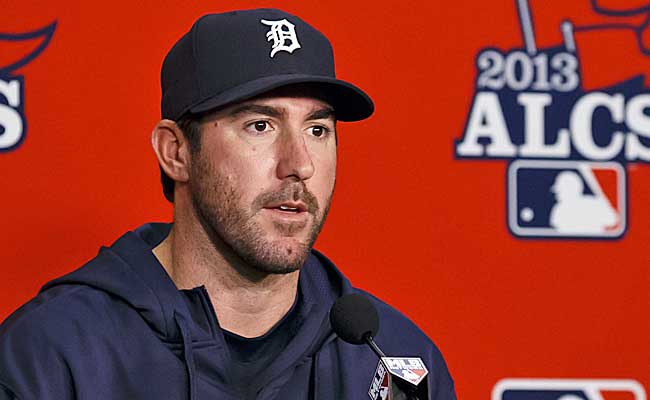 DETROIT -- The pitcher who led the Tigers to their last championship has closely followed the career of the pitcher who hopes to lead them to their next one.
Jack Morris knows what Justin Verlander has done, and also what he still could do. And Jack Morris knows that 2013 could still become Justin Verlander's most memorable season as a Tiger.
"It doesn't matter what he did during the year," Morris said. "This is when he earns his money. This is when he's supposed to dance. So far, he has."
So far includes two brilliant Verlander starts in the Division Series against the A's. The Tigers leaned on Verlander in a winner-take-all Game 5, and now, five days later, they find themselves leaning on him again in Tuesday's Game 3 against the Red Sox.
This start isn't win-or-go-home, as that one was, but this is the Tigers' chance to prove that one swing of David Ortiz's bat hasn't unalterably changed the course of this American League Championship Series. If Verlander does what he did to the A's -- and what Anibal Sanchez and Max Scherzer have done against the Red Sox -- then the story of this series goes back to being dominating Tiger starters rather than inevitable Red Sox magic.
Verlander is the original dominator of this era of Tiger success, which began with a World Series trip in 2006, his rookie year. The Tigers went back to the World Series last year, and this is their third straight trip to the ALCS.
They still haven't won it all, which means Morris is still the last ace to win a World Series with the Tigers. He did it in 1984, a season where Morris' ERA was higher than the year before and higher than the three years after. Morris finished in the top five in Cy Young voting five times in his career, but not in 1984 (when teammate Willie Hernandez won it, and Morris received only one third-place vote).
Morris made 1984 memorable by winning every time he started in October. He pitched two complete games in the World Series, and finished the month with a 1.80 ERA.
Verlander's ERA this season was 3.46. It was easily his toughest year since 2008. And all of that becomes a footnote if the Tigers win and he continues what he started against the A's.
Already, after the two starts in Oakland, people are asking if Verlander is back to being the same guy who won the Cy Young and MVP two years ago.
And the answer to that would be no.
He's not the same guy. As crazy as it sounds, he might be better.
"The [Game 5] in Oakland was as good as I've ever seen him," Morris said. "I mean, I've seen him throw harder. But he was pitching better than I've ever seen, executing better."
Verlander's velocity, which was down for much of this year (93.3 mph on his average fastball, as opposed to 95.0 in 2011, according to fangraphs.com), has mostly come back. His average fastball in Game 5 was 95.4 mph, according to brooksbaseball.net.
That's down just a tick from what he threw last October in Game 5 against the A's (96.0), or in the 2011 Division Series against the Yankees (96.6).
But rival scouts and Tigers people alike talk about how much better Verlander's delivery looks, and how the result is better action on all his pitches. In Game 5 last week, he was able to throw both his changeup and curveball for strikes.
"His velocity may not have been 98-99," Tigers pitching coach Jeff Jones said. "But stuff-wise, it's very similar to what he was before. His curve was great, his change was great, his fastball was very well-located and firm. And his concentration was tremendous."
Verlander had a simpler explanation after Game 5.
"I'm pitching the way I'm supposed to," he said.
He wasn't satisfied with much of his work in the regular season, and the result was that he worked more and tried more new things. And while others may have been focused on his velocity, a lot of Verlander's work was on getting his off-speed pitches right.
"It was a grind for me all year," he said at a Monday press conference at Comerica Park. "I could probably sit here and name 50 adjustments that I tried to make that didn't quite work. Who knows what helped along the way and what didn't.
"But I really felt like the last month of the season I started to kind of get it to click."
His final six regular-season starts were better, even though the Tigers won only one of the six games. Verlander's September ERA was 2.27. His opponents OPS, over .700 for the first five months of the season, was back at .601, the same as last year and a lot closer to the brilliant .555 in his MVP season.
With the Tigers holding a pretty good lead in the division (the Indians closed to within a game after 162 games, but the race was never really close before the Tigers clinched), getting Verlander right was a lot more significant than winning his starts in September.
Even though Scherzer will likely win a Cy Young this season, and even though Sanchez won the American League ERA title, Verlander remains the star of the rotation. When it looked like the Tigers were going to go up two games to none in the ALCS, the common feeling was that the Red Sox were in trouble, in large part because Verlander loomed in Game 3.
Then came the Ortiz grand slam, and the stunning Red Sox victory in Game 2.
The Verlander presence in Game 3 still seemed as big, but from the opposite perspective. Instead of being a reason to see Red Sox doom, it was a reason to see Tiger hope.
It's up to him now. It's up to him for the rest of the month, for as long as the Tigers keep playing.
This is when he's supposed to dance.