As Josh goes, so go the Rangers (and good luck replacing him if he leaves)
When Josh Hamilton has been at his best, the Rangers have been the best. When Hamilton slumped in July, the Rangers slumped in July. Rangers players warn against drawing too many conclusions, but one things is obvious: If Hamilton leaves as a free agent, he'll be very hard to replace.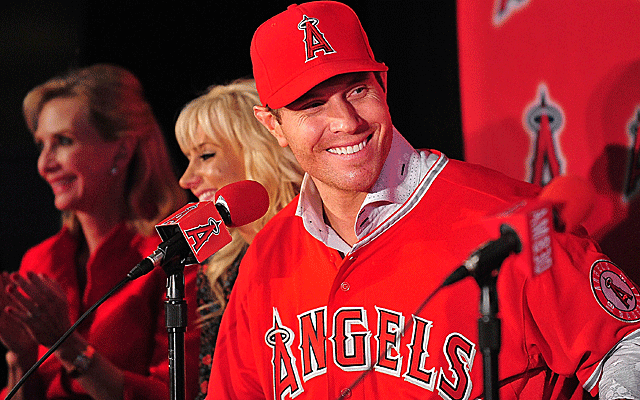 The Rangers are 209-145 in games Josh Hamilton has started over the last 2½ seasons.
(Getty Images)
NEW YORK -- In April and May, Josh Hamilton was the best player in baseball.

For April and most of May, the Rangers were the best team in baseball.

In July, Hamilton retreated to being just average. For a month, the Rangers were just average.

It's not an exact correlation, and Rangers players will remind you that there were other reasons for their great -- and not-so-great -- play.

But if the Rangers needed a reminder of how important Hamilton can be, and of how hard it is for them to make up what they'd be missing if he leaves, Hamilton seems to have provided it.

Oh, and if they needed a reminder of how weak this winter's free-agent market for big hitters will be, Melky Cabrera provided it with his drug suspension. Nobody was going to mistake Cabrera for Hamilton, anyway, but until Wednesday he might have ranked a distant second among free-agent middle-of-the-order hitters.

How distant is second place now? How in the world would the Rangers find a Hamilton replacement?

"You wouldn't," one Rangers person admitted Wednesday.

That same Rangers person predicted, somewhat cautiously, that Hamilton will eventually re-sign. But that can hardly be considered certain, because as CBSSports.com colleague Jon Heyman reported last week, Hamilton and the Rangers aren't even expected to pick up contract talks until after the season.

For his part, Hamilton is looking much better so far in August than he did in July. His team is, too.

Hamilton has even joked to some friends that he was just letting the other hitters in baseball catch up, when he went three weeks with a .115 batting average and just two home runs.

He suggested Wednesday that he's not as crucial to the Rangers' success as it seems.

"It feels like when I'm doing bad, the other guys pick it up," Hamilton said.

It may feel like that, but over the last 2 1/2 years, the Rangers are 209-145 in games Hamilton has started, and 44-41 in games he hasn't. They're certainly not helpless without him -- or without him at his best -- but it's no surprise that they're a lot better when he's performing at his MVP level.

"He's one of the best hitters in baseball, and there's not very many of them," second baseman Ian Kinsler said. "It's like an ace. There's just not very many of them."

None of this is to say that the Rangers should simply pay Hamilton whatever it takes to sign him. The risks in guaranteeing him big money for too many years are obvious. If the price gets too high, it may well be that the best decision for the Rangers would be to say no.

But good luck trying to replace him.
Neither Josh Donaldson nor Brian Dozier have talked about a new contract extension

Francisco leads the Dominican Winter League with seven home runs

Thome deserves enshrinement and here's why the case against him does not hold up
The Twins have already fortified the bullpen with Addison Reed, and now they want to address...

The Orioles likely want pitching, and the Indians have plenty of it

Halladay died in a November plane crash off the coast of Florida