A's make themselves the 2014 favorite, but Cubs may have won deal
The A's put themselves in position to finally win October, and the Cubs enhanced their bright future.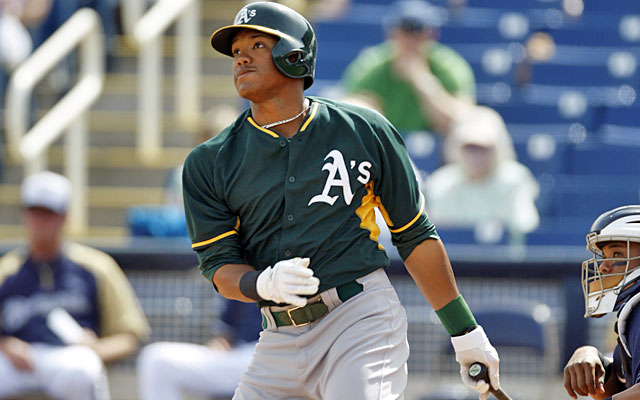 Samardzija, Hammel traded for Russell, Straily, McKinney, PTBNL
It seemed crazy. The A's, a team with the best starting pitching in the AL already, added two more starters to a rotation that seems full, even before Drew Pomeranz returns from rehab. The Cubs, who are stacked with young positional players, especially shortstops, imported perhaps the game's top shortstop prospect.
But if you think about it, and it was hard to digest it all with fireworks flying on July 4, it makes perfect sense.
The A's, a great team for years that's struggled to get over the hump and win in October, instantly turned themselves into World Series favorites, at least as far as the American League is concerned. The Cubs, a team playing for next year, or maybe the year after, made their prospect stash that much better by importing the astute Athletics' last two No. 1 picks, including elite shortstop Addison Russell.
If the Cubs still don't look like they have pitching, well, bats are a premium at the moment, and they have many of the best of them in the minors now, perhaps setting themselves up for more big trades to come. Cubs president Theo Epstein and GM Jed Hoyer especially seem to relish dealing with baseball's Brad Pitt, Billy Beane, but they'll have to branch out and dial up the Mets' Sandy Alderson or the Marlins' Dan Jennings to acquire that great young pitching, to balance things out a bit.
But that shouldn't be so hard. Who wouldn't want any of their big-time hitting prospects? There are so many, and they are so good, it's hard to know who tops the list. MLB.com, which already moved Russell to the Cubs' prospect list, even before the July 4 blockbuster that sent veteran starters Jeff Samardzija and Jason Hammel to Oakland for Russell, top hitting prospect Billy McKinney, young pitcher Dan Straily and a player to be named was officially announced (presumably, it will be today), has Russell ranked third, behind Javier Baez and Kris Bryant, and ahead of Albert Almora. The list of studs goes on from there.
But who's to argue? Baez is a monster. Bryant homers seemingly every other day in the minors. And well, Russell is special, a 1-1 (meaning No. 1 overall draft pick) type talent, in the words of one talent evaluator.
"He's Barry Larkin with power," one rival baseball executive said of Russell.
If he's anything close to that, this trade is a home run for the Cubs, who acted quickly and decisively in this tough trade market. By packaging their two best trade pieces together, they acquired an elite young player, plus much more.
While Samardzija is a terrific talent, and his won-loss record is only evidence of the this Cubs team's overall ineptitude behind him, the supply and demand of the trade market wasn't working in his favor: most teams need hitters much more than pitchers in this rare year, and at least one more accomplished starter, David Price, is likely to be dealt, and maybe more than that if Cliff Lee proves healthy soon and the Phillies listen on Cole Hamels, too.
Samardzija also wasn't staying with the Cubs. Epstein and Hoyer tried several times to keep Samardzija on his hometown team (he's from Northern Indiana), with the last offer of $85 million-plus for five years a reasonable attempt that wasn't in the ballpark. That's because Samardzija wants to win now, and be paid later.
He is one of the players who relishes the idea of free agency, and he'll surely get there now, because while the A's filled his desire to win, they don't have $85 million lying around (and if they did, they should use it to play all the leaks in their decaying ballpark, or find a shortstop of the future).
The A's aren't a team about the future, they are a today team. And Beane probably surveyed his rotation, and realized that he had two kids, Sonny Gray and Jesse Chavez, plus Scott Kazmir, who was retired not too long ago, fronting it, and wondered where he'd get all the late innings. Now he has options. In fact, the team with close to the shallowest budget has maybe the deepest rotation.
The A's have led all of baseball in run differential almost all year, and they look like the best team going. But they've been here before. This time, Beane and Co. didn't want to come up craps in the October crap shoot. They wanted to tilt the odds toward them, and they have done that by surrendering two big-time first-round picks.
Beane has built a juggernaut mostly on trades (Gray and Sean Doolittle are the lone homegrown stars), and Epstein looks like he's moving into position to do the same. He has so many great hitting prospects he might be the most popular GM for trades next winter. The Marlins, for all their surprising production this year, should look to re-balance themselves with additional hitting. And so should the Mets, who'll have a stockpile of young pitchers to rival few others once Dillon Gee and Matt Harvey return.
The Cubs, who made a nice trade last winter to add C.J. Edwards (and several others) for Matt Garza, are going to need pitching. But you know what? Bats are a rare commodity right now, and with recent No. 1 pick Kyle Schwarber, who hit like .500 his first week, and all the others, Theo and Jed should be open for business.
"Talent rules," one NL GM noted after this holiday trade.
That's absolutely right. And thanks to this deal, the Cubs may be favorites for 2017. For now, though, few would dispute that the A's are a likely World Series team today. There was a method to this madness, and benefits for both parties. That's the way a great trade should work.
CBS Sports HQ Daily Newsletter
Get the best highlights and stories - yeah, just the good stuff handpicked by our team to start your day.
Please check the opt-in box to acknowledge that you would like to subscribe.
Thanks for signing up!
Keep an eye on your inbox for the latest sports news.
Sorry!
There was an error processing your subscription.
SportsLine's Mike McClure, a DFS pro with nearly $2M in winnings, gives optimal lineup adv...

MLB is sending players to Japan for an exhibition series for the first time since 2014

The vaunted 'big three' teams have been cracked thanks to the red-hot Oakland A's
The Rockies have suddenly become a very good run prevention team despite Coors Field

Stephen Oh has a three-way parlay that could pay off huge Monday

Verlander pitched the Astros to a big win in Oakland on Sunday