As Phillies lose, teams hoping for Cole Hamels get a little more hope
Teams hoping to trade for Cole Hamels can only hope for more nights like Thursday, when Hamels looked fine and (more important) the Phillies lost another tough game. It's harder and harder to believe that this Phillies season can be saved, and easier and easier to believe that Hamels could be traded.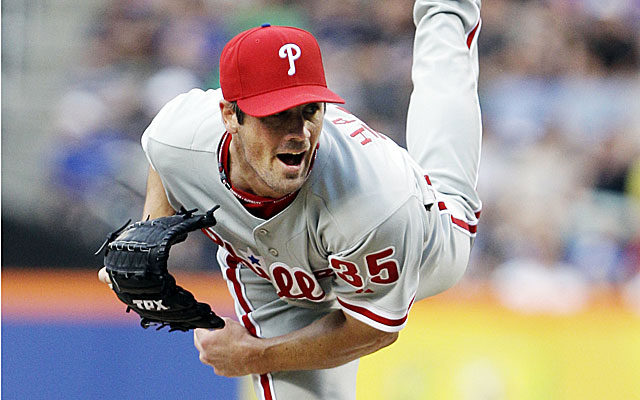 As the Phillies fall further out of the playoff race, the chances of Cole Hamels being dealt improve.
(AP)
NEW YORK -- Another bad night for the Phillies.

Another good night for potential Cole Hamels buyers.

Thursday was the perfect kind of night for teams hoping that the Phillies really will trade their All-Star left-hander. Hamels looked fine, and the Phillies didn't, in another shot-to-the-gut 6-5 loss to the Mets.

And the second part of that is far more important than the first.

It's not as if teams are trying to judge whether Hamels can help them. Not many even sent a scout to watch him in person Thursday (although the Rangers were represented).

What's there to judge? He could help a team capable of winning.

The only judgments that matter belong to the Phillies, who need to decide in the days ahead whether they're capable of winning this year. And whether they think they can keep Hamels beyond this year.

At one time, Phillies people seemed confident that they would. Now, they say things like, "You don't know if a team is just going to blow you out of the water."

At one time, the Phillies seemed confident that they could still make something of this season, especially once Chase Utley and Ryan Howard rejoined the lineup. Now Utley is back, and Howard is returning Friday, but the Phillies' confidence seems to be at an all-time low.

Can you blame them?

They're back to 10 games under .500. They're 13 games out of first place, for the first time since 2006, before this run of excellence began. They're 8½ games behind the Mets, and the Mets weren't even in a playoff spot until the Giants and Reds lost Thursday night.

"I think Oakland won 20 in a row once," Hamels said.

Yes, and the 2007 Phillies came from seven games back with 17 games to play, as any Mets fan could remind you. And the Cardinals were 10½ games out in August last year.

"We've got three months to play," Hamels said.

Three months to play, but maybe three weeks or fewer to decide what to do by the July 31 nonwaiver trade deadline.

Three months to play, but the Phillies would need to play .700 ball to win 90 games. Of course, they did that over several 78-game spans last year.

Is this team good enough to do it? Sure doesn't look like it right now.

Thursday, it was two ninth-inning runs off Jonathan Papelbon, but on other days it has been middle relief, or so-so hitting or even blown leads by big-time starting pitchers.

"We just didn't get it done," manager Charlie Manuel said Thursday night. "That's kind of the way our season's gone."

The Hamels decision doesn't involve just this year because a Phillies' July sale wouldn't be a fire sale. There's no chance of this team giving up on 2013 or going into a rebuilding process, so if the Phillies think they can convince Hamels to stay, there's little reason to move him now.

But can they? He won't talk publicly about his contract, beyond saying that he likes it in Philadelphia (something people who know him believe, too).

"I've had no indication that he doesn't want to be here," general manager Ruben Amaro said. "Now, whether we're going to sign him or not -- that remains the goal."

And with plenty of suggestions out there that the newly rich Dodgers will do "whatever it takes" to get Hamels, it's hard for the Phillies to be too confident.

Meanwhile, teams that want Hamels can only wait and hope.

They can hope for more nights like Thursday, for more defeats that drag down any confidence Phillies management has that this season can be saved.

Thursday could have been such a promising night for the Phils. They beat the Mets on Wednesday, with Utley hitting a key home run. They announced after the game Thursday that Howard is ready to return.

But then came another bad inning, another game that didn't go well, another shot to the gut.

Bad for the Phillies.

Good for teams hoping to get Cole Hamels.
Adell shows part of the reason why Los Angeles drafted him 10th overall in 2017

And, well, they're probably right

Supposedly, MLB execs have discussed letting teams hit any three hitters they want in the...
Keep tabs on the top 50 free agents on the market right here

After the departures of Steven Souza and Corey Dickerson, the Rays add a right-handed bat

Rasmus essentially walked away from baseball during last season