A's players upset with demotion of Kila Ka'aihue
Oakland players are upset that the team demoted first baseman Kila Ka'aihue just days before his wife is due to give birth to twins.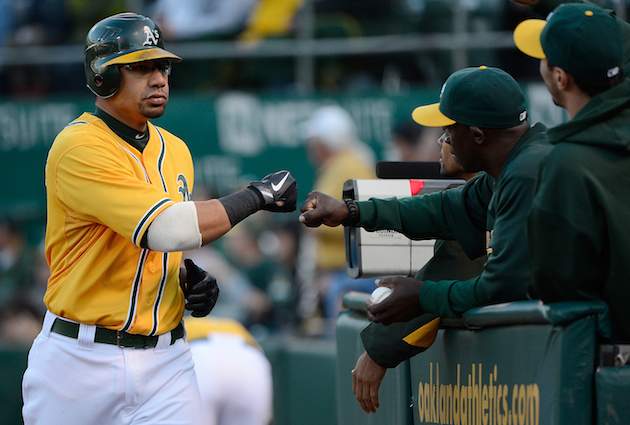 A's general manager Billy Beane was the hero in the movie Moneyball, but it seems he's playing the role of villain in the Oakland clubhouse after the team designated first baseman Kila Ka'aihue for assignment before Wednesday's game against the Rangers.
Kaiaihue, 28, was hitting just .234/.395/.398 for the A"s in 39 games this season, but that's not what had his teammates upset with his demotion. His wife, Blair, is due with twins any day now.
Susan Slusser of the San Francisco Chronicle wrote
the demotion "left some of the Oakland players shaking their heads:"
"Everyone is in shock," one player said.

"Total horse" manure, said another.
The justification came from assistant GM David Frost, who noted the A's have a stretch of four right-handed pitchers in a row. While Ka'aihue is struggling against right-handers -- .209/.280/.374 -- his replacement, 28-year-old Brandon Moss, is hitting .311/.414/.689 against right-handers at Triple-A, with 12 of his 15 homers coming against righties. In 612 plate appearances in the big leagues, he's hitting .233/.294/.381 against right-handed pitchers, not too different from Ka'aihue's career line of .213/.312/.367 in 351 career plate appearances versus right-handers.
Moss also has an out clause in his contract if he isn't called up by June 15, and with 15 homers overall along with a .286/.371/.582 line at Triple-A, he'd likely find a job somewhere.
Still, that doesn't exactly satisfy the players in the A's clubhouse. For them, Ka'aihue is more than just a stat line, he's a person and a teammate. Those players are thinking of their friend who is going through one of life's biggest milestones and seeing an insensitive employer, who could have opted to put Ka'aihue on paternity leave instead. Yet, he goes into parenthood as a man without a job and an uncertain future.
Ka'aihue left the clubhouse without speaking to reporters -- which is usually a weak move, but understandable considering the circumstances.
According to Slusser
, Melvin said Ka'aihue handled it well and told his former manager that it might be a blessing, considering he didn't know when his children would be born. That's one way of looking for the bright spot, I guess.
Hat-tip:
Big League Stew
For more baseball news, rumors and analysis, follow @EyeOnBaseball on Twitter, subscribe to the RSS feed and "like" us on Facebook.
They're alive in the NLCS after their Game 4 win over the Dodgers

You never know what you might get from Arrieta, but what we got was brilliance in Game 4

The 2017 World Series begins Oct. 24
There will be a Game 5 after all on Thursday night

Tanaka shut the Astros down in ALCS Game 5 and has overcome a down season and past injurie...

The Yankees wouldn't chase Keuchel's bread-and-butter, those tempting pitches just at the knees...