A's reportedly staying put in Oakland, will extend stadium lease
According to the Associated Press, the Oakland A's will extend their lease at the O.Co Coliseum.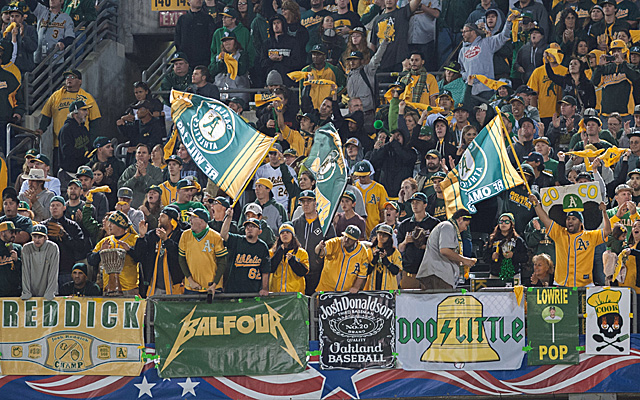 The stadium situation for the two-time defending AL West champion Oakland Athletics has been resolved, for now. The Associated Press is reporting that Athletics owner Lew Wolff insists his team is staying put.
In the report Wolff said the A's will extend their lease at the Oakland Coliseum. There were reports that Major League Baseball might get involved to help the A's play across the bay in the San Francisco Giants' AT&T Park if no short-term lease was reached to continue their home games in the rundown Coliseum.
The A's are trying to get a stadium built with private financing in San Jose, but it's being blocked by the Giants and MLB due to territorial rights. The city of San Jose has an ongoing lawsuit against MLB -- details here of where that stands -- but for the time being, there's nothing happening on that front.
The A's lease in O.co Coliseum is up and hasn't yet been renewed. Thus, per the San Jose Mercury News, the A's and Giants could share AT&T Park in 2014. From the Mercury News:
It's unlikely such an arrangement will take place unless the Oakland-Alameda County Coliseum Commission fails to reach agreement on the A's request to extend their lease at O.co Coliseum for five years or less. The team's agreement to play at O.co expired at the conclusion of the 2013 season. But with MLB still wrestling with both the A's request for a move to San Jose as well as no feasible new ballpark plan surfacing in Oakland, the team wishes to keep playing at O.co until that issue is settled.

Negotiations on a lease extension have been ongoing for more than six months and differences have surfaced on concessions revenue and length of the extension.
What I personally find most aggravating here is that MLB could force the Giants to house the A's for a season (or more), but hasn't done anything of substance about the San Jose situation for over four and a half years. Nearly everyone wants the situation resolved and San Jose seems the most feasible solution, so the league needs to find a way to satisfy the Giants with some sort of settlement and just move on.
Major League Baseball's war against paying minor-leaguers a livable wage continues

Phelps is the third Mariners pitcher in the past year to suffer a serious injury soon after...

Manager Ned Yost made some comments that were misinterpreted
Or the plaque of any other Indians player going forward, for that matter

Murphy hasn't even started running on the field yet following offseason knee surgery

A closer look at the teams in the Cactus League and Grapefruit League