As Team USA enters round 2 of WBC, delicate balance continues for Torre
Team USA is handicapped by the timing of the WBC and several other factors. But the players aren't making alibis.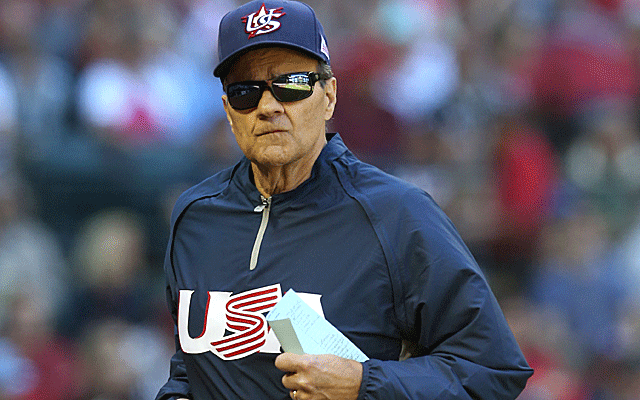 There have been no complaints from MLB GMs or managers about the way Joe Torre is handling Team USA.
(Getty Images)
MIAMI -- Giancarlo Stanton was back in his element here at Marlins Park, a beautiful expansive facility that can hold the drives of most, but not his. Two of his batting-practice bombs smacked against the concrete concourse beyond the big Budweiser sign in left field and bounded smack out of the stadium. Word is, Stanton will find himself back in the Team USA lineup Tuesday night after Joe Torre's band of bunters (Ben Zobrist) and slap hitters (Shane Victorino) helped deliver the victory that brought USA here for round two.
Torre has a heck of a team here, almost too good. Torre has all sorts of All-Stars at his disposal, and he isn't about to sit any one of them for too long. He wants to make sure to keep everyone involved, make everyone feel part of the team, the patriotism and (if possible) the glory.
More on World Baseball Classic
Related content
When you combine Torre's inclusive spirit with all the other constraints, most prominently that "this is still spring training'' as Torre put it, and MLB team managers and general managers are covering their eyes and holding their breath as long as Team USA continues, the WBC layout remains quite a challenge for Team USA.
"I made a commitment when I was asked to do this and I knew just from being a manager what the feeling was when players left me,'' Torre said. "And then some of the stories that came back after '06 and '09. So the one thing I wanted to do was have the managers and the general managers be on board, and the only way I could do that is to tell them I'd take care of their players.''
You will notice there has been not one complaint from one MLB GM or manager about the way Torre is handling things, because Torre clearly has the kid gloves out.  You'll notice that while the San Francisco Giants cringed at Sergio Romo's usage (over-usage, they'd say) by Team Mexico, the MLB teams know Torre has all their backs.
There was no way he was employing his best closer Craig Kimbrel to get the crucial out in the eighth inning, even if it did come in the do-or-die game against Canada. Torre had made a commitment to use Kimbrel, very likely the best relief pitcher going, only to start innings, namely the ninth.
So in came Steve Cishek, the hard-throwing less-well-known Marlins closer, who got the most vital of outs. Torre and his staff loved what they had seen from Cishek in the side sessions, and the kid was thrilled to get the call. Anyway, it worked, which is what usually happens with Torre's against-the-odds decisions.
"Kimbrel was never a consideration for the eighth inning just based on the fact that we were going to have him start an inning, and we had just a few guys we'd bring in during an inning, Cishek and [Luke] Gregerson and Jeremy [Affeldt] is another one,'' Torre said. "And we have to follow protocol.''
Team USA pitching coach Greg Maddux huddled weeks ago with teams to map out pitching plans, which turned out to be highly limiting. For instance, they would have loved to employ lefthander Ross Detwiler after Derek Holland against the lefty-heavy team Canada, but Detwiler's schedule necessitated he go the day before against righty-heavy Team Italy, and since he had to be stretched out, that left a whole pen full of pitchers Torre needed to use against Canada to satisfy Torre's democratic bent.
Torre guaranteed that Heath Bell, David Hernandez and Kimbrel would all see action against Canada, and with Bell ticketed for the seventh inning, things looked slightly ominous with Canada's three big lefties -- Joey Votto, Justin Morneau and Michael Saunders -- all due up. But Bell, pitching in his new home park in Arizona (thankfully, not his house of horrors here in Miami), handled it with ease, setting them down in order before Team USA staged two late rallies to overcome a 3-2 deficit and win 9-4.
The wishes of the specific MLB teams plus Torre's own everyone-must-play rule plus the calendar ("the middle of March is a little tough for some people,'' Team USA catcher Joe Mauer said) all enter a complicated equation for Torre to process. It isn't an easy job. Remember how badly Davey Johnson was ripped four years ago? And Davey went from being a marked man as USA skipper to National League Manager of the Year three years later with the Nationals.
That isn't happening with Torre, who already has four rings with the Yankees, a big job in the commissioner's office and, well, a life. "I don't think so, no,'' Torre said. "First day I felt nervous as a cat. I mean, I was as jumpy as all get-out, and I said, no wonder I'm not doing this anymore.''
Torre needs to be extra careful (and extra nervous) for a reason. The U.S. players didn't play winter ball, so they are just warming up. Check out the tweet of Chipper Jones (@RealCJ10) during the Game 1 defeat to Mexico: "Hate to say it, but the U.S. team is always gonna struggle in this format. Playing this in spring is an advantage to the year-round players.''
It's an excuse a retired player can use (and Chipper did stay retired, despite a recent call from desperate Yankees general manager Brian Cashman). But it's nothing Team USA's current squad is about to harp on.
"It is a factor,'' Team USA outfielder Ryan Braun admitted of the timing. "But by no means is it an excuse, or a crutch. We recognize the importance and significance of the event. We are all well aware where we are in spring training. But none of that will be an excuse for us.'''
Since there is nothing that disallows players in the United States from getting an early jump on their training, it's not a great excuse, anyway. If the competition has an advantage, they've earned it by toiling in low-paying, high-energy winter leagues.
While team USA did a nice job digging out of its early hole in Phoenix, rebooting the high expectations, there's certainly no guarantee it stays on a roll. "Every team here comes with some momentum and some confidence,'' Braun said.
At this point, the goal has to be just to get to San Francisco, no matter how they do it. It won't necessarily be easy.
Naturally, the competition gets harder as it goes. The rosters of Puerto Rico and especially the Dominican Republic, with its stacked lineup, looks much more imposing than those of some of the teams back in Phoenix, where lineups contained Double-A and Triple-A players.
"The Dominicans ain't gonna' to roll over. Puerto Rico, they're not going to either. And Italy, they're playing good baseball,'' Team USA's Shane Victorino said, neatly summarizing the competition here.
Team USA also is getting the feeling it has a bull's eye on its back, an idea that may be exacerbated by the fan breakdown, which has been decidedly against so far. No surprise, Mexico had the majority in Phoenix. But USA may not have expected the showing by the Canadian faithful there since, technically, you know, Phoenix isn't all that close to Canada.
Here in Miami, there's an expectation for more cheers for the Puerto Rican and Dominican teams. Victorino, having played winter ball in the past, is bracing for the rowdy factor favoring the opponents. "The U.S. will be at a disadvantage,'' he predicted.
At least team USA will have Stanton back in familiar environs (he should receive a hellacious welcome as the Marlins' last man standing) plus Braun, who starred at "The U'' as it is called here (the University of Miami) and Gio Gonzalez, a native of hardscrabble Hialeah, an enclave of 200,000 in Miami-Dade County, who got emotional as he talked about his start here Tuesday vs. Puerto Rico.
"Well, to think about it, a small-town kid from Hialeah, Florida, pitching [in] Miami and representing Team USA, that says it all. It's a kid's dream,'' Gonzalez said. "I grew up watching this man right here leading the Yankees to the World Series, and now to be a part of it and actually playing for him, don't pinch me, I don't want to wake up.''
Team USA may want to sleep it off if they don't come out of here because, let's face it, a first-round victory isn't going to be viewed as nearly enough for a team that, while it may be lacking the very best of the USA's pitchers (Clayton Kershaw, Justin Verlander, David Price, CC Sabathia and Jered Weaver aren't here), the roster does still look a little bit shinier than the rest. And the reality is, even if the excuses are good and solid, they won't be seen as reason enough if Team USA doesn't make it to San Francisco.
The Twins have already fortified the bullpen with Addison Reed, and now they want to address...

The Orioles likely want pitching, and the Indians have plenty of it

Halladay died in a November plane crash off the coast of Florida
The power-hitting outfielder is headed to Toronto

Martinez could add some power to a Boston lineup void of it

It's almost that time of the year again, time for the Tebow madness to return