As the Uptons live out dream, Braves hope it translates to dream season
Even their Braves teammates are eager to see B.J. Upton and Justin Upton interact as brothers and teammates. But the Braves are also eager to see the Uptons help form the foundation of their younger, more athletic and (they hope) even better team.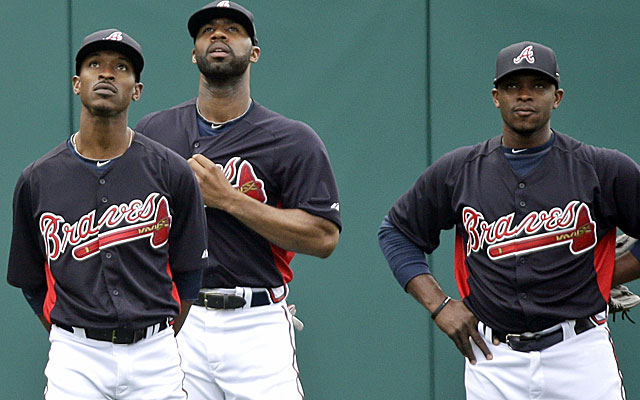 B.J. Upton, Justin Upton and Jason Heyward give the Braves one of baseball's most exciting young outfields. (AP)
LAKE BUENA VISTA, Fla. -- As brothers growing up in Southern California, the Laird boys played baseball. Gerald signed a pro contract. Brandon signed a pro contract.
Gerald made it to the big leagues. Brandon made it to the big leagues.
And once, just once, in a spring training game, they made it into the same game.
"Just to play against him on the same field was a dream," Gerald Laird said Saturday morning.
Then he looked down the row of lockers in the Braves' spring training clubhouse, to the two at the end, labeled "Upton" and "Upton."
"These guys might play together for the rest of their careers," he said.
The Upton brothers might already be tiring of this "brothers playing together" story, but it resonates for a very simple reason.
This isn't just their dream. This is any kid's dream.
More on MLB
Related links
The Braves signed B.J. Upton to the largest free-agent contract that they've ever given out. Then they made one of the biggest trades of the winter to land Justin Upton.
A big part of the story was the Braves in transition, getting younger, more athletic, and perhaps more talented all at the same time. Brothers or not, putting the two Uptons into the same outfield as Jason Heyward was going to draw interest.
But it's the brother part of the story that has even their teammates talking.
"I'm anxious to see them interact as brothers," Brian McCann said.
"You can't go to Thanksgiving dinner if you had the second-best year," said Gerald Laird.
The Braves would have taken either Upton without the other. But there are definitely some Braves people who believe that having them together will help get the best out of both.
"A little sibling rivalry never hurt anyone," Chipper Jones said. "I'd love to see one of them get off to a hot start and have the other try to match him. Showcase that unbelievable Upton talent.
"I'd love to see them both get a 30-30 season."
Manager Fredi Gonzalez's initial plan is for Justin Upton to bat third, with B.J. Upton batting fifth. B.J. plays center field, with Justin in left and Heyward in right.
The Uptons and Heyward have already been interacting like they've been together for months or maybe years, rather than just days. In fact, Gonzalez said, that's one thing that has struck him about the Uptons in the early days of camp.
"They don't act like brothers," he said. "They're almost like teammates who have been together for a few years."
That's actually a good description, because the Uptons will remind you that this isn't like two kids being dropped off at the ballpark by Mom and Dad.
They're grown men. They're not staying together. They don't come to the park together. They don't leave together.
"We have separate lives," Justin said. "We're independent people."
They're just living a dream, playing baseball at the highest level with their brother at their side.
"Those two have to consider themselves pretty lucky," Jones said.
They've never been teammates before, not even as kids (except on one summer travel team). B.J. is three years older, so it was David Wright and Ryan Zimmerman -- now his National League East rivals -- who were his teammates growing up.
"[Justin] wasn't old enough to play," B.J. said. "He'd take BP with us, but he wasn't old enough to play on the team."
As they grew up, they watched each other from a distance. B.J. would go home after Rays games and catch as many of Justin's Diamondbacks at-bats as possible on television. Justin would watch B.J. as often as he could before his Arizona games began.
They pushed each other from afar, which is why B.J. said he's not sure they can push each other anymore than that from up close. Justin isn't so sure about that.
"We want each other to do well, but deep down there's always a little silent competition," Justin said. "He's not going to let me outdo him, and I'm not going to let him outdo me."
The Braves can't wait to watch and see.
The Red Sox and Cardinals are expected to make trade offers next

The free agent first baseman may be a fit in St. Louis

The front office changes in Atlanta continue
The Marlins are more likely than you think on our list

Judge finished a distant second in the balloting and he paid respect to the winner

Stanton just won the 2017 NL MVP award but could wind up being dealt this offseason