Assessing early candidates for AL All-Star Game starting pitcher
Felix Hernandez, Mark Buehrle, Masahiro Tanaka, Max Scherzer, Yu Darvish or someone else? Who might be the starting pitcher in the All-Star Game for the AL this summer?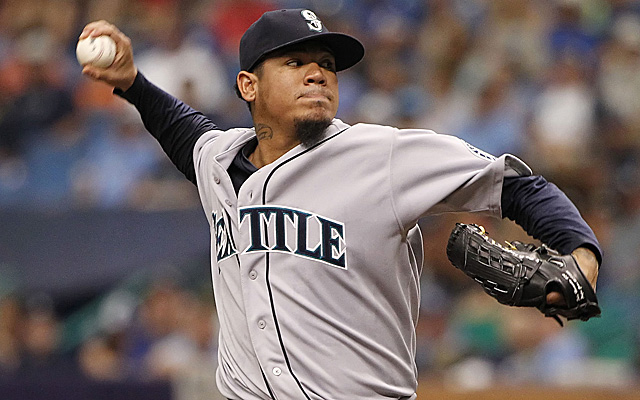 More MLB: Power Rankings | Expert Picks | Latest news & notes | Fantasy news
The MLB All-Star Game is just over a month away and we've already seen several updates with the balloting for the prospective starters among position players in each league, so why not start talking about who the starting pitchers might be?
I'll start with the American League here and then Thursday we'll look at the National League.
Now, this is very important. I'm not putting together my list of best pitchers for the season. We're trying to see who manager John Farrell might pick. He's never made an All-Star selection before, so we'll have to go on history.
Generally speaking, the formula for picking an All-Star Game starter includes judging on old-school stats (think W-L, ERA and maybe K), career pedigree (think established stud over upstart, unless it's a phenom who has been hyped for a while) and, of course, familiarity (think choosing one's own starter if he's in the mix). Playing for a contending team doesn't hurt, either. And, of course, if Tony La Russa is deciding, knuckleballers are eliminated from consideration (I kid, I kid).
One final note: I'm not going to get into working through which pitchers are set to start the Sunday before the All-Star Game -- and are therefore ineligible to pitch in the actual All-Star Game -- because of so many factors that cause rotation shifts, such as rainouts, injuries and general moving within certain weeks. We just can't know how that Sunday will look.
With that in mind, here are who I believe to be the top five candidates to start the All-Star Game for the AL at this juncture.
Check out all the criteria mentioned above and King Felix has it all. He's a Cy Young winner who is a four-time All-Star, though he's never started the game. This season he is 8-1 with a 2.39 ERA and 106 strikeouts in 98 innings. He's also the ace of a team that is currently in playoff position.
For the first-place Jays, Buehrle is 10-2 with a minuscule 2.04 ERA. He's still an excellent fielder, too, and is a four-time All-Star himself. The separation here isn't much, but I'm guessing Hernandez would be the choice due at least in part to being the bigger star and also the much higher strikeout rate -- as you've got to miss bats in the All-Star Game with all that power.
Also, does Farrell "snub" a Toronto player or extend an olive branch to the city?
3. Masahiro Tanaka, Yankees
Quite a rookie season, eh? Tanaka is 9-1 with a 2.02 ERA and a 92:13 K:BB ratio in 84 2/3 innings this season. He's been nothing short of amazing. Then again, would a Red Sox manager actually pick a Yankees hurler when he has similar options? It's actually a fun little side storyline.
4. Yu Darvish, Rangers
This season will almost certainly mark Darvish's third trip to the All-Star Game in as many seasons in America. This time around, he's 6-2 with a 2.36 ERA and 91 strikeouts in 76 1/3 innings. He started the season a bit late due to a neck issue and his Rangers aren't as good as the Mariners or Blue Jays. Still, there are a handful more starts before a decision will be made.
5. Max Scherzer, Tigers
The 2013 AL Cy Young winner is having a nice encore season. He's 7-2 with 98 strikeouts in 85 1/3 innings. Though his rate stats -- including a 3.38 ERA -- don't measure up to the above pitchers, there are many other factors to consider here. Obviously we mentioned the pedigree and the Tigers are a first-place team, too. Scherzer is no doubt a big star at this point and what if, say, Buehrle and King Felix are unavailable?
Don't forget about: James Shields, Jon Lester (though he'd have to fix his W-L record), Scott Kazmir, Sonny Gray, Dallas Keuchel (wouldn't that be something?) or Justin Verlander (only if he got really hot -- he's not even an All-Star right now). I'll mention guys like Garrett Richards and Corey Kluber here because they merit it, but they don't really have a chance, barring an insane stretch of dominance. 
CBS Sports HQ Daily Newsletter
Get the best highlights and stories - yeah, just the good stuff handpicked by our team to start your day.
Please check the opt-in box to acknowledge that you would like to subscribe.
Thanks for signing up!
Keep an eye on your inbox for the latest sports news.
Sorry!
There was an error processing your subscription.
Arizona locks down an important asset through the 2021 season

It's Game 1 of the World Series, here's everything you need to know

The Red Sox ace sounds ready to go against the Dodgers
The postseason is underway and the World Series starts Oct. 23

Will the Dodgers or Red Sox prevail in the 2018 World Series?

The Dodgers have made some shrewd trades and done very well in the draft