Astrodome likely ticketed for demolition
The legendary Astrodome has been a Houston fixture since 1965, but after a referendum to make it into a convention center was voted down, it's likely to be demolished.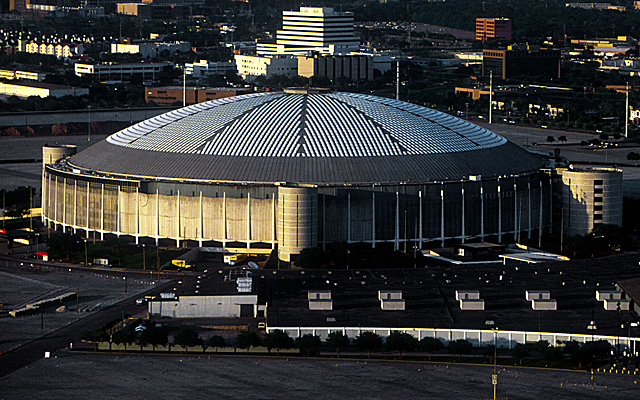 Tuesday in Houston, there was a referendum in the local election that would have authorized up to $217M in bonds to morph the Astrodome into an event and convention center. It was voted down with 53 percent of the voters opposing the referendum, however, and now the iconic dome is likely to be demolished.
The Astrodome opened in 1965 to fanfare so big that the Houston Colt .45's changed their name to the Houston Astros. The dome was the first of its kind in the world, garnering the nickname "the eighth wonder of the world."
Demolition isn't 100 percent a sure thing, but it sounds like a mere formality. From the Associated Press:
"We can't allow the once-proud Astrodome to sit like a rusting ship in the middle of a parking lot. This was the best effort (to revamp the stadium), and voters have turned it down," Harris County Judge Ed Emmett said. Fifty-three percent voted against the referendum.

Emmett said a final decision on what happens to the Astrodome will be up to the commissioners court, the group of local officials who manage the county. But he said the stadium's future was pretty much sealed with the referendum's failure. He said a decision would have to be made quickly but didn't say exactly when that would happen.
The Astrodome was one of sports' major venues for years. It housed the Astros and the NFL's Houston Oilers, in addition to rodeos and the famous tennis "Battle of the Sexes" between Bobby Riggs and Billie Jean King in 1973.
It's doing nothing but rotting away at present, though. A sports team hasn't called it home since 1999 and it's been closed to any event since 2009. According to the Associated Press, the last "prominent" use of the building was to house Louisiana residents in the wake of Hurrican Katrina in 2005.
Colon wants to break a Dennis Martinez record

The Twins have been rumored to be interested in Darvish all winter

Rolen is one of the best third basemen of all time, but you wouldn't know it based on this...
Neither Josh Donaldson nor Brian Dozier have talked about a new contract extension

Francisco leads the Dominican Winter League with seven home runs

Thome deserves enshrinement and here's why the case against him does not hold up