Astros concluding play as National League franchise should be viewed as rebirth
After 51 years, the Astros have concluded play as a National League franchise. They will start play next season in the American League West. From where I sit, fans should view this move as a rebirth, instead of complaining -- considering the move was announced an entire season ago.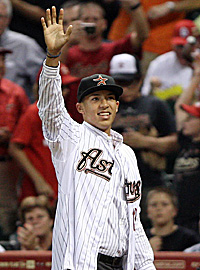 Look to the future, like with No. 1 overall pick Carlos Correa. (US Presswire)
The Houston Astros played their last game as a National League team Wednesday afternoon in Chicago. It was a forgettable game between the two worst teams in baseball -- the only two teams with 100-plus losses on the season.
The result wasn't really important -- though it was a franchise-record 107th loss. Instead, there was significance in that the Astros wrapped up a 51-year history of being a National League club and now will head to the American League West.
The reaction of Astros fans will likely fall into one of three categories:
1. Outrage, anger, indignation, etc., mostly directed at MLB commissioner Bud Selig.
2. Indifference, because they have quit caring about baseball due to the move.
3. Viewing the move as a chance for a franchise rebirth.
Unfortunately, it seems most are still stuck on option 1, which is such a waste of time and effort. I understand the initial anger due to tradition and the like, but there's been an entire season to complain. At some point it's just a waste of breath and any mature adult would realize what's done is done. Nothing will change the fact that the Astros are moving to the AL, so why waste so much time and energy complaining and -- sorry -- whining?
For those in the option 2 camp, that's your right and I commend you for moving on without kicking and screaming like a toddler. I think it's silly for a simple league switch to cause one to completely give up on a team, but, again, the lack of whining is commendable.
For those in the option 3 camp, good for you. Great for you.
This is a rebirth. The Astros are rid of former owner Drayton McLane and former general manager Ed Wade. The new administration has gutted the major-league roster of albatross contracts and can now move forward with developing young talent and tailoring the roster to the American League.
It's also still possible to fondly remember the past while also embracing a rebirth.
A Nov. 2 launch party at Minute Maid Park will reveal the new Astros uniforms, which are to have "some of the colors" from the past. So it's an homage to the past tradition while the franchise looks to make a new tradition in the American League.
The timing couldn't be much better, either, as the Astros have just finished the two worst seasons in franchise history.
The bottom line is the Houston Astros haven't been contracted or moved to another city. They will still play Major League Baseball in Houston. Switching leagues can be taken as an opportunity for fans to whine like petulant children, or it can taken as an opportunity to look maturely toward the future.
For more baseball news, rumors and analysis, follow @EyeOnBaseball on Twitter, subscribe to the RSS feed and "like" us on Facebook.
The Cubs foundation is still strong, but Theo Epstein and company have work to do

Turner and Taylor are the third set of co-MVPs in LCS history

Stylistically, the Dodgers seem to match up better against the Yankees and here is why
The Dodgers advance to the World Series for the first time since 1988

Hernandez also set a new LCS record with 7 RBI

The 2017 World Series begins Oct. 24