Astros GM Jeff Luhnow drove 10.5 hours to see Carlos Rodon (likely)
Astros general manager Jeff Luhnow drove 10.5 hours roundtrip to watch Florida State take on NC State Friday night. He wouldn't say why, but likely top overall pick Carlos Rodon was pitching for the Wolfpack.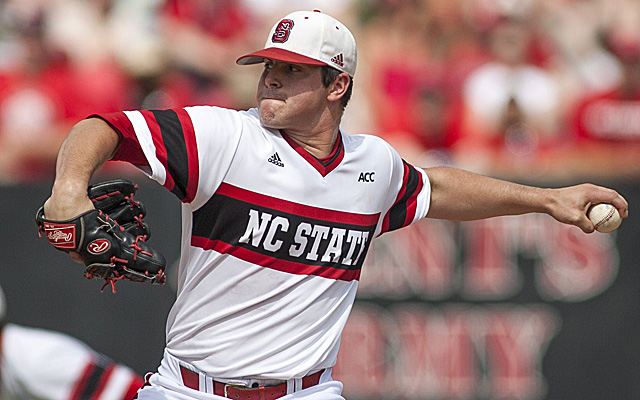 MORE: Spring Training | Scoreboard | FA tracker: hitters | FA tracker: pitchers
Astros general manager Jeff Luhnow embarked upon a 10.5-hour roundtrip drive to watch No. 5 N.C. State square off against No. 2 Florida State Friday night. It was a pitching matchup pitting FSU's ace Luke Weaver -- but the main course here was obviously Wolfpack lefty Carlos Rodon.
The Astros, who hold the No. 1 pick again in the MLB draft this coming June, have already been connected with Rodon and he's the top player in the draft according to every scouting outlet. Not that Luhnow would acknowledge that's why he went on such a trek.
"It was a productive trip and it was a classic matchup," said Luhnow (Ultimate Astros). "Two top ranked teams with their Friday night starters going. It was a well played game and I saw a lot of good baseball. It kind of made me miss my scouting days."
Rodon took the loss, though he struck out 12 in 6 2/3 innings against the powerful Seminoles. On the season, Rodon has a 2.45 ERA and 42 strikeouts against 11 walks in 36 2/3 innings. Last season, the 6-foot-3 Rodon went 10-3 with a 2.99 ERA and 184 strikeouts in 132 1/3 innings.