Astros impressed with Roger Clemens' outing, Royals aren't interested
At least one Astros executive said he believes Roger Clemens could pitch in the big leagues after seeing him pitch in an independent league game on Saturday.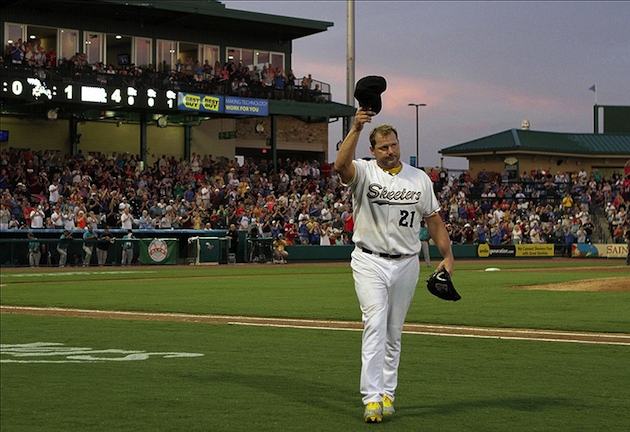 Roger Clemens struck out two batters in 3 1/3 innings on Saturday. (US Presswire)
Astros general manager Jeff Luhnow said he was impressed with Roger Clemens' performance on Saturday, but made sure to put in several qualifiers in his statements to Zachary Levine of the Houston Chronicle.
The Astros had a scout (as did the Royals) at Clemens' 3 1/3 innings scoreless innings for the Sugar Land Skeeters of the independent Atlantic League on Saturday. His fastball was clocked as high as 88 mph, according to several reports.
"He looked good," Luhnow told Levine. "He certainly can compete at that independent ball level. We'll see how he feels after doing that yesterday, but he certainly is impressive given the fact that he hasn't pitch in so many years and with his age."
Astros owner Jim Crane has let it be known that he's open to bringing the 50-year-old Clemens back to the Asros, a team he played for from 2004-06.
Clemens has hinted he'd consider returning to Major League Baseball, even though he recently turned 50. Clemens is scheduled to be on the Hall of Fame ballot for the first time later this year, but he could be scratched from the ballot if he signs with the Astros. That could be a way to push the voting off for another five years and give some space between his recent perjury trial and Hall voting. While he could be on the ballot for 15 years, another five years could give him a shot at first-ballot status. It would also pad his already impressive resume and perhaps allow the perception of performance enhancing drugs and their use during the so-called "steroid era" to change. For that to happen, however, he would have to pitch in a major league game.
"Roger's five-year waiting period restarts only on a major-league appearance," Hall of Fame spokesman Brad Horn said in an email to the Seattle Times' Larry Stone. "Anything else (minor league, independent, even signing with a major-league team) does not force the restart until he appears in a game."
Luhnow says he hasn't spoken with Clemens.
"I don't know what he intends to do," Lunhow told the Chronicle. "I think a lot of that will have to do with how he feels after [Saturday]. Recovery time is probably a little different for somebody who hasn't pitched in so long."
However, Royals scout Ron Toenjes told the Los Angeles Times that Clemens' outing was good enough to draw interest from big leagues team.
"I think it will fuel that speculation," Toenjes said. "I just don't know what will happen. I don't think anyone does."
The fact that Toenjes and senior pitching advisor Bill Fischer were at the game didn't mean the Royals were "scouting" Clemens, Royals general manager Dayton Moore told MLB.com.
Meanwhile, Astros special assistant Tal Smith told the Los Angeles Times that he believes Clemens could pitch again in the majors.
For more baseball news, rumors and analysis, follow @EyeOnBaseball on Twitter, subscribe to the RSS feed and "like" us on Facebook.
Where might the Orioles third baseman land?

Kinsler will slot in at second base for the Angels

The Marlins got a better return for Ozuna than Stanton or Gordon
The two teams are going about things in very different ways

The Marlins are indeed in teardown mode under new ownership

The Marlins still have more attractive pieces