Astros manager Porter apologizes to Angels for foul popup call
After the Astros bench interfered with a ball in play Friday night, manager Bo Porter called the Angels to personally apologize.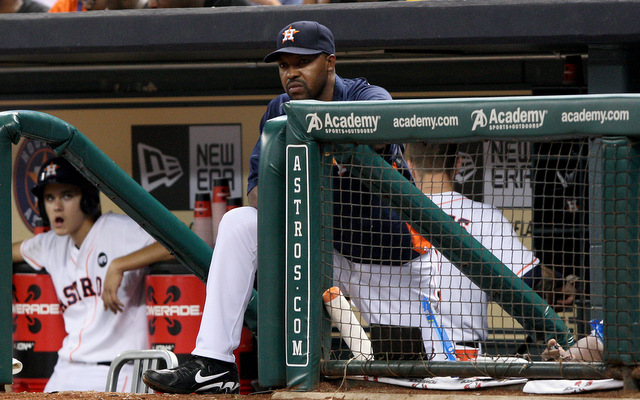 More MLB: Scoreboard | Standings | Probable Pitchers | Sortable Stats | Odds
Astros manager Bo Porter called Angels manager Mike Scioscia to personally apologize for an unsportsmanlike play by his team on Friday night, reports Mike DiGiovanna of the Los Angeles Times. I'll let DiGiovanna set the scene:
With two on, one out and the score tied 1-1 in the sixth inning, Chris Carter hit a foul popup that (Hank) Conger appeared to have a bead on before someone from the Astros' dugout yelled, "I got it!"

Conger backed off at the last second, thinking (Mark) Trumbo had called for the ball, which dropped to the ground. Conger was initially charged with an error, but the official scorer changed it to no play after the Angels' 4-2 win.
Porter told DiGiovanna he "apologized to [Scioscia] on behalf of our ballclub. ... It's not something that I condone, and I take full responsibility. It won't happen again."
Trumbo called the apology a "classy move" while Conger was happy they were able to escape the inning unscathed. The two joked about coming up with a "safe" word to use when calling for popups so something like this doesn't happen again.
"It's one of those things we'll have to talk about, because it will probably come up again," added Conger.
I am typically pretty lenient with this sort of stuff, but this definitely qualifies as bush-league in my book because it involved players who were sitting on the bench and not playing the game. It's similar to stealing signs -- if the guy on second base is doing it, fine. If the guy sitting in the bullpen has binoculars, that's a problem.
Alex Rodriguez caught some heat for a similar play several years ago when he screamed "Ha!" while running the bases against the Blue Jays and caused a popup to drop in.
Gonzalez was reportedly killed in a car crash in Cuba

Our Black Friday FA shopping guide includes a starting pitcher, slugger, super sub, and re...

Get 15 percent off any order of more than $75 at CBS Sports Shop
Need a gift for someone who loves baseball? We're here to help as the holidays approach

Several prominent Japanese-born Mariners and ex-Mariners have said they will help as well

Get your sports fans something that they'll wear all year