Astros, No. 1 pick Appel agree to deal worth more than $6 million
The Stanford right-hander is expected to receive a bonus for something over $6 million.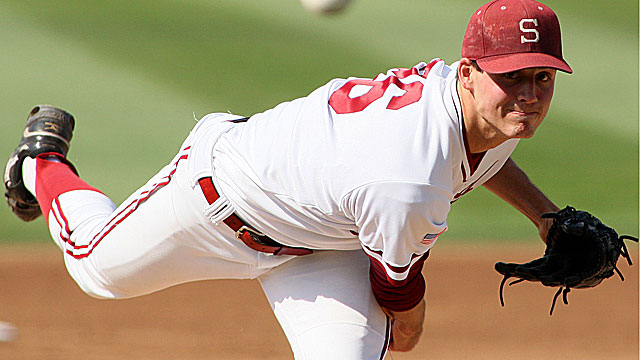 The Astros have a deal with No. 1 overall pick Mark Appel, the Stanford right-hander, sources said.
The Appel deal is expected to amount to somewhere north of $6 million -- probably between $6 million and $6.5 million, though the exact amount couldn't be confirmed.
Appel turned down a $3.3 million offer from the Pirates after being the No. 8 overall selection a year ago, gambling that he could improve his stock. The Pirates may have been willing to go to $3.8 million, but they were limited by their total bonus allotment.
Appel, a native of Houston, wanted to go there. "I'm coming home, I'm coming home! tell the world, I'm coming home," Appel tweeted on June 6, the day he was picked No. 1 by the Astros, leaving little doubt he was thrilled to go to the Astros.
Some expect him to be in the majors within a year or so.
If Appel's deal comes in the $6 million to $6.5 million range, as expected, it will leave the Astros some room in their bonus allotment since slot for the No. 1 pick is $7.79 million.
Appel improved his stock by going 10-4 with a 2.12 ERA for Stanford as a senior, garnering 130 strikeouts in 80 innings.
The lefty starter is coming off a terrible season

After acquiring Ian Kinsler and Zack Cozart in recent days, the Angels are trending upward

Cozart's coming off a big season as the Reds' shortstop
The veteran slugger spent the last eight seasons with Cleveland

The Padres may be poised for an active winter

Yes, Bryce Harper is going to make a lot of money next winter