Astros showing real improvement amid another 90+ loss season
The Astros have already won more games in 2014 than they did in 2013. Here are three reasons for their (slight) improvement.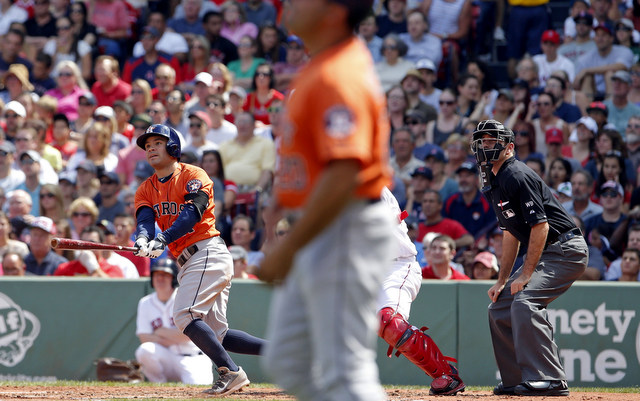 More MLB: Power Rankings | Expert Picks | Latest news & notes | Fantasy news
With Sunday afternoon's win over the Red Sox (HOU 8, BOS 1), the Astros are now 52-73 on the season. That's very bad, but it is also one more win than they had all of last season.
Houston, as you surely know, has lost 100+ games in each of the last three seasons. This year's team has a different look though, a different look that has led to subtle yet legitimate improvement in the standings. Here is where the Astros have taken the biggest steps forward from 2013 to 2014.
Jose Altuve: Superstar
For whatever reason, Altuve's reputation exceeded his actual production coming into this season. Perhaps it was simply a case of the best player on a bad team getting pumped up. Prior to this year, Altuve was a .285/.323/.377 hitter in over 1,500 plate appearances. His best year was 2012, when he had a no better than solid 101 OPS+ and was Houston's token All-Star.
That has all changed this year. Altuve is producing like a bonafide superstar in 2014, going 4-for-5 with a grand slam on Sunday to raise his season batting line to .339/.374/.447. He leads the league in hits (173), multihit games (53), batting average and stolen bases (46). Coming into Sunday, his 3.5 WAR was fifth best among full-time second basemen in the league. Altuve just turned 24 in May, and after needing a few years to find his way, he has become a legitimate cornerstone player.
Pitching diamonds in the rough
No team allowed more runs per game than the Astros at 5.23 last season. Their 4.72 rotation ERA was the third worst in MLB. Improving the pitching staff was an absolute must over the winter, which is why the Astros signed Scott Feldman as a free agent. He hasn't been great (89 ERA+ in 129 1/3 innings), but the team is down to allowing 4.74 runs per game with a 4.11 rotation ERA anyway.
That improvement stems largely from left-hander Dallas Keuchel and right-hander Collin McHugh, who still are far from household names. The 26-year-old Keuchel has a 3.11 ERA in 156 1/3 innings thanks not to his 6.9 K/9, but to his 61.8 percent ground ball rate, the highest in baseball (by five percentage points!). Furthermore, as ESPN stats guru Mark Simon recently showed, Keuchel has the tenth lowest hard-hit rate in baseball, so he's getting weak contact on the ground. That's a great way to limit damage.
McHugh, 26, held the Red Sox to one run in six innings on Sunday afternoon. Coming into the start, he had a stellar 9.8 K/9 in 108 innings. It's not one pitch either. The PitchFX data at Brooks Baseball shows McHugh has above-average swing and miss rates with both his fastball (9.2 vs. 6.9 percent) and curveball (16.1 vs. 11.1 percentage) plus an average-ish whiff rate on his slider (14.5 vs. 15.2 percent). Keuchel gets weak grounders, McHugh misses bats with multiple pitches. He has a 3.00 ERA on the year.
Maybe Keuchel and McHugh won't continue to pitch to near-3.00 ERAs going forward, but they both possess skills that point to long-term success. The don't have to be aces, just solid starters. There's a lot of value in that. Houston deserves a lot of credit for getting McHugh off waivers (from the Rockies) and Keuchel as an unheralded seventh round pick in 2009. When you're as bad as the Astros, you have to hit on some long shots. These two have been big helps.
Brand new outfield
As a unit, the Astros outfield hit .237/.297/.375 and was worth -1.7 WAR in 2013. That was the worst in baseball. This year's outfield came into Sunday hitting .233/.321/.377 with +2.3 WAR, which is still a bottom 10 mark in the league, but it represents an enormous upgrade over last year. You're talking about a four-win upgrade from the outfield alone with another 37 games remaining.
Houston improved their outfield with two moves. First they acquired center fielder Dexter Fowler from the Rockies in the offseason, and he's hitting .277/.387/.406 with +1.1 WAR in 81 games so far this year. (He missed time with intercostal strain.) Next they called up top prospect and right fielder George Springer, who put up a .231/.336/.468 batting line with 20 homers and +1.4 WAR in 78 games before going down with a quad problem. Last season the Astros got -0.8 WAR combined from center and right. Fowler and Springer are at +2.5 WAR so far this year even with the injuries.
* * *
Let's me make this clear: the Astros are still very, very bad. They're going to lose 90+ games again this year, if not 95+. Going from 111 losses to, say, 95 losses is an 11-win improvement though, and that's significant in the grand scheme of things. Context is important.
The Astros have a long way to go before they get back to contention -- despite what Sports Illustrated says -- but they've taken steps forward this year. Baby steps, but steps nonetheless. They have a young, budding star in Altuve, two rotation anchors in Keuchel and McHugh, and two bonabide major league caliber outfielders in Fowler and Springer. The rebuild is far from complete, but it is starting to bear some fruit.
They're alive in the NLCS after their Game 4 win over the Dodgers

You never know what you might get from Arrieta, but what we got was brilliance in Game 4

The 2017 World Series begins Oct. 24
There will be a Game 5 after all on Thursday night

Tanaka shut the Astros down in ALCS Game 5 and has overcome a down season and past injurie...

The Yankees wouldn't chase Keuchel's bread-and-butter, those tempting pitches just at the knees...