Astros to wear replica Colt .45s uniforms twice in April, gun and all
The Houston Astros will be wearing replicas of the real Colt .45s uniforms April 10th and 20th. MLB had previously told them to do so without the gun on the jersey.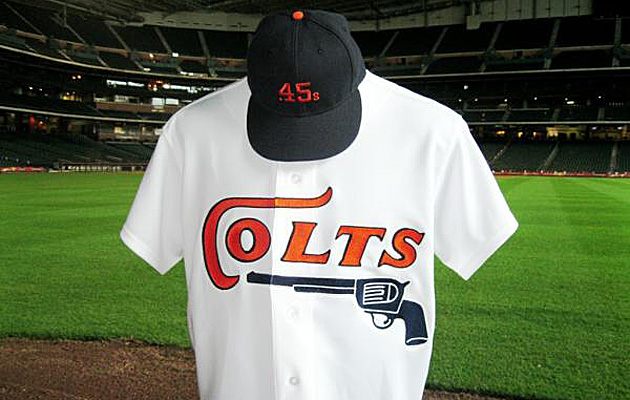 Thankfully, common sense has prevailed. The Houston
Astros
are scheduled to wear throwback uniforms on April 10 and April 20 as part of their "Flashback Fridays" promotion, and they'll be doing so with replicas of the original Colt .45s uniform (pictured above,
via MLB.com's Twitter account
).
Previously, Major League Baseball told the Astros they wouldn't be allowed to wear the exact replica of the uniform because it has a gun on it -- smoke from which forms the "C" of Colts on the front. Yeah, I know: Lame.
Anyway, there were seemingly enough complaints that
MLB
ended up allowing the Astros to make their own decision,
the club announced Thursday in a press release
. Friday, the Astros revealed that they will indeed don replicas of the original jerseys for those two home games, gun and all.
"We made this decision for a number of reasons," Astros owner Jim Crane said (
Ultimate Astros
). "We listened to our fans, who were almost unanimously in favor of wearing the original jersey. We wanted to honor all of our past uniforms during this special 50th anniversary season, and we felt it was important to be true to the tradition of the franchise."
So if you're offended by seeing a picture of a gun on a shirt, just avoid watching those two games. Really, just avoid turning on the TV, looking at the Internet or leaving the house, because if that offends you, there isn't much in this world that won't.
For more baseball news, rumors and analysis, follow @EyeOnBaseball on Twitter, subscribe to the RSS feed and "like" us on Facebook.
Among other sanctions, Atlanta lost the player who was deemed the No. 1 international signing...

Among other penalties, No. 1 international prospect Kevin Maitan is now a free agent

Judge underwent the arthroscopic procedure on his left shoulder on Monday
Giancarlo Stanton trade rumors are hot right now

It's part of commissioner Rob Manfred's ongoing effort to improve pace of play

But one other team is prominently in the mix for the Marlins' slugger