Astros win one now, but they are wisely playing for distant future
Houston has a nice new catchphrase 'All In,' and a big performance in the MLB opener (and their American League debut). But their eye is more realistically on 2015 or so.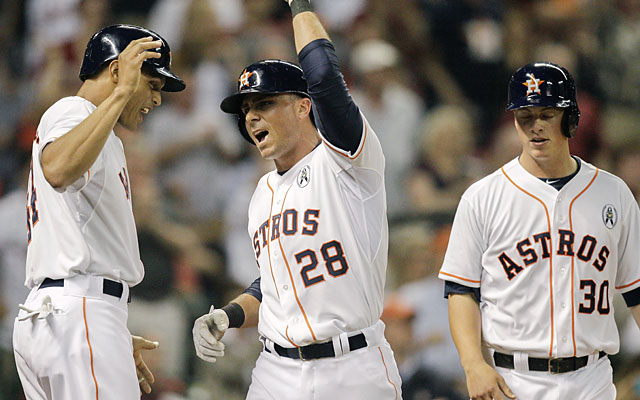 HOUSTON -- The Houston Astros, written off by many already as the second coming of the 1962 New York Mets, at least for now sit atop all baseball's standings after an opening night and initial foray into the American League befitting their oddly upbeat rhetoric.
One imagines their surprise opening-night selection and oh-so-rare national TV appearance could have been part of the deal to agree to move to the AL, and if so the Astros took advantage of their one night in the spotlight with a performance in an 8-2 victory against their new in-state rival Rangers that is nothing like you would expect from the team that lost 107 games last year and may be positioned to repeat that.
More on Rangers-Astros
Related links
This season looks like it'll be tougher than scaling Tal's Hill, though Astros people, seemingly oblivious to what may lie ahead, already have their upbeat catchphrase, thanks to their high-spirited rookie manager Bo Porter, a former football player and maybe a poker player as well. Porter devised the "All In," theme, with key members of the franchise actually pushing all the chips into a pile in a recent display that was a solid but symbolic gesture about the mindset of the organization.
Because in reality, the Astros are anything but all in.
At least not for 2013, when their payroll is somewhere between $19 million and $32 million depending on how you figure it and/or who you ask. Nineteen million is a figure that doesn't include Wandy Rodriguez and other extras, $32 million is what Astros people claim, and $25 million is the number most often cited.
Anyway you calculate their player payroll, it isn't much. Not if you expect to compete over a full season of games with the Angels, Rangers and the rest.
The slogan is certainly a cute and catchy one, and maybe it helps bond the Astros.
If the "All In," phrase refers to an outlook, fine, I'll buy it. If it suggests they are doing whatever they can to win now, well, that's a bit of a tougher sell.
The Astros appear to be shooting for 2015, or somewhere in the distant future, anyway. No matter the name of their home park, this team will not be made in a minute.
Although with the rules as they are, and the system in the depleted state the current Astros honchos found it ("the cupboard was bare," former Astros great Lance Berkman allowed), not to mention the shift to the American League West, which may eat them alive early, their focus on the future is probably the wisest call they've made.
The new CBA rewards the lowest finishers with more draft money, higher picks and more international money, so their timetable may actually be aided the lower they finish. Of course, a slogan such as "We'll be all in a few years from now," isn't quite so catchy. So if they don't play a good game for awhile, they will talk one.
"We're not conceding anything. We're here to win ballgames,'' Astros GM Jeff Luhnow said. "We're here to get the organization moving forward as quickly as possible. We're here to win championships ... There is not person from this guy who cleans the laundry to Bo Porter to me who doesn't want to win.''
But while they'll hope as many games as they can, reality isn't on their side. And if they should happen to lose, well, there are rewards for that.
Luhnow and his ace number crunchers already turned the 2012 draft into a bonanza, in short order helping transform their system from one of the very worst in baseball to somewhere in the middle of the pack. Throw in the fact, their 107 defeats last year again gives them the top pick once again in this June's draft, and another worst-in-baseball record would mean a third straight season with the No. 1 pick.
Luhnow doesn't agree with the premise that losing may be good for business. But a payroll lower than Alex Rodriguez's salary doesn't suggest they think their time to try to win is now.
"I heard a lot of comments about the payroll, the payroll, the payroll,'' Astros owner Jim Crane said. "We'll spend the money when we're ready to spend the money. This year wouldn't be the time to do it."
Crane expressed the belief that his team has more depth and more pop than last year, when they started strong but quickly slid into the abyss. The baseball people say their rotation should be better, if only because it has actual major league pitchers. And that their lineup should hit more home runs, probably wise since they moved to the longball league.
But some reality: They have no proven No. 1 pitcher (or No. 2 for that matter), they have no proven No. 3 hitter, or prototypical in-his-prime No. 4 hitter. And the bullpen, well, that could be trouble.
Crane ended his pregame press gathering by mouthing, "Let's win one,'' which showed a bit of a football mentality (maybe Porter, who played for iconic Hayden Fry at Iowa is rubbing off on him). Anyway, his team responded, with starter Bud Norris pitching well enough to raise his trade value, talented but unproven outfielder Justin Maxwell hitting two triple and making a leaping catch in center and new Astro Rick Ankiel hitting a three-run pinch-hit home run off veteran Derek Lowe that sent the sellout crowd home satisfied.
At least for today.
Generally though, Crane gets that they can't be too worried about what happens over the next 161 games. "I hope they'll be patient,'' he said of the fans.
In the meantime, the upbeat Porter seems like a pretty solid choice to keep the spirits up. Beyond the "All In,'' catchphrase (and T-shirts to go with it), Porter will do what he can to keep his troops believing that the year isn't being written off. He presented Brandon Barnes as first clubhouse speaker, the longest-tenured Astros who also happens to be a flesh-and-bones example of someone who "defied the odds.''
He's supposed to be an inspiration to a team looking to do the same. And if that isn't enough, Porter will tell anyone who will listen they need to "ignore the noise,'' which means to turn off the prognosticators, predictors and experts who have them last, or worse, hopeless.
To that end, Porter mentioned how not one so-called expert had Wichita State going to the Final Four. "News flash,'' Porter said. "They're in the Final Four.''
He was then asked whether he means to suggest that they may win the pennant. And Porter, not being a prognosticator himself, demurred. "We're going to compete every day,'' Porter said. "We're not going to concede anything to anyone.''
Not to argue, but the $25 million payroll (I'll use the middle number) was concession enough, long before the first pitch was thrown by Bud Norris. Nobody wins a pennant with a payroll equal to a single player, especially not a team that's finished with the worst record in the sport two times running.
They do appear to be heading in the right direction, give them that. They now have some prospects other teams like, though one competing GM said he likes their quantity more than their quality.
To be fair, I would say their quality is a lot better than it was. They have big-hitting shortstop Carlos Correa, the No. 1 overall pick from a year ago Astros people will tell you is very mature for 18. They have Delino DeShields Jr., who has dangerous speed. They have hard-throwing righthander Mike Foltynewicz.
They have sweet-swinging first baseman Jonathan Singleton, who is the best of the return for the trades of Hunter Pence and Michael Bourn (though he'll miss 50 games this year due to two failures for marijuana).  And they have George Springer, who'll be "better than any of them," one Astros person said, if only he can harness his swing.
Astros people, even in private moments, will tell you they'll be a lot better.  Better than they were last year. And certainly better than whoever is talking about them losing 120 games like the 1962 Mets or 119 like the 2003 Tigers. "We're not going to challenge the Mets or the Tigers,'' one Astros person said. "That's ridiculous.''
The word around the game is that they will be better, better than the 107 defeats of a year ago. But they still have an excellent chance to be the worst. Which in their case might not be such a terrible thing.
The Nats will host the All-Star Game in 2018

The Orioles are looking to trade Machado heading into his walk year

The Cardinals have been linked for a while to the Baltimore star
Gallardo spent the first eight years of his career in Milwaukee

MLB revenues are at a record high right now, but teams aren't spending it on players

Chicago added Tyler Chatwood earlier this offseason but might not be done adding to the ro...