At season's end, Marlins' Jeffrey Loria rears his ugly head again
What would the end of a season be without Marlins owner Jeffrey Loria subjecting himself and his franchise to further public scorn? Well, we don't have to answer that question for at least another year, because Loria fired respected baseball man Larry Beinfest on Friday.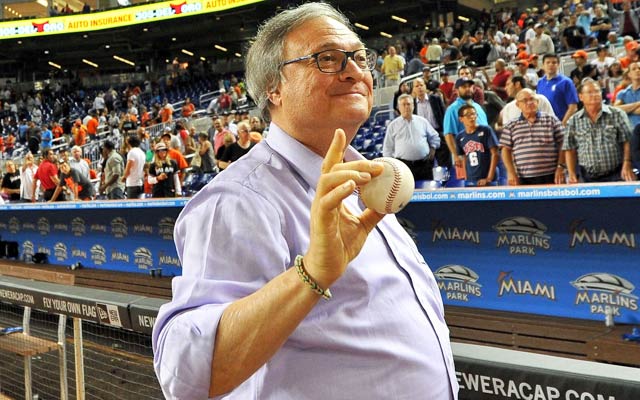 Having somehow served as owner Jeffrey Loria's top baseball executive now for 12 years, what Larry Beinfest deserves is a new Corvette, a gold watch and a Lifetime Achievement Award. Not a firing.
But a firing he gets, as Loria's soap operatic world makes another spin at the conclusion of yet another sorry Marlins season. Because that's how Loria rolls.
Clearly, the two most thankless tasks in baseball are cleaning the tobacco spit out of the dugouts each night, and working under Loria. Probably not in that order, either.
Following last November's fire-sale torching of the franchise, the obvious logical question is: How can you possibly fire Beinfest now, especially with the excellent talent that the Marlins' smart baseball people brought back in those deals?
Believe it or not, there is an answer to that question other than "Because Loria is a toad."
Oh, don't get me wrong, he's still a toad. But here's the deal: There has been a growing rift in the Marlins front office for at least a couple of years now between Beinfest and Dan Jennings.
As president, Beinfest was in charge of baseball operations.
As vice-president of player personnel, Jennings was in charge of … acquiring player personnel.
When men in those two positions butt heads, well, something has to change. And, oh, boy, were they ever butting heads. As one baseball person described it Friday, it had reached the point where it seemed that personnel moves were being made – or not being made – simply to spite the other guy.
So this is where it all comes back to Loria.
The obvious question becomes not "How can you fire Beinfest?" but, rather, "How could this festering rift be allowed to continue for so long?"
So, with Loria becoming more and more involved in baseball decisions this year, and Beinfest by all accounts finally becoming more and more weary of dealing with the owner, Jennings emerges as the winner of the power struggle.
And the Marlins wind up with more egg on their face.
As if they already hadn't accumulated enough egg on their face to fry, scramble or poach a decade's worth of Grand Slam breakfasts at your local neighborhood Denny's.
As colleague Danny Knobler reported Friday afternoon, Jennings will ascend to become Loria's No. 1 baseball man. Beyond that, Michael Hill, who had the general manager title, is expected to remain as well. Hill's area will be more "rules guy", expert on waivers, that niche.
And President David Samson, that walking organizational virus? Who knows? People close to the Marlins say he's hardly been heard from over the past few months. There is rampant speculation that when Loria and Samson's mother divorced, part of the settlement included lifetime employment for lil' David. Some now think maybe the paychecks will keep coming but Samson finally will have the stitches removed from his baseball, if you get the drift.
Stay tuned. Only thing we know for sure today is that following last year's lie-filled, bait-and-switch-palooza, Loria's Marlins are in far better shape than the owner deserves. In Jose Fernandez and Giancarlo Stanton, they have two superstars. Outfielder Christian Yelich, the club's first-round pick in 2010, isn't far behind.
For that, Loria has his baseball people to thank. Baseball people who consistently have spun magic from the owner's manure for more than a decade.
Jennings is a very good baseball man. And until Loria betrays him, the Marlins will continue to get better.
As for Beinfest, he's got two years remaining on his contract and a rich experience of working for and surviving a crazed lunatic. And you know what that positions him to do? Head straight toward Arte Moreno's Angels to replace GM Jerry Dipoto.
Just an idea.
Otherwise, Beinfest could always collect Marlins money over the next two years and buy himself that gold watch. Good grief.
The run on relievers continues with two more signings

The Yankees added Giancarlo Stanton in a blockbuster trade, though they now have openings at...

Smyly is currently on the mend from Tommy John surgery
Could Greinke really wind up in Texas?

The Orioles, Blue Jays and Rays have star players they should use toward rebuilding for the...

The Yankees may not be done collecting stars