At this point, you wonder whether A-Rod is even the phony's real name
On a day unlike any other in baseball history, Alex Rodriguez carries on as if that 211-game suspension was somebody else's problem. Judging by MLB's evidence, he's lying like it's 2001 ... or 2007 ... or 2009. ...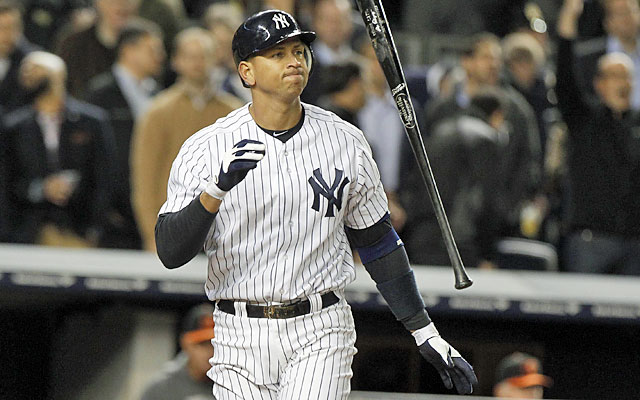 At this point, you have to figure that his real name isn't even Alex Rodriguez, right? And he probably isn't even really a member of the human race.
Everything about the guy has been a lie for more than a decade now. Possibly for his entire life. Especially his earnest tales of yore that he pulled himself up by his baseball bootstraps with good, old-fashioned blood, sweat and batting practice.
Maybe he's really Beldar, from some distant galaxy where lies are truth and reality is whatever you say it is. I bet the hair on his head isn't even real. I know his 647 career home runs aren't.
On a day unlike any other in baseball history, Commissioner Bud Selig zapped baseball's Lizard King with a 211-game suspension. And chameleon that he is, Rodriguez filed his appeal and blithely carried on as if it was any other day.
Quick, where is a lifetime suspension when you need it?
Wait. I'll cut Selig some slack on that given the current spirit of cooperation between management and the players' union. With players ranging from Zack Greinke to Max Scherzer to Mark Melancon and Will Venable going public with their request for tougher drug penalties since Ryan Braun's suspension last month, the Greater Good that can emerge from this Biogenesis-palooza is harsher punishments for the cheaters.
And the best way to get that right now is to continue chatting with the players and re-filling their baskets of chips and salsa.
On a conference call Monday afternoon, players' union boss Michael Weiner addressed the notion of increased penalties: "I don't know if it's going to happen. That will be up to the players."
Their next Executive Board meeting is the first week of December.
"It's going to be an interesting discussion," Weiner said.
Yes, it is. Pass the chips.
"ARod may lose $34 million, but how much $ has he earned w/ them? Baseball needs a harsher punishment & hopefully 2morrow is a start," Melancon, the Pirates reliever, tweeted Sunday evening.
"I believe that if you cross over and decide that you are going to used the banned substance, you also should forfeit the support of the players' association," Venable, the Padres outfielder, told the Associated Press on Sunday. "They are not worthy of the support of the players' association."
Me, I would have handed A-Rod three consecutive life sentences Monday.
One for being a serial cheater, gobbling PEDs as if they were Flintstones vitamins.
One for being so dishonest and disingenuous that he makes pathological liars look like honest, God-fearing men.
And one for being a delusional, deranged dope who long ago should have forfeited the privilege to play major league baseball. And yes, as in whatever job you're working, A-Rod's gig is a privilege. Not a right.
His suspension, for the rest of this year and all of 2014, is "based on his use and possession of numerous forms of prohibited performance-enhancing substances, including Testosterone  and human Growth Hormone, over the course of multiple years. Rodriguez's discipline under the Basic Agreement is for attempting to cover-up his violations of the Program by engaging in a course of conduct intended to obstruct and frustrate the Office of the Commissioner's investigation."
All of this, of course, is assuming that MLB's evidence has legs, and that's another banana peel awaiting on the floor down the hallway. But given that 13 others went down without a fight -- Ryan Braun and Nelson Cruz included -- indications are that MLB has overwhelming evidence in its possession.
So now, where folks once thought A-Rod was in line to break baseball's all-time home run record, he's instead set the game's record for the longest ever suspension for PEDs.
Given that the last time he was cornered, back in 2009, he copped to doing steroids from 2001-2003, there is a very real chance he never played a clean day in his baseball life.
Yet in Trenton, N.J., on Friday night, this bad actor had the temerity to say that he really wants to see baseball "get PEDs out of the game."
Nobody has been more disingenuous than this mutt. Maybe it's his mammoth insecurity complex. Maybe it's his enormous capacity for self-delusion. Maybe it's daddy issues for a man who was raised by a single mother.
You could put a battalion of psychologists on the case that would out-number his lawyers and still fail to come up with an answer.
It is maddening on one hand, unspeakably sad on the other.
But this is not a Day Care Center.
In the aftermath of the Mitchell Report back in 2007, Rodriguez went on 60 Minutes as a de facto spokesman for the game and what was still good about it, setting himself up as a bastion of purity in a dirty era.
"I've never felt overmatched on the baseball field," he told Katie Couric then. "I've always been in a very strong, dominant position. And I felt that if I did my work as I've done since I was, you know, a rookie back in Seattle, I didn't have a problem competing at any level. So, no."
So, no. He never did steroids.
Until he was ratted out in 2009, cornered for using them in '01, '02 and '03.
"I was probably a little bit too naive when I first came up to understand the magnitude of all of this," he cooed to Couric in '07.
"I was young, I was stupid, I was naïve," he gushed to Peter Gammons, then of ESPN, when the first steroids firestorm enveloped him in '09.
So, to summarize, he did not do steroids because he was too naïve to understand what they did ('07), and then he took them because he was too naïve not to take them ('09).
One of the most pathetic days in Yankees history came in spring training 09, when the players all dutifully filed into a room behind A-Rod at a press conference at which he "apologized" and asked to be judged "from this day forward."
Uh-huh.
So we are.
MLB says he has both used and possessed both testosterone and HGH "over the course of multiple years." And while the others in the scandal folded up their tables and went home, admitting guilt, A-Rod carries on. Who, me?
What you see is what you don't get. It has been this way from Day One with baseball's Lizard King, and it's not going to change now.
At this point, you have to figure that even his pinstripes aren't real. I bet even his accent is fake. I know his .945 OPS is.
Dodgers manager Dave Roberts on Sunday announced his World Series rotation for the first four...

How should the Astros play it when one of their two aces isn't on the mound against the Do...

The former big-league infielder also worked as GM of the Puerto Rico national team
The Indians pitching coach would be getting his first MLB managerial job

In the last several years, lots of droughts have ended in MLB

The most likely scenarios are Dodgers winning in five or six games