Athletics lose Coco Crisp and Yoenis Cespedes to injury on Friday
The Athletics lost both Coco Crisp (groin) and Yoenis Cespedes (hands) to injury on Friday night.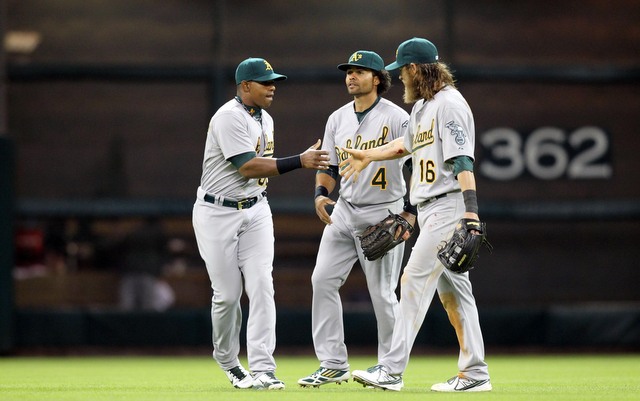 More MLB: Scoreboard | Standings | Probable Pitchers | Sortable Stats | Odds
The Athletics lost both Coco Crisp and Yoenis Cespedes to injury on Friday night during their 12-inning victory over the Tigers. The former left the game with a groin problem while the latter appeared to have an issue with his hands.
Crisp, 33, is day-to-day with a strained left groin, the team announced. He was removed after the ninth inning. Groin strains can be very tricky, especially since they are easy to aggravate if they aren't given enough time to properly heal.
Cespedes, 27, left the game with what appeared to be issues with both hands after slamming them on the infield while sliding into second base. The team has not yet given an official update on his status.
Cespedes remained in the game for another few innings -- he moved to center after Crisp exited -- but was replaced by a pinch-hitter before his next at-bat in the 11th inning. Replays showed him grimacing after catching a routine fly ball. Cespedes missed more than three weeks with a left hand strain at midseason last year.
No team can absorb the loss of two outfielders in one game, but the Athletics are in a better position than most. They have another legitimate center fielder on the roster in Chris Young, plus Brandon Moss can slide into left field with Josh Reddick remaining in right. Nate Freiman would take over at first base in that arrangement, as he did on Friday. Seth Smith can also play a little outfield if need be.
Crisp has been one of baseball's best hitters in the early season, going 16-for-48 (.333) with five doubles and four homers in 11 games. Cespedes is 8-for-40 (.200) with three homers in 11 games.
Josh Donaldson hit a walk-off solo homer in the 12th inning to extend Oakland's winning streak to nine games.
Keep it locked right here for everything you need to know about the world of baseball Tues...

There have been several racially charged incidents at Fenway Park this year

Washington's right fielders have sputtered offensively since Harper went down
The good news? Wichita still has a chance to win the series Tuesday night

Soon more home runs will have been hit in 2017 than in any other season in MLB history

Ferrell somehow avoided going to the ground