Athletics purchase catcher Geovany Soto from Rangers
Catcher Geovany Soto has been traded to the A's for cash considerations.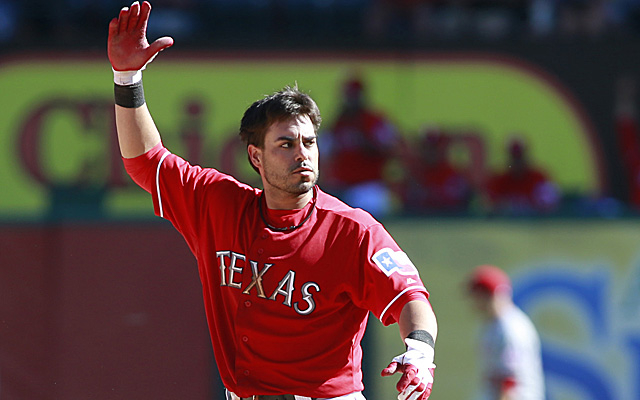 The Texas Rangers have traded catcher Geovany Soto to the Oakland Athletics in exchange for cash considerations, reports Jon Heyman of CBSSports.com. No official announcement has been made yet, but the Rangers announced prior to the game that Soto was scratched from the lineup and it wasn't due to an injury.
Soto, 31, has only managed to play 10 games this season, due to multiple injury issues, most notably a torn meniscus that needed surgery to repair. Soto was an All-Star and won the NL Rookie of the Year in 2008, but has tailed off since. In the past three seasons combined, he's hitting .215/.286/.383 with 23 doubles, 21 homers and 64 RBI in 583 plate appearances.
The move for the A's is simply about depth. Derek Norris is still the starter while John Jaso -- who also DHs -- can also work behind the plate. Stephen Vogt is also an option, but he also plays some first base. So adding Soto just gives Bob Melvin more flexibility, and he's a master of doing well with it.
Despite an awful month, the Dodgers are again NL West champions

The record of 38 previously belonged to Hall of Famer Frank Robinson

The report also says that Jeter had outgoing president David Samson do the firing
This wasn't a traditional hidden ball trick, but the Blue Jays pulled it off

The Tigers essentially fired Brad Ausmus on Friday, but things are going to be ugly for a...

The club made the announcement on Friday