August 16 Prospect Watch: Potential impact September call-ups
In this week's Prospect Watch, we look at four players who could come up when rosters expand in September and have an impact.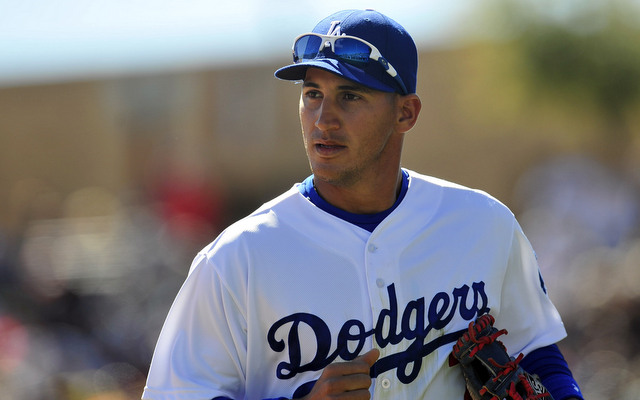 More MLB: Power Rankings | Expert Picks | Latest news & notes | Fantasy news
It's hard to believe, but September is only a little more than two weeks away. The baseball season and the year 2014 in general have flown by.
Like it or not, teams will soon be allowed to expand their rosters and carry up to 40 players for the final month of the season. I am in favor of September call-ups -- reward the teams with depth! -- though I certainly understand why some people don't like playing the final month of the regular season with a different set of rules.
Most September call-ups are spare parts. An extra long man, a third catcher, another platoon outfielder, guys like that. Very rarely do they have an impact. Francisco Rodriguez with the 2002 Angels is the most notable recent example of a minor leaguer who was called up in September and became an immediate difference maker. Matt Moore with the 2011 Rays is another example.
In this post we're going to look at some players who could come up next month and help push a potential postseason team over the top, the way K-Rod and Moore did. Some teams, like the Blue Jays (Aaron Sanchez), have gotten a head start on things. To make life easy, we're going to stick to players already on the 40-man roster and with nothing more than minimal big league time, so no Taijuan Walker (30 innings).
RHP Michael Blazek, Brewers: Blazek, 25, threw 17 1/3 innings with the Cardinals and Brewers last year -- he was part of the John Axford trade -- but he has yet to see the show this year. After struggling as a Triple-A reliever to start the year, Blazek moved into the rotation in June and has a 2.83 ERA while holding hitters to a .595 OPS in 54 innings. He's a classic hard-thrower with a mid-to-upper-90s fastball, though both his slider and curveball are inconsistent. The Brewers have leaned on their bullpen a lot this year -- Jim Henderson (shoulder) and Tyler Thornburg (elbow) are done for the year -- and Blazek could come up in September to give them a shot in the arm as a stretched out, multi-inning reliever.
RHP Dylan Bundy, Orioles: The still only 21-year-old Bundy is working his way back from Tommy John surgery and has a 3.27 ERA with a 37/16 K/BB in nine rehab starts and 41 1/3 rehab innings this year. The Orioles called him up in September 2012 (1 2/3 innings) and they could do the same this year to bolster their bullpen. By all accounts Bundy's stuff and command has returned following elbow reconstruction, so he's more than capable of getting big leaguers out. He's that good when healthy. There is one little problem though: Bundy was just placed on the minor league disabled list with a lat strain. The Orioles will surely be careful with their prized pitching prospect, so Bundy's chances of being called up next month went down big time with the injury.
3B Cheslor Cuthbert, Royals: Kansas City is winning in spite of Mike Moustakas, not because of him. The team's incumbent third baseman has a 77 OPS+ this year, though, to be fair, he has a 107 OPS+ in the second half. Cuthbert, 21, is hitting .277/.339/.422 with 22 doubles, 11 home runs and 10 steals in 105 games split between Double-A and Triple-A this year, plus he's an excellent defender at the hot corner. The Royals probably won't mess with what's working, but the right-handed hitting Cuthbert could help out against southpaws and provide some pop off the bench.
IF Alex Guerrero, Dodgers: Guerrero, 27, was actually on Los Angeles' Opening Day roster this year, though he has spent almost all of the season in Triple-A. At least when he wasn't recovering from his frightening ear-biting incident with Miguel Olivo. Guerrero has played 31 games since coming off the disabled list (.765 OPS) and he's hitting .328/.374/.586 with 13 doubles and 13 home runs in 64 minor league games overall this summer. With Hanley Ramirez (oblique) on the disabled list and Juan Uribe again dealing with hamstring problems, Guerrero could get the call -- perhaps even before September -- and play everyday at either short or third base.