August 2 Prospect Watch: Best prospects traded at the deadline
Now that the trade deadline has passed, let's look at the best prospects to change teams this summer.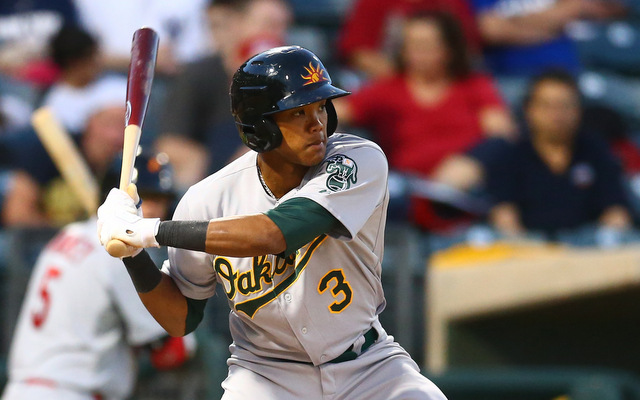 More MLB: Power Rankings | Expert Picks | Latest news & notes | Fantasy news \
The trade deadline has come and gone, and, surprisingly, very few top prospects were traded. There were more big leaguer-for-big leaguer trades made this deadline than we're used to seeing. Perhaps teams are shifting their focus away from prospects and are instead focusing on players who can help them win right now. It was refreshing to see, honestly. The future is overrated.
Despite this renewed focus on MLB players, there were still a bunch of prospects moved at the deadline. Just not as many as we're used to seeing. Here is a look at the best prospective big league players traded in recent weeks -- let's just consider everyone traded in July and not just deadline day itself -- ranked in order, based totally on my preference. You're welcome to feel differently.
THE TOP FIVE
1. SS Addison Russell, Athletics to Cubs (Jeff Samardzija/Jason Hammel): Easy call for the top spot. Russell wasn't just Oakland's best prospect before being shipped to Chicago, he was one of the 10 best prospects in all of baseball. Still is, actually. The 20-year-old Russell missed close to two months with a hamstring injury earlier this year, but he went into Friday's game hitting .298/.365/.490 in 40 games on the season, including swatting seven homers in his first 23 Double-A games after the deal. With elite athleticism and offensive skills, Russell was clearly the best prospect traded at the deadline.
2. 3B Colin Moran, Marlins to Astros (Jarred Cosart): Moran, 21, was the sixth overall in the 2013 draft. His pro career has not gotten off to the start many expected -- he hit .294/.342/.393 with five home runs in 89 High Class-A games before the trade -- since he was billed as an advanced college bat, but his outstanding feel for hitting and bat-to-ball skills have not eroded. Reports about lackadaisical play and apparent disinterest on the field are disappointing. Moran's talent is undeniable. He just needs a bit more work than expected.
3. RHP Jake Thompson, Tigers to Rangers (Joakim Soria): The Tigers love their big hard-throwers and that describes the 20-year-old Thompson perfectly. He sits in the low-to-mid-90s with his fastball and backs it up with a hard low-80s slider that misses bats. Thompson pitched to a 3.14 ERA with 8.6 K/9 in 16 starts and 83 High Class-A innings before a brief promotion to Double-A (two starts, 2.45 ERA) and then being traded.
4. OF Billy McKinney, Athletics to Cubs (Samardzija/Cosart): Another part of the summer's first big trade, the 19-year-old McKinney is a pure hitter with a sweet left-handed swing and the innate ability to get the fat part of the bat on the ball. He hit .302/.390/.442 in his first 25 High Class-A games following the trade and is sitting on a .255/.345/.410 overall batting line this season. McKinney doesn't figure to have much defensive value and will probably be relegated to left, but he flat out rakes.
5. OF James Ramsey, Cardinals to Indians (Justin Masterson): Ramsey, 24, is a classic Cardinals "he just knows how to hit" prospect. They drafted him 23rd overall in the 2012 draft as a college senior out of Florida State, so he is older than the typical prospect, but he put up a .300/.389/.527 batting line with 13 homers in 67 Double-A games before the trade. Ramsey figures to be a big league option for the Tribe either late this season or early next year, and his solid tools across the board make him a no-doubt MLB contributor.
THE NEXT FIVE
6. LHP Eduardo Rodriguez, Orioles to Red Sox (Andrew Miller): 21-year-old lefty with a low-90s sinker and a three-pitch mix that give him a chance to start.
7. SS Willy Adames, Tigers to Rays (David Price): Toolsy 18-year-old with good power who might wind up at third base as he fills out and loses some first-step quickness.
8. LHP Edwin Escobar, Giants to Red Sox (Jake Peavy): Likely a future reliever because of a low arm slot and iffy breaking ball.
9. SS Jose Rondon, Angels to Padres (Huston Street): Not your classic toolsy 20-year-old. He's more of a higher probability, lower ceiling prospect with a solid all-around game.
10. RHP Corey Knebel, Tigers to Rangers (Soria): Pure reliever with mid-to-high-90s gas and a hard out-pitch curveball.
HONORABLE MENTION: C Victor Caratini (Braves to Cubs, Emilio Bonifacio/James Russell), RHP Rafael DePaula (Yankees to Padres, Chase Headley), OF Mitch Haniger (Brewers to Diamondbacks, Gerardo Parra), 2B Taylor Lindsay (Angels to Padres, Street), C/1B Peter O'Brien (Yankees to Diamondbacks, Martin Prado).
The lefty starter is coming off a terrible season

After acquiring Ian Kinsler and Zack Cozart in recent days, the Angels are trending upward

Cozart's coming off a big season as the Reds' shortstop
The veteran slugger spent the last eight seasons with Cleveland

The Padres may be poised for an active winter

Yes, Bryce Harper is going to make a lot of money next winter