August waiver trade candidates: Six players who could be available
Here are six players who could find themselves involved in a trade this month as their teams fall out of the playoff race.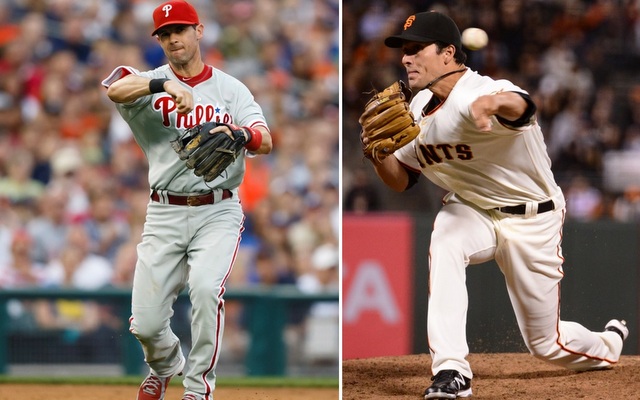 Teams prefer to wrap up their midseason shopping before the July 31 non-waiver trade deadline, but that isn't always possible. Injuries create unexpected roster holes, and this year the Biogenesis-related suspensions could do the same. Sometimes a club will have to go out and swing a deal in August.
More and more teams will fall out of the playoff race this month, meaning the August trade market might actually be pretty robust. Here are six players -- three pitchers, three position players -- who could wind up changing addresses in the next few weeks.
Alex Rios , Chicago White Sox
The non-contending ChiSox were expected to move everything not nailed down (and Chris Sale) prior to the non-waiver deadline, and sure enough they traded Jake Peavy, Matt Thornton and Jesse Crain. Rios and the $17.5 million or so left on his contract surprisingly remained despite plenty of interest from the Pirates, Rangers and others. That salary means Rios and his 102 OPS+ will clear waivers easily -- at least in theory. Remember, he originally joined the White Sox when they claimed him off trade waivers from the Toronto Blue Jays , only to have the roughly $60 million left on his contract foisted upon them.
Carlos Ruiz , Philadelphia Phillies
Jon Heyman of CBSSports.com reported the New York Yankees inquired about Ruiz not long before the deadline, but were told he was not available. That could change later this month if the Phillies, who have lost nine of their last 10 games, continue to fall out of the race. Ruiz has a measly 63 OPS+ this season, but catching is scarce and teams will take a chance, hoping they get the 149 OPS+ guy he was last season. Heck, they'll be happy with the 99 OPS+ version from 2007-11. Ruiz is owed approximately $1.6 million through the end of the season and will become a free agent this winter.
Michael Young , Phillies
Young is the quintessential August waiver trade candidate. He's a big name, a playoff-tested veteran, not cheap (owed $5 million or so), an impending free agent and reasonably productive (103 OPS+) at a hard-to-fill position (third base). Heyman says the Yankees made a run at him prior to the deadline, and the two sides could revisit talks depending on what happens with Alex Rodriguez, who could return to the team on Monday or be banned for life. Wide range of possible outcomes there.
Others: Emilio Bonifacio (Blue Jays), Mark DeRosa (Blue Jays), Kendrys Morales ( Seattle Mariners ), Mike Morse (Mariners) and Placido Polanco ( Miami Marlins ).
Phil Hughes , Yankees
The Yankees were supposedly shopping Hughes for a bat prior to the deadline, but they found nothing they liked and decided to keep him for the stretch run. If they're unable to string together some wins to chip away at their four-game deficit in the wild-card race, they could put the impending free agent back on the market and take whatever they can get. Hughes has an 88 OPS+ in 20 starts this year, but clubs could have interest in him as a reliever after all the success he had as a setup man earlier in his career. He's owed $2.4 million the rest of the year, give or take.
Javier Lopez , San Francisco Giants
Lefty relievers are always a hot commodity at the trade deadline. Lopez has a 243 ERA+ in 25 2/3 innings spread across 46 appearances over this year, and he's held left-handed batters to a .172/.232/.234 (45 OPS+) batting line. He's owed approximately $1.4 million the remainder of the year and will become a free agent after the season. It was very surprising when the Giants didn't move him before the trade deadline, though their reported asking price (a young MLB ready starting pitcher) was quite high. That figures to change as the last place Giants run out the rest of their schedule.
Joe Saunders , Mariners
Saunders is familiar with this whole waiver trade business -- he was traded by the Diamondbacks to the Baltimore Orioles last August. The southpaw is having the worst season of his career (79 ERA+), but he's been better over his last dozen starts (3.50 ERA) and has a reputation as a reliable, inning-eating workhorse. Saunders is owed a little more than $2 million for the remainder of the season and, like almost everyone else in this post, is due to become a free agent this winter. If the Mariners decide to sell -- it was surprising they didn't before the non-waiver deadline -- they figure to find a taker for the lefty.
Others: Mike Gonzalez , Milwaukee Brewers ), Kevin Gregg ( Chicago Cubs ), Cliff Lee (Phillies), Mike Pelfrey ( Minnesota Twins ) and Carlos Villanueva (Cubs).