Ausmus says Tigers 'talked about' a comeback with Omar Vizquel
The Tigers lost starting SS Jose Iglesias for 2014 and during their search for a replacement, they considered 46-year-old Omar Vizquel.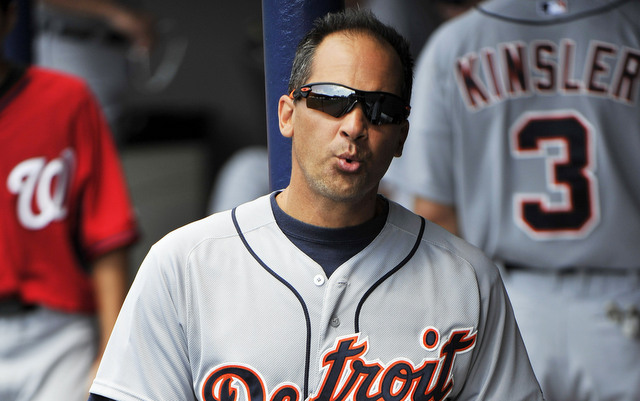 MORE: Spring Training | Scoreboard | Team previews
The injury gods have not been kind to the Tigers this spring, with their biggest loss being starting shortstop Jose Iglesias. He will miss the entire 2014 season due to stress fractures in both legs. Yuck.
The club acquired shortstop Andrew Romine from the Angels in a minor trade earlier this week, and he is expected to split time at the position with Hernan Perez and Danny Worth. Signing Stephen Drew is still a possibility, but it appears to be a long shot right now.
The Tigers understandably explored many options before landing Romine. One of those options, according to ESPN's Jayson Stark, was their first base coach, 46-year-old Omar Vizquel. Manager Brad Ausmus admitted the team talked about Vizquel making a comeback.
"We talked about it."

...

"(He) could probably handle it. I don't know if he could play 150 games. But he could probably be a platoon shortstop if he got himself in shape. He certainly still has the hands."
Stark says the team was joking about a Vizquel comeback more than seriously considering it, with Ausmus saying it was a "Plan B" while laughing.
Vizquel last played in 2012 and he last played shortstop regularly in 2008, when he manned the position in 84 games for the Giants. At age 40. He was one of the best defenders at the position in history during his prime, which was nearly two decades ago now.
It's clear the comeback isn't happening, but man, that would have been something. Imagine the win-now Tigers trotting a 46-year-old out there at the most important infield position. That would have been something else.
(h/t Bless You Boys)
Piscotty's mother was diagnosed with ALS earlier this year

From the rebuilding Marlins to the aggressive Angels, here's how the most active teams made...

Plenty of other teams are involved, of course
Where might the Orioles third baseman land?

Kinsler will slot in at second base for the Angels

The Marlins got a better return for Ozuna than Stanton or Gordon