Awards so far go to Hamilton, Kemp, Sale, Gio; Lincecum, Pujols cited for dishonor
Big names capture the One-Third Awards for good and not-so-good reasons.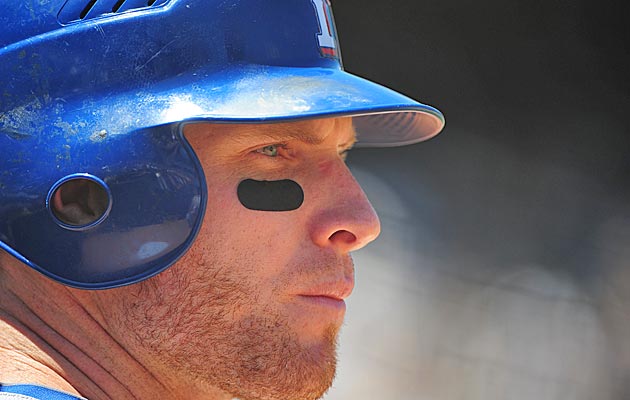 No hitter has had a better start to the season than Josh Hamilton. (US Presswire)
It's time for the coveted One-Third Awards to honor the best (and dishonor the worst) in Major League Baseball so far. Technically, it's slightly past time, as we are now a game or two past the one-third mark of the
MLB
season.
Anyway, here goes, my awards for best (and in a couple cases worst) so far:
AL MVP1.

Josh Hamilton

,

Texas Rangers

OF:
An easy one. He leads the AL in home runs (21), RBI (58) and slugging percentage (a neat .700). Prohibitive favorite to take the award for a second time in Texas should he remain healthy and the Rangers stay in the playoff picture. Threat to win Triple Crown, too.
2.

Paul Konerko

,

Chicago White Sox

1B:
He's been so underrated and underpublicized in his career I'd like to put him first. But despite an AL-best .366 batting average, second is his spot here.
3.

Adam Jones

,

Baltimore Orioles

CF:
He's already been rewarded with his
six-year, $85.5 million extension
. On the cusp of superstardom, with 16 home runs, 35 RBI and a .307 average.
AL LVP (Least Valuable Player)



Albert Pujols

,

Los Angeles Angels

1B:
It's almost unfair since his stats are still dragged down by his horrific start that included a .194 batting average and no home runs through May 4. Now his stat line is .244/.300/.413, still unbecoming of a $240 million man.
NL MVP1.

Matt Kemp

,

Los Angeles Dodgers

OF:
He's played only 36 games, but what a 36 games it was. He had 12 home runs, 28 RBI, .355 batting average, .719 slugging percentage amd 1.163 OPS before going down a second time because of hamstring trouble. The Dodgers are hanging in nicely without him, but he got them off on the right foot.
2.

Joey Votto

,

Cincinnati Reds

1B:
His .475 on-base percntage may seem otherworldly to me and you, but he is never satisfied. Which may actually be a key.
3.

Melky Cabrera

,

San Francisco Giants

OF:
He leads the NL with a .366 batting average and 86 hits, and is second with 42 runs (to Carlos Gonzalez's 45). Terrific pickup by Giants GM Brian Sabean, who also acquired
Angel Pagan
and
Gregor Blanco
to a form an entire outfield this winter.
NL LVP

Ike Davis

,

New York Mets

1B:
Hopefully, it's not Valley Fever diagnosed in spring training dragging him down, but he clearly hasn't been himself. Batting .164 with only five home runs and 56 strikeouts.
AL Cy Young
1.

Chris Sale

, White Sox SP:
There was some early concern about whether his arm would hold up, but it's holding up just fine, thank you. He's 7-2 and leads the league with a 2.30 ERA. Also has 69 strikeouts.
2. Jered Weaver, Angels SP:
He's out because of a back issue at the moment but was 6-1 with a 2.61 ERA, 0.93 WHIP (tied for first with
Jake Peavy
) and a no-hitter before going down.
3.

Justin Verlander

,

Detroit Tigers

SP:
He's been caught in the Tigers' malaise with three straight defeats but still has a 2.67 ERA and leads the league with 86 strikeouts.
AL Cy Old (worst pitcher)Clay Buchholz, Red Sox SP:
The award could go to his former teammate Mark Melancon who retired almost no one before being sent to Pawtucket, but that wouldn't be fair. Buchholz has been given enough support to easily have eight or nine wins but is 5-2 with a 6.58 ERA and 1.73 ERA, not up to his standards.
NL Cy Young1.

Gio Gonzalez

,

Washington Nationals

SP:
He leads the N.L. with 84 strikeouts to go with a 7-2 record and 2.31 ERA. Nice pickup up by Nats GM Mike Rizzo (he gave up four solid prospects to get Gonzalez, but it's worth it).
2.

Stephen Strasburg

, Nationals SP:
It's easy to understand why the Nats lead the NL East despite an absurd number of injuries. The former No. 1 pick has a 6-1 record, 2.35 ERA and 79 strikeouts. However, a club-imposed innings limit (believed to be about 160) hinders his Cy chances.
3.

James McDonald

,

Pittsburgh Pirates

SP:
He's showing his talent with a 5-2 record (not easy to do with the Pirates' offense), 2.14 ERA and 71 strikeouts.
Johan Santana
and Cole Hamels also in the running here.
NL Cy OldTim Linceum, Giants SP:
The are signs of a turnaround, including 72 strikeouts in 66 1/3 innings. The big inning has killed him. But he's still 2-6 with a 5.83 ERA, hardly what he's supposed to be doing.
AL Rookie of the Year

Yu Darvish

, Rangers SP:
He's 7-3 with a 3.34 ERA and 73 strikeouts, pretty darned good considering the hype and expectations.
Mike Trout
(five homers, 22 RBIs, .329) has been a dynamo.
NL Rookie of the Year

Wade Miley

,

Arizona Diamondbacks

SP:
He is overshadowed as an Arizona pitching prospect by three great ones coming (Trevor Bauer, Tyler Skaggs and Patrick Corbin) and in this race by the amazing 19-year-old
Bryce Harper
. But at 7-2 with a 2.53 ERA, he deserves it.
AL Manager of the Year1. Buck Showalter, Orioles:
Who would have thought the Orioles would still be in first place? Terrific job here.
2. Robin Ventura, White Sox:
Several veteran players (
Adam Dunn
,
Alex Rios
, Peavy) have found their game under the low-key Ventura. Nice contrast from the previous guy. Terrific hire.
3. Joe Maddon, Rays:
You've got to love his style and consistency. The Indians' Manny Acta has to be considered, as well.
AL Worst ManagerJim Leyland, Tigers:
Hate to put him here, but nobody has played as far below expectations as Detroit.
NL Manager of the Year1. Don Mattingly, Dodgers:
His no-panic personality is exactly right for managing. the Dodgers have been the best from start to now.
2. Davey Johnson, Nationals:
He's lost three catchers and is on to his fourth closer due to injury (and the meltdown of
Henry Rodriguez
) and still has the Nats in first.
3. Bruce Bochy, Giants:
His team is playing very well despite injuries and in some cases underperformance. Dusty Baker is also doing nicely with the Reds.    
NL Worst ManagerDale Sveum, Cubs:
Tough to put him here also, as the Cubs are clearly outmanned. He's got to get Starlin Castro to stop making mistakes.