Awards Watch: American League Cy Young
Our bi-weekly look at each of the major award races continues on Wednesday with the Cy Young. In this post we cover the American League.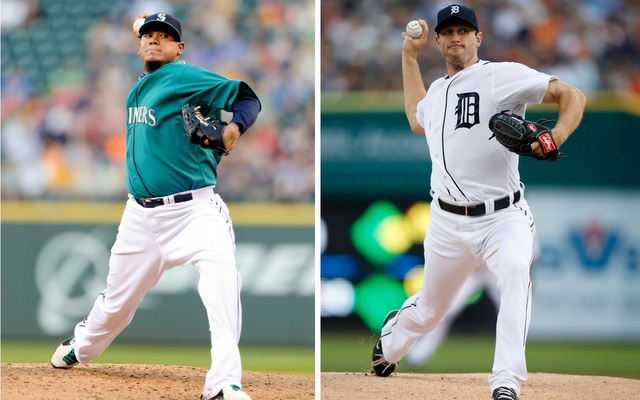 More Awards Watch: AL MVP | NL MVP | AL Cy Young | AL Cy Young | NL ROY | AL ROY | NL Manager | AL Manager
I'm not sure if there is a more wide-open award race than the AL Cy Young right now. Not that the other awards have obvious favorites at the moment, but most of them do have a group of two or three players who have clearly separated themselves from the pack. There are about seven pitchers legitimately worthy of first place AL Cy Young votes as of today. It's pretty hectic.
Just to be clear, this series is not us saying who we think should win. This is more about who is mostly likely to get votes and be in the running. My critieria and those of the Baseball Writers Association might be (and almost certainly are) different, so keep that in mind. Let's dive in:
Felix Hernandez, Mariners: King Felix won the award in 2010 despite a 13-12 record because his underlying performance was so excellent. This year he has the win-loss record (11-5) and league-leading ERA (2.39) to back up the best strikeout (9.2 K/9) and walk (1.7 BB/9) rates of his career. Believe it or not, this might actually be the best season of Hernandez's already amazing career. He ranks second in the AL with 5.2 WAR.
Max Scherzer, Tigers: The AL starter for the All-Star Game has the gaudy 16-1 record that will command Cy Young votes all by itself. Scherzer's candidacy is much stronger than that though -- he's got a 2.85 ERA and both the best WHIP (0.91) and hit rate (6.2 H/9) in the circuit. His 10.1 K/9 and 2.0 BB/9 don't hurt either, plus he leads the league in OPS against (.568). Scherzer ranks third in the AL with 4.7 WAR and is going to wind up winning something like 20-23 games. That's as Cy Young caliber as it gets.
Bartolo Colon, Athletics: I'm going to include Colon in this post even though I think he has very little chance of winning due to his connection to Biogenesis and recent 50-game performance-enhancing drug suspension. He does have a pretty great Cy Young case in a vacuum though, with a win-loss record (14-3), ERA (2.50) and WHIP (1.12) all worth of high praise. Colon, the 2005 Cy winner, gets by with a well-below-average 4.8 K/9 because of his comically low 1.3 BB/9. If he manages to win 19 or 20 games -- he's also fourth in the league at 4.6 WAR -- it'll be interesting to see how the voters treat him. I'm guessing poorly.
Yu Darvish, Rangers: In his second year in MLB, Darvish leads baseball in strikeouts (197) and strikeout rate (11.9 K/9). He's also gone 11-5 with a 2.72 ERA and 1.04 WHIP, so his Cy Young credentials are about as good as anyone's. Darvish ranks fifth in the AL with 4.4 WAR and could make a serious run at Scherzer and Hernandez with a strong finish to the year. It would help if his team scored some runs so he could pad his win total.
Hiroki Kuroda, Yankees: Can a Yankee be underrated? I think it's against the rules. Among his AL counterparts, Kuroda ranks second with a 2.45 ERA, fourth with a 1.05 WHIP and sixth with 4.3 WAR. The Yankees don't score him any runs though -- Kuroda averages 3.39 runs of support, third worst in the league -- so his win-loss record sits at a pedestrian 10-7. He deserves some Cy Young love, and maybe he'll get it if the team finishes well and manages to sneak into the postseason.
Matt Moore, Rays: Moore's case will be built on his 14-3 record and All-Star Game berth more than anything. He's had some utterly dominant stretches this season (like this one and this one), but a 3.41 ERA, 1.23 WHIP, 2.05 K/BB and 2.2 WAR don't exactly stand out as Cy Young caliber. Moore will inevitably get some votes, but he'll need a big finish to the year to get serious consideration.
Chris Sale, White Sox: Talk about being sabotaged by your teammates. Sale gets, by far, the worst run support in the baseball (2.57), which is why he's stuck with an eyesore of a win-loss record (7-11). Outside of his record, Sale has an excellent ERA (2.83), WHIP (1.06), strikeout rate (9.7 K/9) and walk rate (2.1 BB/9). On a team with a good offense, his win-loss record would rival Scherzer's. Sale actually leads all AL pitchers with 5.5 WAR and is second in all baseball behind Clayton Kershaw (6.0 WAR).
Clay Buchholz, Red Sox: A neck injury has kept Buchholz on the shelf for one day shy of two months now, yet he still ranks eighth in the league with 4.0 WAR. That's how dominant he was during his dozen starts before the injury. He had the record (9-0), the ERA (1.71), the WHIP (1.02), the strikeout rate (8.6 K/9) ... you name it. Buchholz threw a short bullpen session on Tuesday but is not particularly close to returning to the team, however. He might be back in time for September. Missing what amounts to half the season is taking him right out of the Cy Young race.
Derek Holland, Rangers: Holland has, very quietly, had an excellent season now that he's gotten his home run problem under control -- 0.6 HR/9 in 2013 after 1.4 from 2009-12. The win-loss record (9-6) won't wow anyone, but Holland has a 3.02 ERA with strong strikeout (8.4 K/9) and walk (2.6 BB/9) numbers. He also ranks ninth in the league with 3.9 WAR. Holland's case is hurt by not being the best pitcher on his own staff, but he could sneak into the Cy Young mix over the next few weeks.
MLB revenues are at a record high right now, but teams aren't spending it on players

Chicago added Tyler Chatwood earlier this offseason but might not be done adding to the ro...

The Dodgers and Braves pulled off a whopper on Saturday
Sabathia will reportedly spend a 10th season in the Bronx

Fowler suffered a knee injury at Chicago's Guaranteed Rate Field

The lefty starter is coming off a terrible season